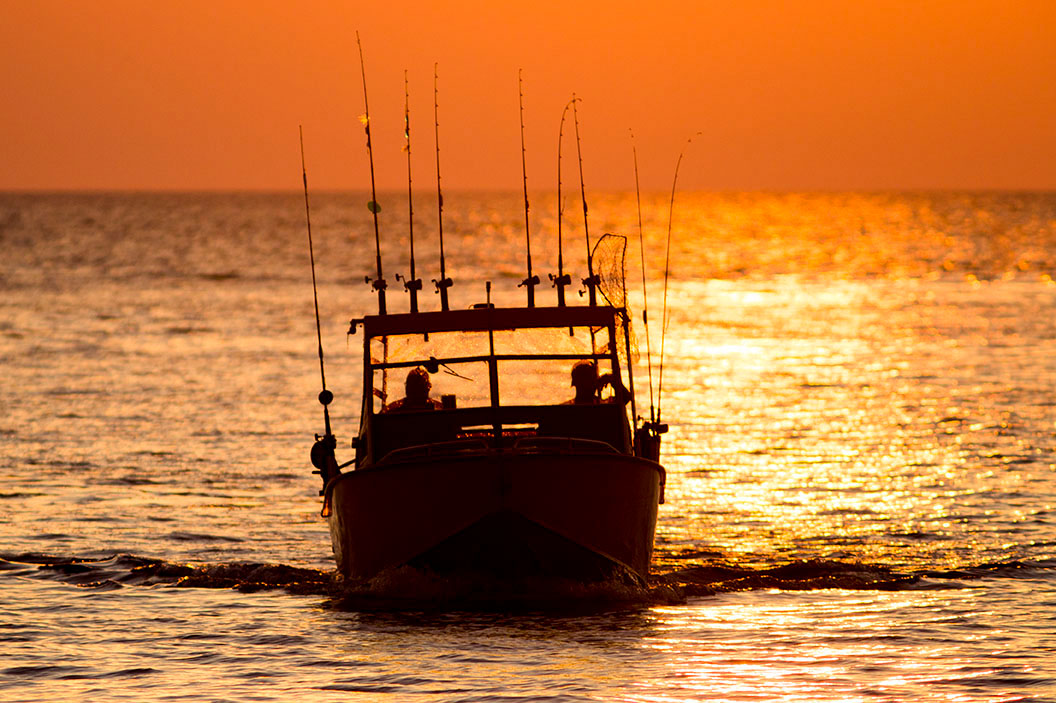 Located along Lake Michigan, Southwest Michigan is a prime fishing destination. However, when it comes to fishing, not many people are willing to share their favorite spots with you. So how do you know where to go to get that catch of the day? We'll share a few places with you that are popular amongst locals.
1) Lake Michigan
Lake Michigan is known for its wealth of fishing opportunities including Chinook and Coho salmon, steelhead, trout, perch and walleye fishing. But how do you access the Big Lake in Southwest Michigan? Pier 1000, at 1000 Riverview Drive in Benton Harbor, has both slip rentals, where you can store your boat on the St. Joseph River, and a variety of boat rentals if you just want to take one out for the day. Simply follow the St. Joseph River (about a twenty-minute boat ride from Pier 1000) through the harbor to Lake Michigan. You will enter by the lighthouses in St. Joseph. Once you reach the lake, you can go in any direction you choose, just be sure you keep track of time if you are renting.
If you are looking for a public boat launch, the Benton Harbor Public Boat Launch is also on Riverview Drive along the St. Joseph River, right by Pier 1000. Additionally, in Saint Joseph, the City Boat Launch is located on Anchor's Court, on Marina Island.
Further south is the New Buffalo City Boat Launch on the Galien River at 201 Marquette Drive. It is right across the street from the New Buffalo City Beach and has multiple ramps and docks as well as plenty of trailer parking. The launch ramps are about 3,500 feet from Lake Michigan so you can be in open water in 10 minutes. As you go down the river, don't wait to drop your line in the water. There are plenty of fish to catch along the way. This site has a launch fee but season passes are available.
TIP: If you need to pick up bait before you head out go to Great Lakes Tackle, 699 Riverview, or Tackle Haven, 741 Riverview. Both are in Benton Harbor. If you're launching from New Buffalo, stop in Tony's Outboard Motors and Chief's Bait Shop #1. Be sure to ask the clerks at any of these shops what depth the fish are at in Lake Michigan. They can usually advise you where you'll find them as well as what type of bait to use, too.
2) The Galien River
The Galien River is another good place to fish for brown trout, northern pike, large or smallmouth bass, catfish, crappie or sunfish. When you launch your boat from the New Buffalo City Boat Launch, back straight out of the dock area and make a right to head up the river. You can also fish from the docks by the bridge heading towards the beach on Whittaker Street. Another favorite place to cast is from the rocks in the harbor at the New Buffalo City Beach.
Another Galien River access point is on Red Arrow Highway just north of U.S. 12 near New Buffalo. Here, you can fish from the banks with no fees. You can launch smaller boats as well into the shallow water. Kayaks are also available on site for rent.
3) St. Joseph River
Don't have a boat? The pier in Saint Joseph is very popular among fishermen. Park at either Silver Beach County Park or at Tiscorina Park, both have paved walkways and are partially wheelchair accessible. There is also access to shore fishing at these locations. The types of fish most frequently caught include lake perch, rainbow trout (steelhead), brown trout, Coho salmon, Chinook salmon, whitefish and catfish. Public use of the North and South Pier is allowed at your own risk. Please use caution and keep off the pier during storms, icy conditions or high waters. Closest bait shop: Fishin Hole.
Another favorite fishing site along the St. Joseph River is the Berrien Springs Dam and Fish Ladder. The fish ladder allows salmon and steelhead to migrate up stream in the fall and back to Lake Michigan in the spring. You also can reel in walleye, smallmouth bass, pan fish and pike. Public access is available above and below the dam. To get here, from old US-31 in downtown Berrien Springs, take Mechanic Street to Fish Ladder. There are also multiple city and community parks all along the river that provide access for fishing.
4) Guided Trips
If you are looking for a guided fishing trip, Gold Coast Fishing Company, Originator Sport Fishing Charters, and Sea Hawk Charters all have experienced staff that will take you out on Lake Michigan or the St. Joseph River. The captains provide the bait and fishing equipment you'll need. Fishing licenses are available on the boat, too.
* A Michigan fishing license is required to fish on Michigan lakes and waterways. You can purchase one at the bait shops listed above or online at the Michigan DNR website.