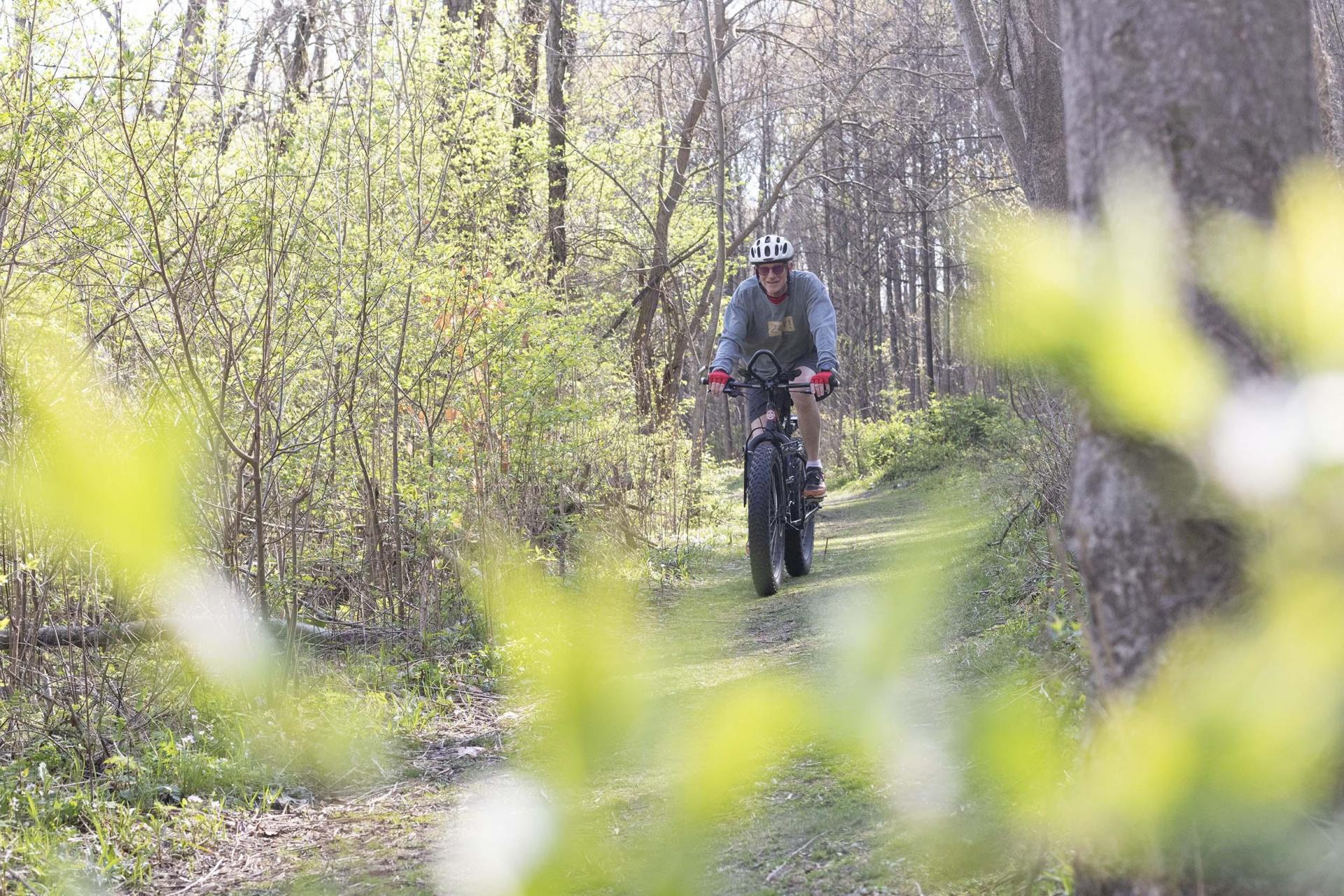 Ride scenic roads, and linear and mountain bike trails.
Cycling lets you leisurely ride along our Lake Michigan shoreline, tour resort towns and cruise through wine country. Prefer to scramble up rocky inclines and soar over jumps? Our mountain bike trails push your limits.
In-town and linear trail rides
Bikes are welcome throughout Southwest Michigan. In Benton Harbor, ride 12 miles on the Harbor Shores Nature & Fitness Trail System, stopping to play at Lake Michigan and cruising around the Benton Harbor Arts District. Pedal through St. Joseph's historic downtown, by its Lake Michigan beaches and along the banks of the St. Joseph River.
In South Haven, bike up to 34 miles on the Kal-Haven Trail Sesquicentennial State Park to Kalamazoo or start at Lake Michigan and go 14 miles on the Van Buren Trail State Park to Hartford.
When you visit Niles, see 21 historic sites on Niles' Historical Bike Tour or adventure for 17 miles on the IN-MI River Valley Trail to South Bend, Indiana. In New Buffalo, take in the gorgeous lakeshore, city and countryside on the Harbor Country Bike & Hike Trail.
Easy to white-knuckle mountain bike trails
No matter your riding skills, Southwest Michigan has a mountain biking experience made for you. One of the easiest is the 3.5-mile trail at Love Creek County Park & Nature Center in Berrien Springs. Open year-round, they groom this trail for fat-tire biking in the winter.
Intermediate trails include the new Lakeview Trail on Whirlpool Corporation's Benton Harbor campus and the 10-mile single track at Dr. T.K. Lawless County Park in Vandalia. Or test your grit on over 1,000 feet of elevation barreling down the 10-mile Andrews Trails in Berrien Springs.
Bike rentals near your vacation destination
No need to bring your bike when you can rent a variety of beach cruisers, tandems, electric scooters, fat tire and surrey bikes at these shops:
Scooter Joe's Wheel & Water Rentals, St. Joseph
Rock 'n' Road Cycle, South Haven
Uncle Jib's New Buffalo Beach Rentals, New Buffalo
Bikes also are available when you stay at the Inn at Harbor Shores and the West Basin Marina.
Choose your bike trail
Add these bike trail adventures to your Southwest Michigan vacation plans. Then, download the guide to keep the map readily available as you ride.