Krasl Art Center presents Open Lab: Artist Talk with Theda Sandiford
Event published by Krasl Art Center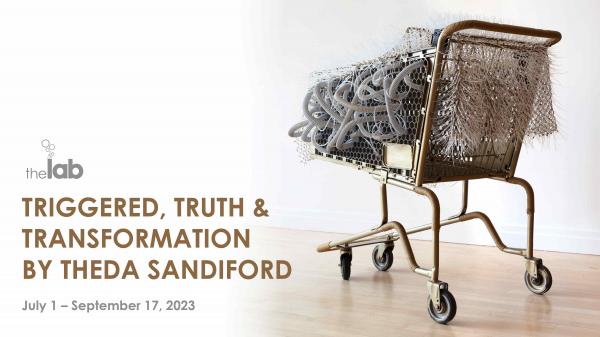 Jul 29, 2023
11:00am - 12:30am
Saturday, July 29, 11 am, followed by a gallery tour
FREE and open to the public
Theda Sandiford uses everyday objects like zip ties and grocery carts to weave and sculpt "hue-imbued installations" that invite visitors to share and consider stereotypes, implicit bias, and microaggressions. Sandiford joins KAC for an artist talk and tour of her work during Open Lab. Afterward, KAC Executive Director & Chief Curator Tami Fauver continues the tour through The Art of Elizabeth Catlett in The Galleries. 
Artwork: Theda Sandiford. Free Your Mind - Social Justice Public Art Installation, 2021. Recycled black commercial fishing net, Camo Net, ribbons, and memories; Artist Theda Sandiford
Admission: Free & open to the public.
Sponsor: 98.3 THE COAST, BOULEVARD INN & BISTRO, HONOR CREDIT UNION, PELLA WINDOWS & DOORS OF NORTHWEST INDIANA, RMB CAPITAL, STARKS FAMILY FUNERAL HOME & CREMATION SERVICES, SILVER BEACH PIZZA, STORAGE OF AMERICA, TYLER AUTOMOTIVE, THE JOHN DeVRIES INSURANCE AGENCY, KRUGGEL LATWON CPAs, TABOR HILL WINERY & RESTAURANT