2023 61st Krasl Art Fair on the Bluff
Event published by Krasl Art Center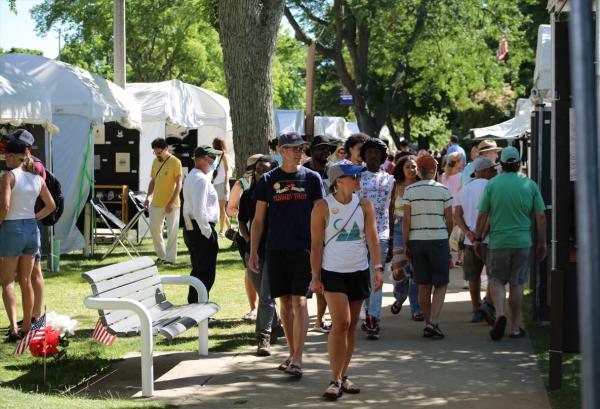 Jul 8, 2023 - Jul 9, 2023
11:00am - 5:00pm
Get ready for the 61st Krasl Art Fair on the Bluff!
Saturday, July 8, from 10 am – 6 pm*
Sunday, July 9, from 10 pm – 5 pm
Block Party on Friday, July 7, from5 pm - 10 pm
Admission - $5 per day (all-day admission)
We welcome artists and visitors to Krasl Art Center's largest fundraiser!
Experience the talent of 170 artists from across the United States while enjoying the views and breezes of Lake Michigan and the charm and hospitality of St. Joseph, Michigan, at this ticketed event. 
Let our 400+ volunteers help you discover all the Art Fair offers, and please support the professional artists with a purchase to be enjoyed for years to come. Free activities will be available at KAC on both days - bring the whole family down!
As the largest fundraiser for Krasl Art Center (KAC), proceeds help make free year-round exhibitions possible. Learn more about KAC's mission and programs in the community at https://public.krasl.org/web/membership
Tickets to the event will go on sale in May 2023. Advanced ticket purchases are encouraged.
*Collector's Experience Packages receive early admission on Saturday from 9  – 10 am.
Contact: Jamie Balkin, Director of Events