Ready now! Plump, juicy, oh-so-good blueberries!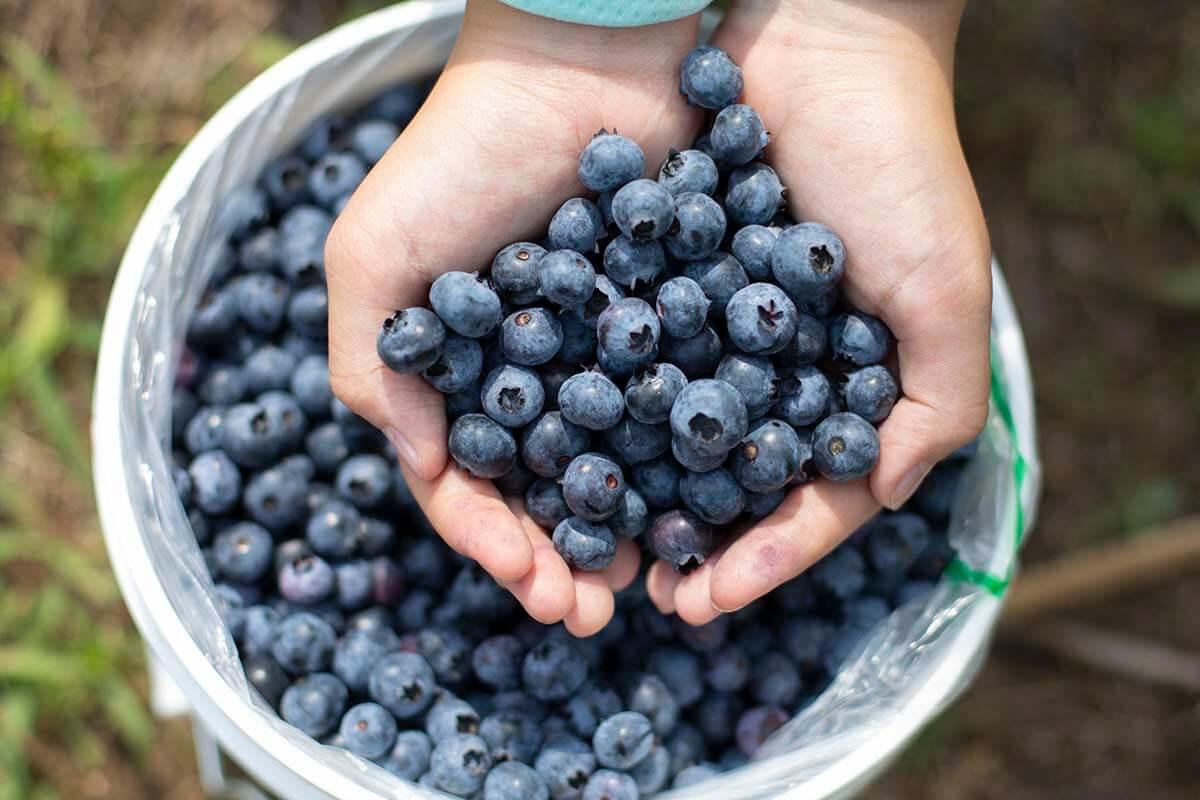 Mmmm. One of the best tastes of summer is right-off-the-bush blueberries. And you can come and get them now!
Few places in the U.S. are more ideal for growing these deep blue, juicy orbs than Southwest Michigan with our well-drained, sandy soil and Lake Michigan tempering our climate. They are a superfood as well. That means not only do they taste good, but they are good for you and your kids.
Only 80 calories per cup and virtually no fat – so guilt-free eating!
They contain more cancer and illness fighting antioxidants than any other fruit.
One serving contains almost 25% of your daily vitamin C requirements plus vitamin A. Both vitamins are great for building your immune system.
Need more reasons for eating them by the handful? Blueberries are a good source of manganese for your bone development, dietary fiber for a healthier heart and polyphenols that have anti-inflammatory properties.
Where to find the simple joy of farm-fresh berries
DeGrandchamp Farms | 76241 14th Ave. (Corner of Blue Star Hwy. and 14th Ave.) | South Haven | 269-637-3915 | U-Pick open now through mid-August | Market open now through November (Check Facebook for mid-Aug.-Nov. hours) | Daily 8 a.m.-6 p.m. | Call-ahead curbside pickup available
The Blueberry Patch | 7015 Blackwell Dr. | Sawyer | 269-426-4521 | U-Pick & Market open July 17 through early August | Sun.-Thurs. 9 a.m.-6 p.m.; Fri.-Sat. 9 a.m.-8 p.m.
Other roadside and community farm markets also carry just-picked, fresh blueberries. Most offer you the option of a pint, quart, 2 lb., 5 lb. or 10 lb. boxes. It's best to call a day or two ahead if you want a large order. Check our Farms & Harvest Guide for a list of nearby places to get these ready-to-eat berries, blueberry blossom honey, jams, preserves, pies, pastries, novelties and so much more.
Come for your favorite varieties or try something new
Early to Mid-July to Early August
Berkeley: powdery-blue and plump with juice. Great for eating now or freezing for later.
Bluecrop: firm and slightly tart; great for freezing, preserving, baking and fresh eating.
Collins: a very sweet, large berry. Good for eating, jams, jellies and juices.
Draper: developed at Michigan State University; firm, sweet and easy to handpick.
Early Blues: kick off the blueberry season with these medium-sized beauties.
Spartan: popular among blueberry lovers because these tasty berries are big, firm and sweet.
August
Jersey: firm and very sweet; eat fresh, freeze or preserve for later, add to favorite baking recipes.
Rubel: an heirloom berry with delectable wild blueberry flavor; add to pies, muffins and pancakes.
Blueberry picking tips
Protect yourself. You'll be standing in the sun. Bring drinking water and wear a hat, sunscreen, bug spray, and clothes and shoes that you don't mind if they get a little blueberry juice on them.
Choose a bush loaded with ripe berries and stay with it until you have picked all of the good berries; it will save you energy. Don't just pick berries from the front of the bush. Reach in, there are plenty of delicious clusters on the undersides of the branches, too.
Blueberries are ripe and full of flavor when they are completely blue. If you pick berries that are tinged with red, they will continue to ripen but will not get sweeter.
Roll the blueberry cluster between your fingers or between your thumb and the palm of your hand. The ripe ones will easily fall off the branch and into your picking bucket.
A few new guidelines to help keep you and your family well
DeGrandchamps recently posted these guidelines for picking and visiting their market during the pandemic. They are good practices to follow wherever you get your berries in Southwest Michigan. Stay safe! Stay well! Come often!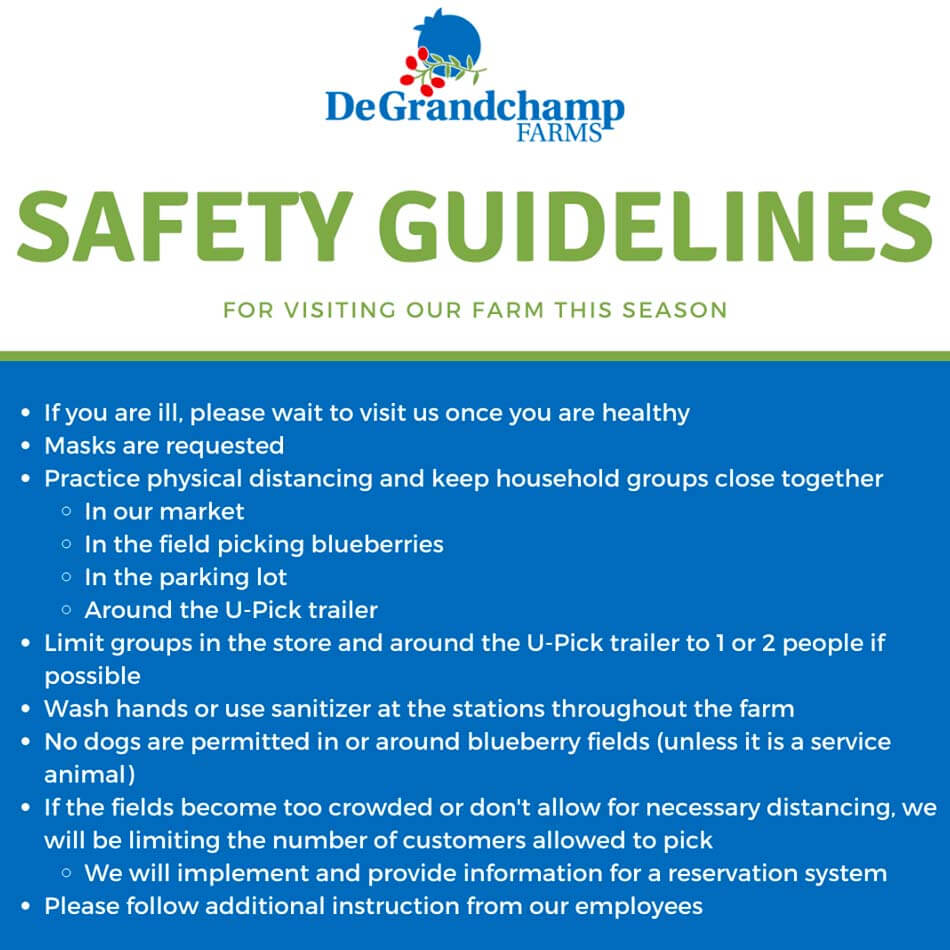 Spread the joy throughout the year
One of the best things about blueberries is there are so many ways to enjoy them. Eat them fresh. Freeze them and eat them like popcorn or use them in your favorite recipes throughout the year (they stay good in the freezer for 10 months).
Looking for new ideas for how to use your blueberries? We asked our local farm families to share some of their favorite recipes with you. Check them out at:
Hope to see you in the fields soon!