Dablon Vineyards & Winery: Snowshoes, Igloos & Fireside Fun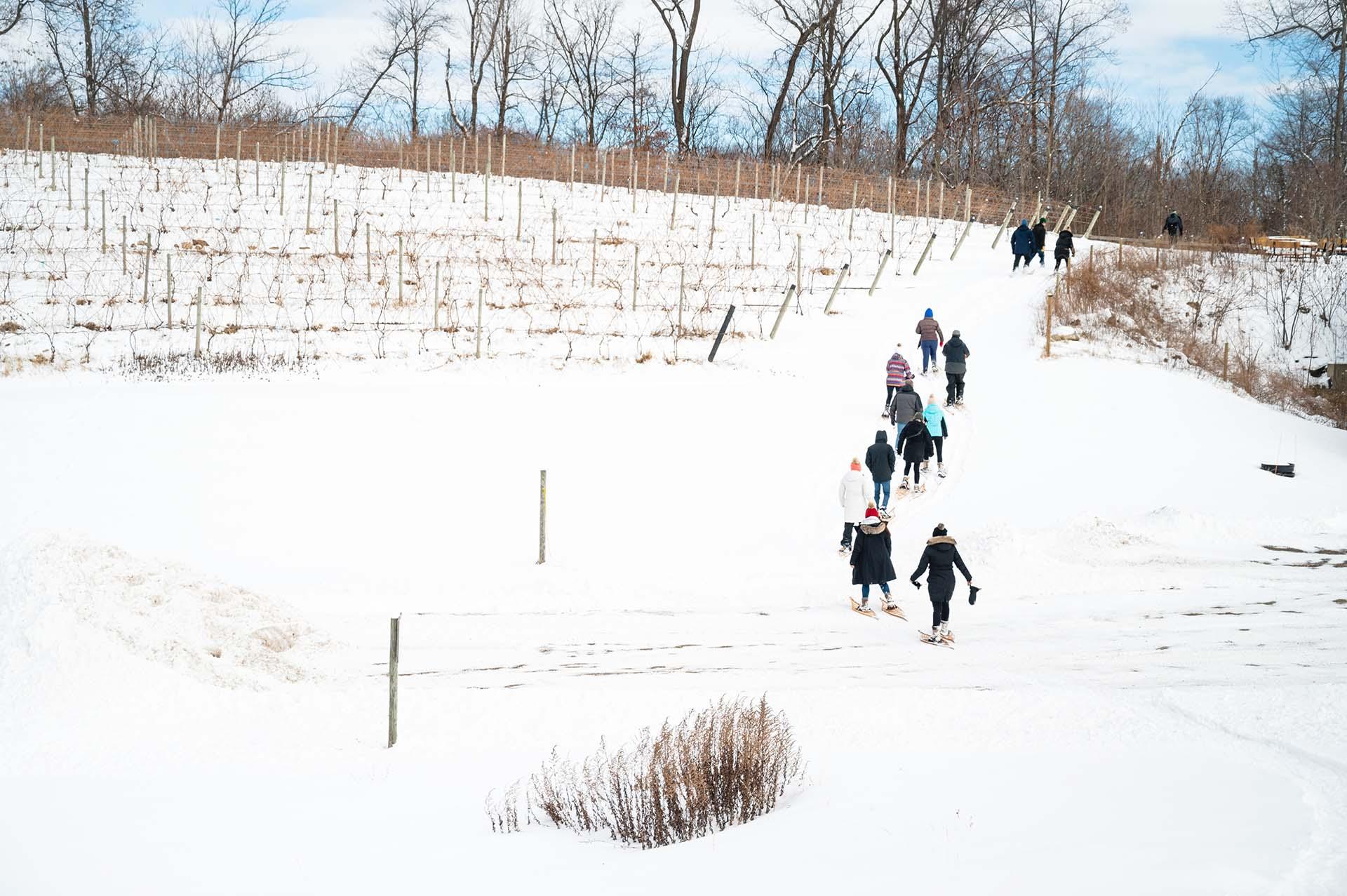 Have the winter doldrums? Then we have just the place to lift your spirits.
Can't get enough of this snowy season? Then we know just where to toast the groundhog's recent prediction of six more glorious weeks of winter! February and March are magical months to visit one of the favorite destinations for wine tasting in Michigan:
Dablon Vineyards & Winery | 111 W. Shawnee Road, Baroda | Hours: Sunday-Thursday, Noon-6 p.m; Friday, 11 a.m.-7 p.m. and Saturday, 11 a.m.-6 p.m. (ET) | Must be 21+ years to visit the estate
Dablon Winery's exceptional wines come from exceptional grapes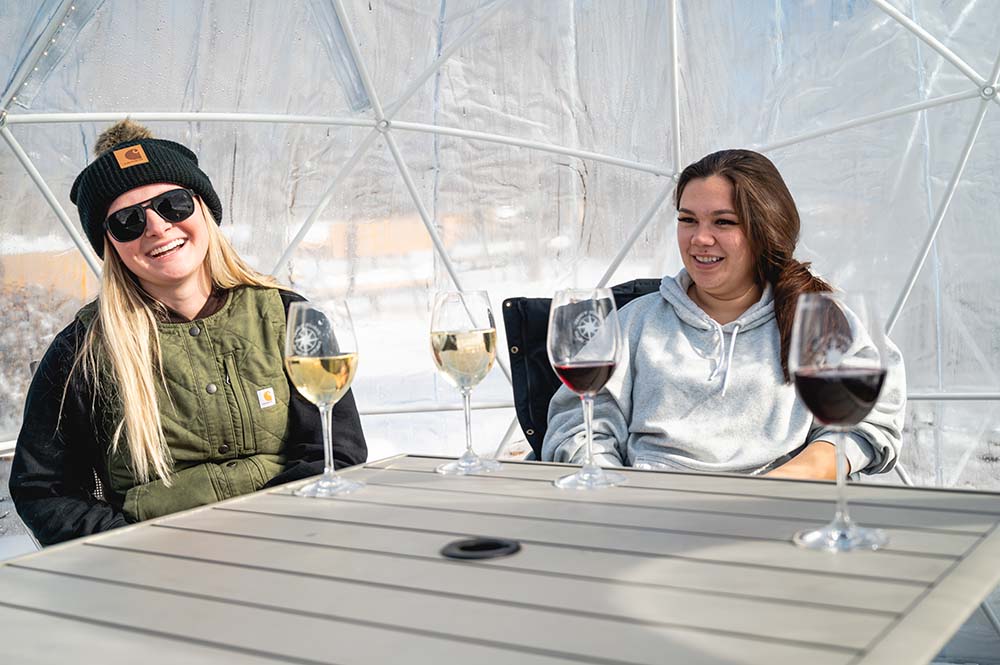 Dablon Vineyards & WInery sits on one of the highest points in Baroda. These hills roll like waves across this countryside, from the shores of Lake Michigan. This Great Lake tempers the climate, so the region resembles that of Burgundy and Bordeaux, France. It is an excellent place to grow exceptional wine grapes.
The winery's name is a raised glass to Claude Dablon, a French explorer and Jesuit priest. He was one of the first Europeans to arrive in Michigan in the 1600s. Father Dablon loved wine and made it from the New World's wild grapes. Now the winemakers at his namesake winery make their acclaimed vintages from European grape varietals such as Carménère, Chardonnay, Pinot Grigio, Riesling and Tannat.
Dablon Winery's wintry fun comes from an irrepressible love of seeing you happy
While the vineyards are sleeping, this is a wondrous time to escape urban noises, gray slush and bone-biting winds. Come, let the quiet snow calm you and a crackling fire warm your heart. Dablon Winery knows how to lure you up the hill and make it hard to leave.
Go snowshoeing in the vineyard | Feb. 13 and Feb. 20 | 1-2 p.m. (ET) | Reservations Required
Strap your boots into your snowshoes or rent a pair at Dablon Winery. Then follow a guide from nearby Sarett Nature Center through the peaceful snowy vineyard. The crisp fresh air is so refreshing. You must be at least 21 years old; Wine Club members receive a discount among other privileges.
Sip your wine in a heated igloo or around a toasty fire pit | Now through March 21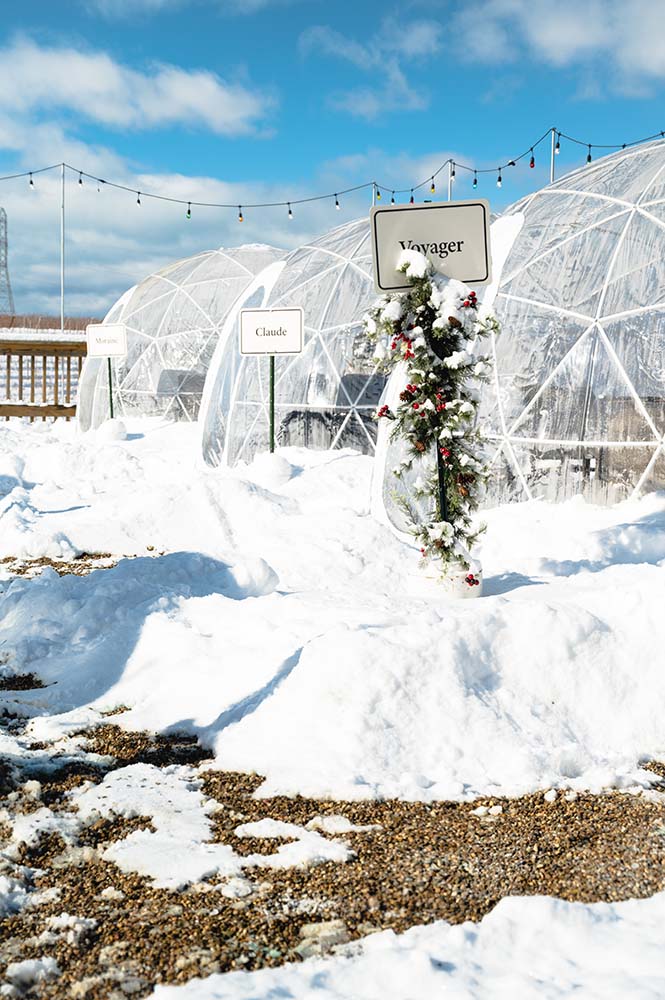 Having your own private tasting space is a special treat at Dablon Winery. You can rent one of their heated igloos for 1-½ hours and invite up to five more people to join you.
You will go inside to choose your wines and packaged food to take out to your igloo — something you can do as often as you need to during your rental time. Dablon does not allow you to bring drinks or foods from other places into your igloo. The winery will credit your igloo deposit based on your final wine purchase bill. Between igloo reservations, the Dablon staff will sanitize the space to help keep everyone healthy.
Another relaxing option is to purchase your wine and food choices inside and bring them to enjoy around one of Dablon's fire pits. There is no charge to enjoy the blazing fire and the pits are available on a first-come basis.
Discover favorite music artists | Sundays, 2:30-5:30 p.m. (ET)
One thing that pairs especially well with delicious white and red wines on a wintry day is music. No need to sit at home staring at a screen when you can sip wine while listening to live performances by these talented regional musicians at Dablon Winery:
Feb. 13 | Chris Burch | Chris's guitar is his spill canvas for his alternative rock-influenced songwriting
Feb. 20 | Ron Spears | Fun mixture of old-timey blues, folk ballads and jazz standards
Feb. 27 | Mike Struwin | Find your favorites in his sets featuring alt-country/blues & bluegrass/roots/folk/soul and even reggae
March 6 | Diane Van Deurzen and Lisa Otey | A perfect blend of hot jazz, sultry blues and cabaret
March 13 | Donald Savoie | A high-energy performance steeped in the tradition of Chicago blues and Motown passionate vocals
March 20 | Chris Burch
March 27 | Sammy Listro | An across-the-decades music selection from the Rat Pack to Elvis, Beatles, Motown to current hits
Or just come sit by Dablon Winery's signature fireplace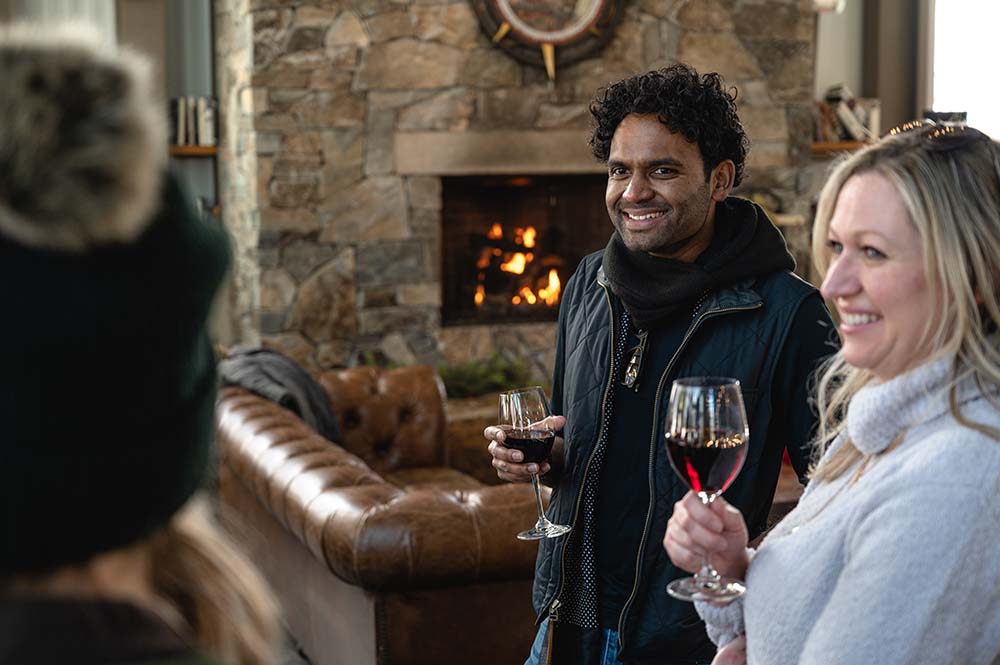 Relaxing in front of the warm fire on a comfy couch with your favorite wine will quickly become your winter happy place. There's no place quite like it in Southwest Michigan.
Stay the night nearby. There is more wintry fun to do tomorrow.
After your time at Dablon, head up the road to one of Southwest Michigan's restaurants, watch a colorful sunset over Lake Michigan, then spend the night in a hotel with the amenities you enjoy most. You will have no trouble filling your day with simple joys from the moment you wake.