Every year on November 11, our nation pays tribute to those who bravely served or sacrificed their lives in the U.S. military. Originally, this federal holiday was known as Armistice Day, marking the signing of the Armistice that ended World War I. In 1954, the name was changed to Veterans Day in order to honor American veterans of all wars.
One organization in Southwest Michigan — Lest We Forget — strives to remember veterans not just on Veterans Day, but every day. We spoke with their board president and Vietnam veteran, Larry Wozniak, so you could learn more about this valued organization. Here's what Larry shared:
What is Lest We Forget?
Lest We Forget was founded in 2006 with the Motto: To Brighten the Future We Must Illuminate the Past. We are a 501(c)(3) nonprofit organization dedicated to education and modern U.S. war reenactment events. During the reenactments we give children of all ages a chance to climb into a tank or jeep, put on a military backpack or hold a 50mm machine gun. We bring to life important war events and the people who fought for our freedoms.
Who are your members?
Our members are veterans and non-veteran patriots in Southwest Michigan. We hold monthly meetings on the first Wednesday of the month at the Southwest Michigan Regional Airport in Benton Harbor. The coffee social starts at 9:30 a.m. and the meeting starts at 10:00 a.m. We welcome new members to join us.
What Lest We Forget events, programs and services are available?
On November 14 at 2:00 p.m., we will host a free Patriotic Concert at The Mendel Center at Lake Michigan College in Benton Harbor. Traditional patriotic songs and salutes to the military branches will be performed by the Southshore Concert Band under the direction of Dale Reuss. Being this is the 100th anniversary of the Tomb of the Unknown Soldier, we will host a former guard, Stuart Aspinall, to participate in this event. Before the concert, we will also take photos of any veterans in attendance between 1:00 and 1:45 p.m.
Over the years, Lest We Forget has presented reenactment weekends highlighting World War II (WWII), the Korean conflict and the Vietnam War. We have also honored members of the USO, Medal of Honor recipients and more since 2006.
Lest We Forget has published five books of local veterans' stories and we continue to collect stories for book 6. It has been said that when a veteran dies without telling his story, it is as if a library burns.
We also showcase our WWII Jeep, Army Mute and Weasel with a trailer to seat veterans at nearly a dozen community parades each year.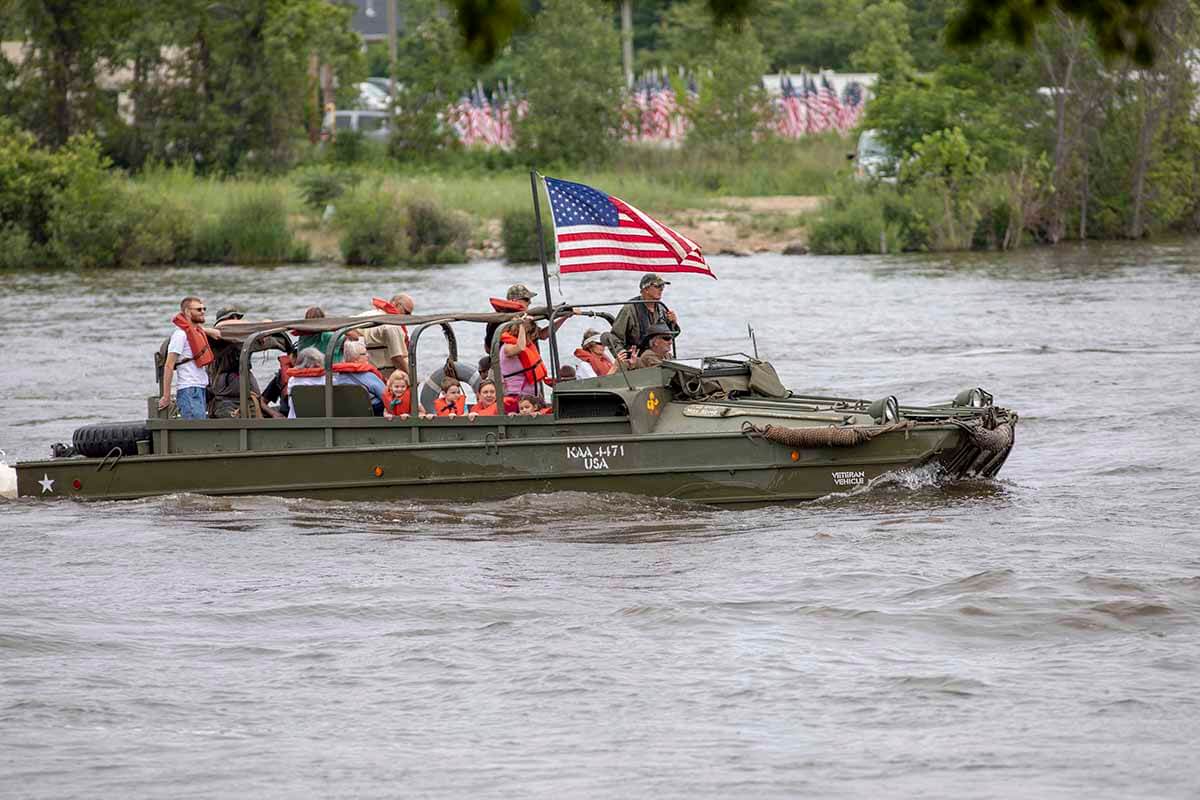 What is the reenactment theme for 2022?
The weekend of June 18-19, 2022, our theme will be "Women: We, Too, Gave Our All." It will be a tribute to women on the home front and in the military. We will honor the Rosie the Riveter types to the wives and mothers who had to adapt to raising a family while their husbands were overseas. It will be an opportunity to make sure Southwest Michigan doesn't forget the nurses to the female pilots to all those who had to fight extra hard to prove themselves in "this man's Army."
What might surprise readers about Lest We Forget?
Two things come to mind. As a nonprofit, we are solely funded by donations and grants. All of the people (and it takes almost 100 of them to put on a reenactment weekend) do it on a complete volunteer basis. The average cost of the last four reenactments is $40,000.00 per year.
The other is that we currently have 352 members. Membership dues are only $10 per year or $50 for lifetime status. I encourage anyone who wishes to honor our veterans, not only on Veterans Day, to either join Lest We Forget or to attend our events. It is a great way to say "thank you."