June 18-20 | Lest We Forget | Korea: The Forgotten War | 275 Upton Drive, St. Joseph | See calendar below for times | Free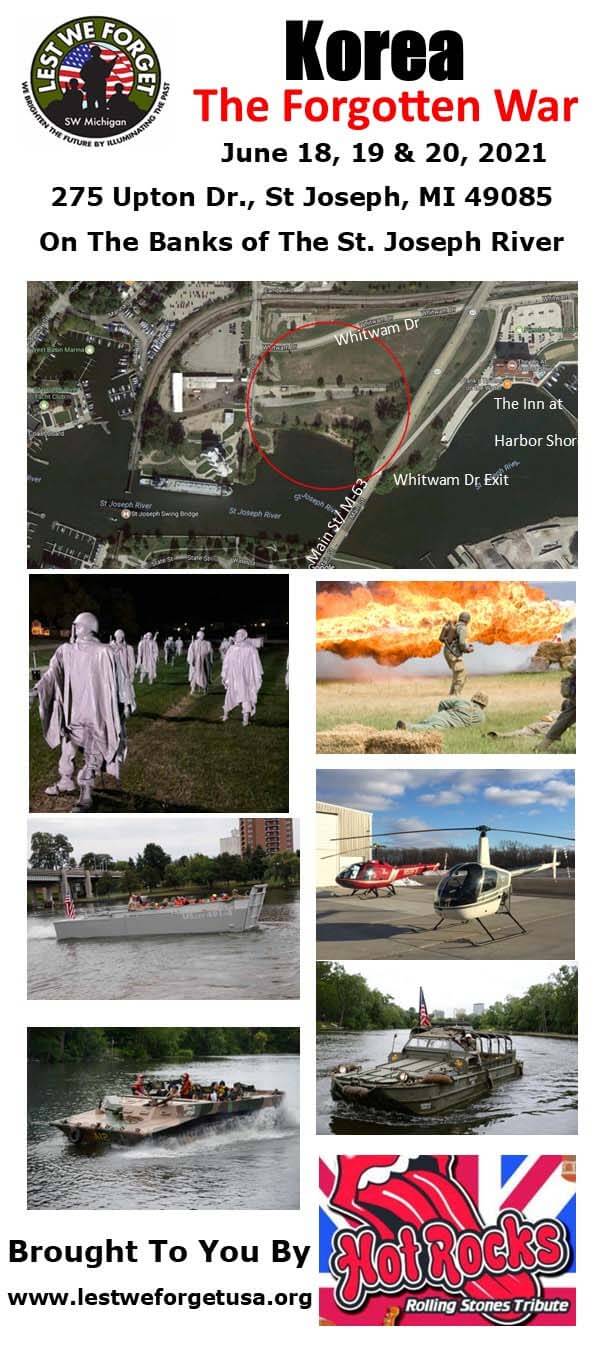 On June 25, 1950, North Korean troops pushed into South Korea. The ensuing three-year conflict pitted South Korea and the United States against North Korea and China. Often called the "Forgotten War" because it is overshadowed by World War II and the Vietnam War, this devastating mark on history "flattened" North Korea with bombings, killing up to 4 million people in both the North and South (although no official records are available). This heart-wrenching conflict never ended and still creates a volatile tension in global affairs.
Lest We Forget SW Michigan is sponsoring a reenactment weekend to honor the men and women who served in Korea between 1950-1953. Held on the banks of the St. Joseph River, it begins Friday evening with a public display of a traveling replica of the Korean War Veterans Memorial that graces the National Mall in Washington, D.C. Visitors can see the display until 3 p.m. on Sunday.
The organizers will offer all ages a powerful look at history and we encourage you to bring your family and friends. For more details, visit here.
Saturday, June 18 and Sunday, June 19
All Day
Free Boat Rides on three restored World War II and Korean landing crafts. An LTV "Water Buffalo," a dual-track amphibious vehicle; a 2-1/2 ton amphibious-wheeled DUKW or "Duck" truck; and a Higgins boat, most often associated with the D-Day landings at Normandy in World War II.
Robinson Helicopter Rides, $40 per person; one is a single-passenger and the other a three-passenger
20th-Century Warship Displays

The USS Silversides (SS-236), a Gato-class submarine, was one of the most successful submarines in the Pacific Theater of World War II, with 23 confirmed sinkings. She presently serves as a museum ship in Muskegon, Michigan and is a National Historic Landmark.
The USS LST 393 is an LST-1-class tank landing ship built for the United States Navy during World War II. Of 1,051 LSTs built, this is one of only two to survive in its original configuration. She is now a museum ship in Muskegon.
The USS Edson, a Forrest Sherman-class destroyer, served in the Western Pacific/Far East, operating particularly in the Taiwan Strait and off the coast of Vietnam. Her exceptionally meritorious service in 1964 in the Gulf of Tonkin was recognized with the first of three Navy Unit Commendations. She is now a museum ship docked in Bay City, Michigan.

Master modeler, Jerry Lindquist, displays military artifacts and several base camp dioramas depicting military scenes from World War I through Desert Storm.
5th Armored and 20th Century at War Military Mobile Interactive Museum includes vehicles, uniforms, weapons and gear from the last 100 years of our military history.
Food vendors, books, event t-shirts and more will be available throughout the weekend.
Saturday, June 19
0900 hours/9 a.m. – Opening Ceremonies
1100 hours/11 a.m. – Reenactment: Beach Landing Marine Assault.
There will be five reenactments throughout the weekend. Each will feature the 2nd Marine Reenactors from Chicago who will attack a North Korean machine gun position using weapons of the World War II and Korean era. They will be joined by Charlie Hobson with his flamethrower.
1200 hours/noon – Speaker: Jim Ball Korean War POW.
Jim is a resident of St. Joseph. He served in the U.S. Army beginning in January of 1949 and arrived in Korea in July 1950 as a member of the 2nd Infantry Division. He went into action on the Nakdong River, was wounded by shrapnel two weeks later and was hospitalized in Japan for his wounds. He was sent back to his unit in October as they began an advance toward the Yalu River. In late November of 1950, he was captured by the Chinese Army and suffered inhumane conditions for two-and-a-half years as a prisoner of war. His story of survival and service to our country is an important message for all Americans to hear.
1300 hours/1 p.m. – M.A.S.H Skit.
The local Twin City Players will perform a light-hearted skit based on the 1970 movie and the 11-season TV series that depicted the 4077 Mobile Army Surgical Unit in Uijeongbu, South Korea during the Korean War. Bring a lawn chair or blanket to enjoy the show.
1400 hours/2 p.m. – Reenactment: Beach Landing Marine Assault
1500 hours/3 p.m. – Korean Culture & Recognition of Korean War Vets.
Dr. Henry Seo, a resident of Berrien Springs, along with Dr. Young Sok Kim, the Consulate General of the Republic of Korea in Chicago, will recognize our veterans who served in Korea. They will also present a program on Korean culture and music.
1600 hours/4 p.m. – M.A.S.H Skit.
Second performance for the day. Bring a lawn chair.
1830 hours/6:30 p.m. – Reenactment: Beach Landing Marine Assault
1900 hours/7 p.m. – "Hot Rocks" Rolling Stones Tribute Band
This FREE, open-air concert is a theater-like show for all ages. Based out of Chicago, this band is officially selected to represent the Midwest by The Rolling Stones, Paramount Pictures and Martin Scorsese. Bring a lawn chair to rest between sets.
Sunday, June 20 - Father's Day & the First Day of Summer
0900 hours/9 a.m. – Field Services (for all faiths)
1000 hours/10 a.m. – Boat & Helicopter Rides begin
1100 hours/11 a.m. – Reenactment: Beach Landing Marine Assault
1200 hours/noon – Speaker: Jerry Sawatzke.
A local historian will recount a fascinating review of the history of the Korean War, its root cause and major events that shaped modern history. All ages will enjoy his stories.
1300 hours/1 p.m. – Speaker: Bill Sheets.
Bill will illuminate the past with a deeper look into the Korean War and the U.S. involvement. He is also the narrator during the beach landing reenactments.
1400 hours/2 p.m. – Reenactment: Beach Landing Marine Assault
1500 hours/3 p.m. – Closing
During the event, visitors are invited to become members of Lest We Forget. Annual memberships are $10; lifetime memberships are $50; under 40 years old and over 80 years old are free. Donations and sponsorships of future reenactments are also welcome to ensure this free annual event continues in Southwest Michigan. To learn how you can help this valuable 501(c)(3) nonprofit organization, visit here.