How the dream was kickstarted
In 2011, Christian Cook began homebrewing. With his downtime invested in learning the process and adapting to craft beer culture, owning a brewery seemed like a dream job that would never pan out.
Then his dream became a reality. Better yet, it became Silver Harbor Brewing Company, where he doubles as an owner and head brewer.
"I wasn't very happy with my last job, and felt like I was wasting my time away at a career I wasn't passionate about," he said. "My two other business partners began to be interested in starting a brewery as well. The perfect opportunity came up in St. Joseph."
At the time, St. Joseph didn't have a brewery and Berrien County as a whole was lacking the craft beer culture as well, Cook said. The three owners worked from December 2014 to Silver Harbor's opening in April 2016, renovating a century-old building that had once been freezer storage space into a brewery at 721 Pleasant St.
Unprecedented growth and sustaining success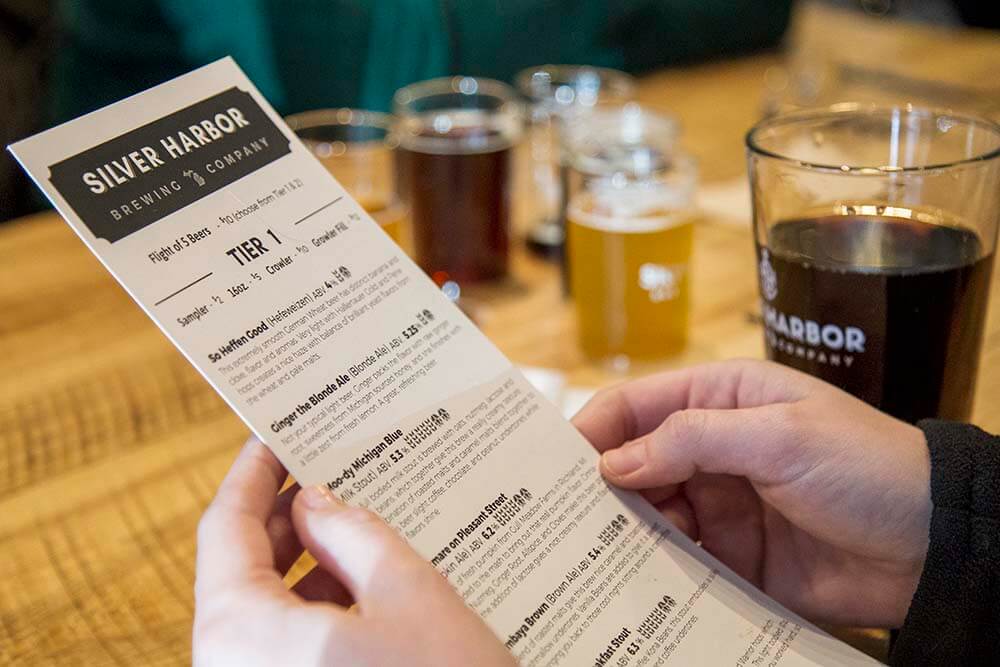 "It started out as something with low expectations — eight beers on tap, small food menu, seating for 100, in-house only — but over the past five years, has evolved from our original concept," Cook said. "Our food menu became a staple in St. Joe very quickly, and the combination of good food and beer put us on the map as a go-to spot in St. Joe."
Seating at the brewery has since doubled to accommodate 200 guests in a normal, non-pandemic year. Next, Silver Harbor is adding an event center. The business has also expanded to include packaged beer with three beer distributors covering 10 Michigan counties.
"It's never been about money or profit. Certainly, those things are needed to survive but it's always been about community," Cook said.
Silver Harbor Brewing Company strives to make its employees feel supported and hopes they enjoy and believe in the work they do.
"We believe that if we are doing all of these things, the money and profitability are the outcomes of doing good business, not the purpose," he said.
This mindset extends into the community the brewery serves, too. They are just as much part of the success story to Cook.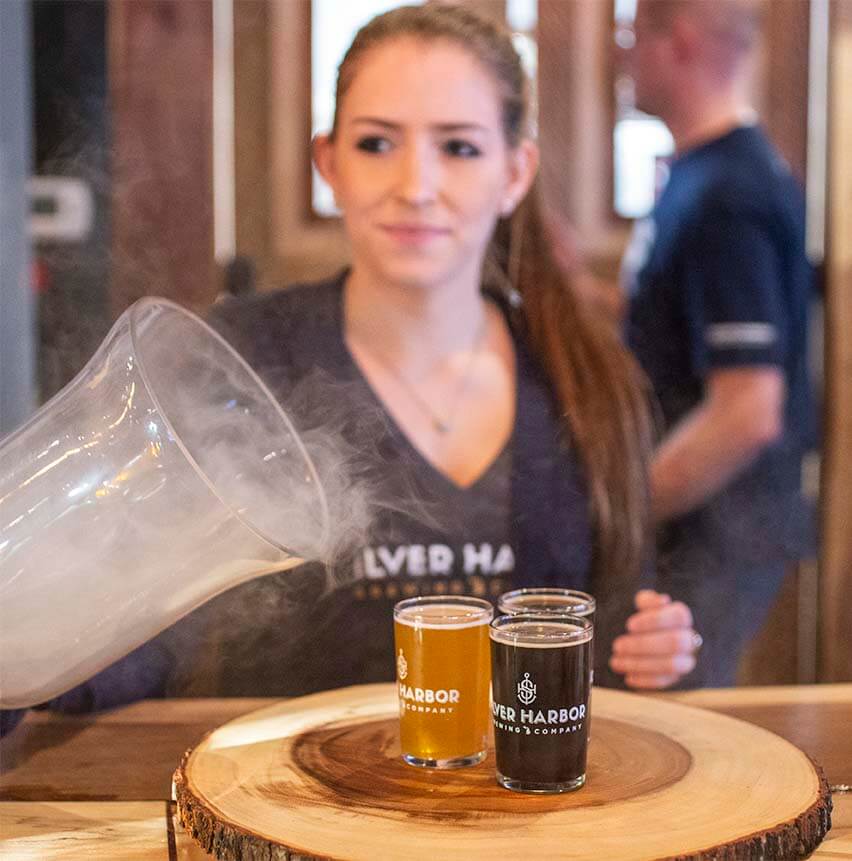 "For the most part, young families are our biggest segment of customers," he said. "Tourism is without a doubt the biggest contributor to success in the summer. But locals play a big part in keeping us rolling in the slower, winter months."
Moving forward, they hope to extend the craft beer industry to minority communities as Silver Harbor Brewing Company sees growth potential there.
"Our industry has not been very diverse over the past 20 years as it's exploded but that is beginning to change with the times," Cook said. "We are continuing to adapt our business and industry to accommodate more people who might not have been interested in craft beer years ago."
Rather than treat other local breweries as competition, Silver Harbor Brewing Company supports them by encouraging customers to try other local craft beers.
"We have such an awesome group of craft breweries in our area that we suggest making a beer trip in general — not just to one brewery but many," Cook said.
Running a brewery mid-pandemic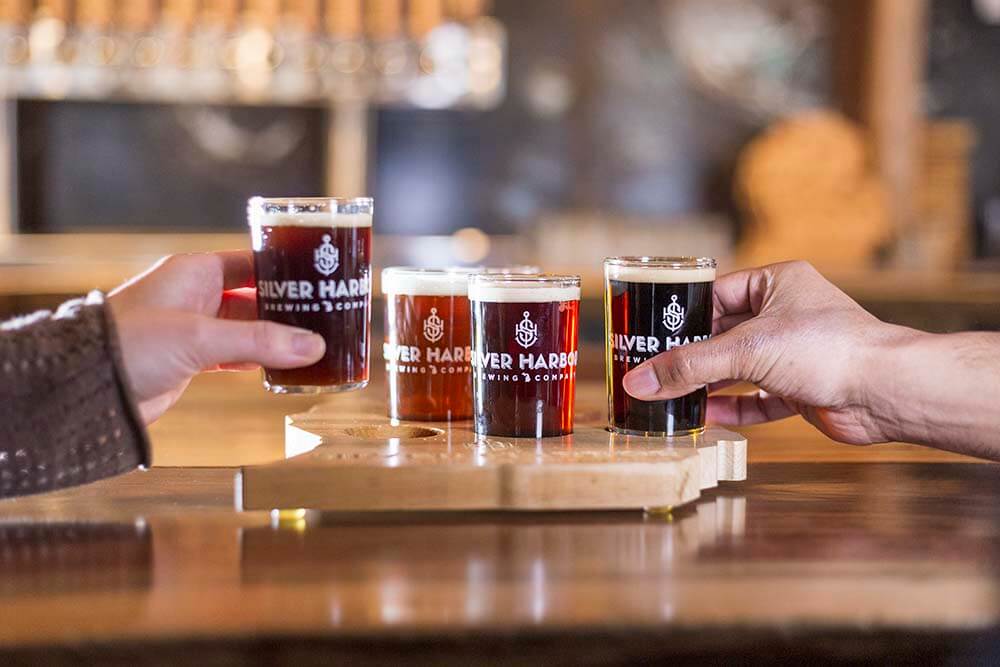 The focus for the last year has been providing things for their customers to safely enjoy during the pandemic.
"I love seeing people's faces, both customers and staff, so masks put a big damper on that," Cook said. "I'm so proud of our staff's endurance throughout this pandemic. It's been a very tough year for all of us, but I've learned how resilient our employees and brand are, as well as the craft beer industry."
As capacity restrictions loosen, be on the lookout for Silver Harbor to host oyster nights, brewer dinners, live music and more.
Until then, Cook recommends experimenting with American IPAs and food pairings. You can start with Silver Harbor's Hops, Sweat and Tears or anywhere between two and four of another local brewery's American IPAs. Have some beer with a different meal each night of the week whether you're staying in or carrying out. Experiment with your cuisines and see how your palate responds!
"You might see, in some cases, the hop flavor is muted with a beer, or more or less bitter with another. Maybe you get more caramel undertones or less aroma," Cook said. "But it's fun to try and, at the same time, support our local community."
With a delicious menu, a variety of beer groups and a location a block away from downtown St. Joseph, you can't go wrong swinging by Silver Harbor Brewing Company! Plan your visit today by visiting Silverharborbrewing.com. You can also find them on Instagram, Facebook and Untappd.