I am that guy sitting in the snow with my camera pointed at the ground. You can often find me somewhere in the snow around St. Joseph when pretty snowflakes are falling. Frequently, I have had to explain to neighbors and people passing by why I am sitting in the snow taking close up photos of my stocking cap. It is not until I show the display on the back of my camera that they really understand what I am trying to capture.
Several years ago, I received gift of a +1, +2 and +4 set of close-up macro filters to use on a lens for my camera. It was snowing that day, and almost immediately, I was outside trying to take photos of snowflakes. I searched for snowflakes lying on leaves, pine needles, windshields anywhere I could find them isolated or on a dark background. I was spending a lot of time searching for individual snowflakes and not much time taking photos. So, I decided that I needed to find a better way to capture my subject. I tried a variety of different materials to catch snowflakes on, and found that I had the best luck using either my old blue stocking cap or my black scarf. The snowflakes land at angles propped up by the frayed fibers which provided a little separation from the rest of the material.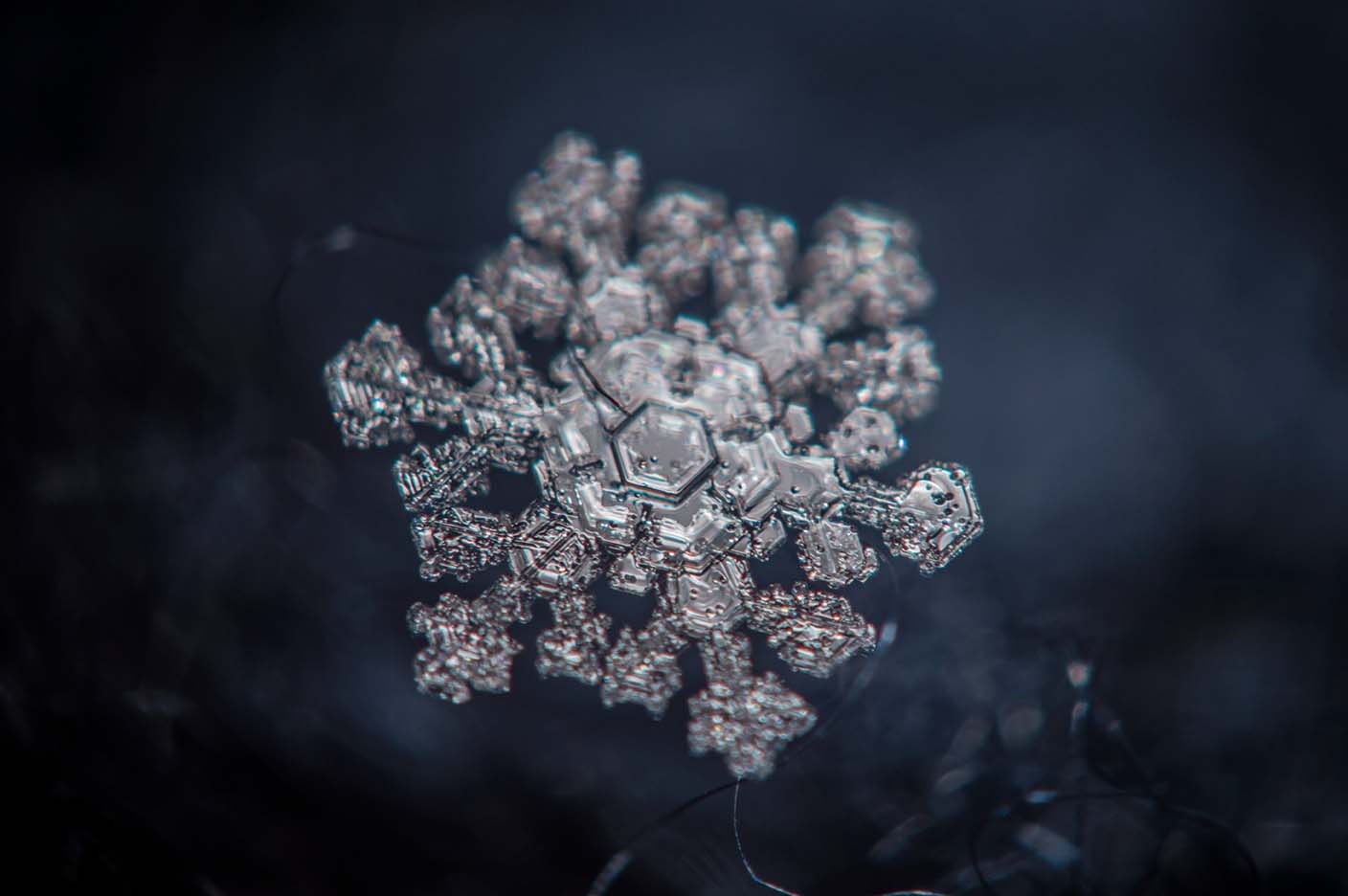 The macro filters gave me a closer view of the snow than I had ever seen before; but I wanted to get closer. At first, I was using the macro filters on an 18-55mm lens, eventually I tried them on a 55-200mm lens and then on a 70-300mm lens. These worked reasonably well, but I felt like I was getting too much distortion. So, I kept searching for another way. I could not justify the cost of a macro lens, therefore I kept experimenting. I finally decided upon using electrical tape to attach one lens backward in front of another lens. The first combination that I liked was a 55-200mm lens with a 50mm lens. Over the years I have kept experimenting and am currently using a 300mm lens with an 85mm. This combination has allowed me to take photos with surprisingly intricate detail.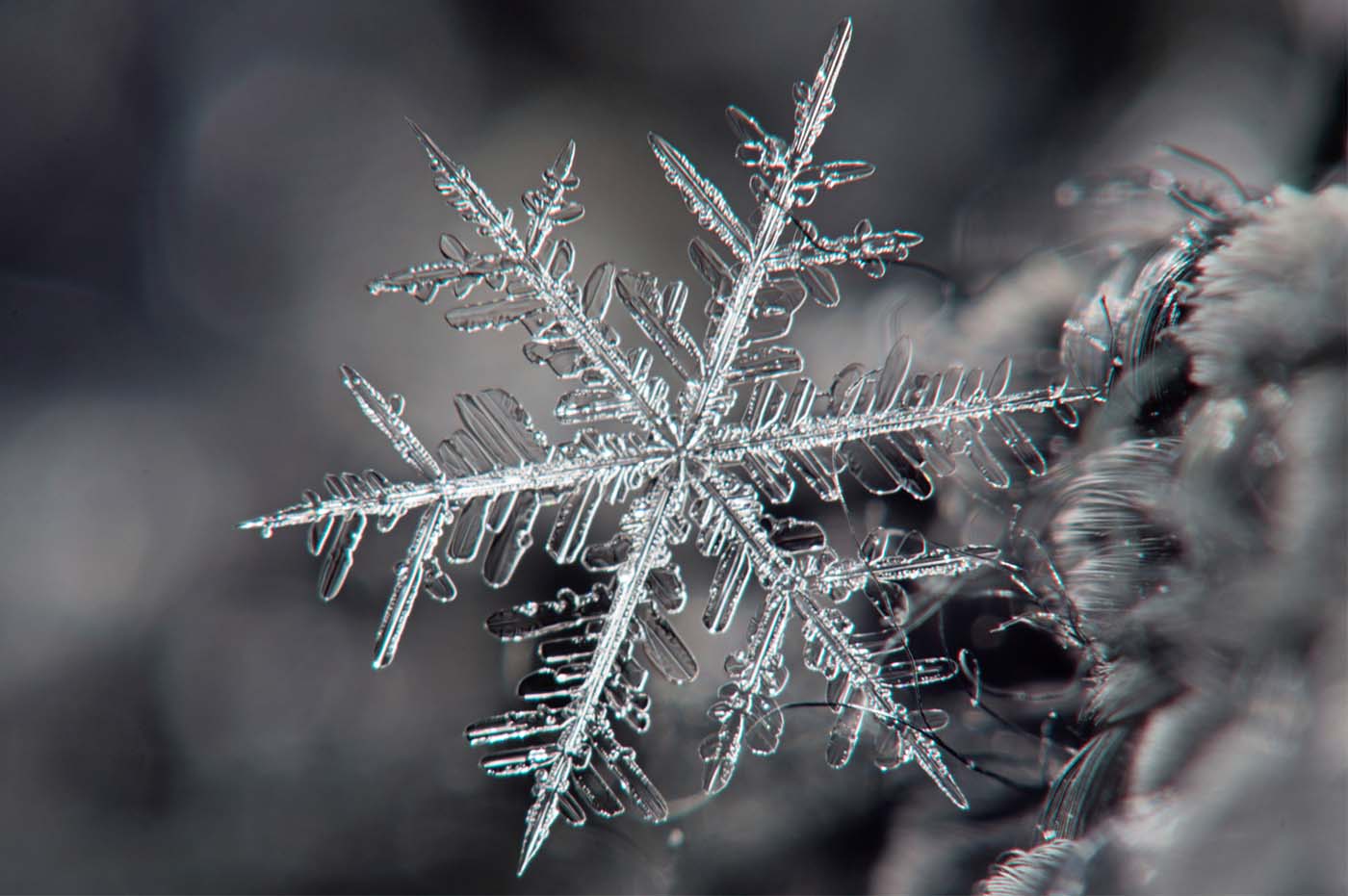 This method of taking macro photos does have it challenges. First is getting enough light. I use both a camera flash and an LED light on a stand set off to the side. The LED light is mostly to help me locate interesting flakes and the flash is for taking photos. Second, the depth of field is tiny, only a millimeter or two and this distance between the subject and lens is only inches. As a result, I need to be very steady and very close to the snowflakes. I have tried using a tripod to hold the camera but have found that handholding is more effective. I am not ashamed to admit that 95% of the photos are out of focus/blurry, because the few that are in focus are amazing to look at.
This level of magnification has given me a view that I never dreamed I would be able to see. I have been amazed by the variety of shapes of snowflakes and dazzled by the delicate detail of each individual snowflake. As the weather and temperature change, the shapes and sizes of the snowflakes also change. When it is only a little below freezing many of them are rimed (tiny water droplets frozen to the ice), then as it gets colder they before the classic stellar dendrite shape and when it is really cold they can be tiny little sparkling hexagonal plates. My favorites are the tiniest ones, which seems to have the most interesting centers.
Every time it snows, I find myself running outside to see what the snowflakes look like. The next time it snows, before you grab your shovel, take a moment to sit in the snow with a camera or magnifying glass and enjoy one of the true marvels of winter. See more photos on my website.