The Sun Setter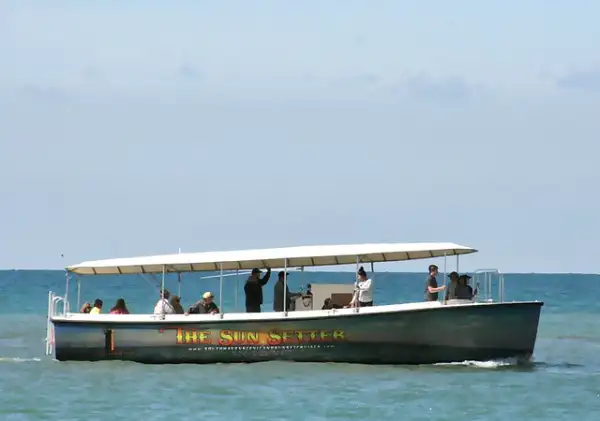 345 Water Street
South Haven, MI

Tel: 269-364-0608
The Sun Setter
Come and explore South Haven's beautiful coastline. Take a look at South Haven from a water perspective. View some beautiful multi-million dollar lakefront homes, check out miles of sandy beach, and some unique clay formations. Come and enjoy a peaceful, relaxing, scenic tour, or watch the sun set into the water and reflect the colors of the sky with the magnificent Lake Michigan sunset.
​Feel Safe; the "Sun Setter" is an ex-United Stated Navy Utility Launch Boat. The vessel is made entirely of fiberglass/composite and built to military standards. It is powered by a 671N Detroit Diesel. The Vessel is United States Coast Guard-inspected and licensed to carry 40 passengers. Children of all ages are welcome. Alcohol is permitted; canned beer and boxed wine are preferred. Personal-size coolers, please
7 Days a week starting May 26th - October 1st
Departure times: NOON, 3:00 PM, 6:00 PM & SUNSET
​Sunset Cruise departure time is 1 hour prior to sunset, times vary.
DETAILS
Duration of Scenic Tour: Approximately 45 minutes
Duration of Sunset Cruise: Approximately 1 hour 15 minutes
July 3rd Fireworks Show: Approximately 2 hours
Departure Time: Proceed directly to the boat at least 15 minutes before departure time to purchase tickets.
If you have to cancel please allow 24hrs notice. Cancel electronically through your confirmation email or if you do not have that information please call ASAP.
​Walk-ons are welcome. Call or book online to reserve your spot.
Captain Chad Bard: 269-364-0608
Contact: email