Gold Coast Fishing Company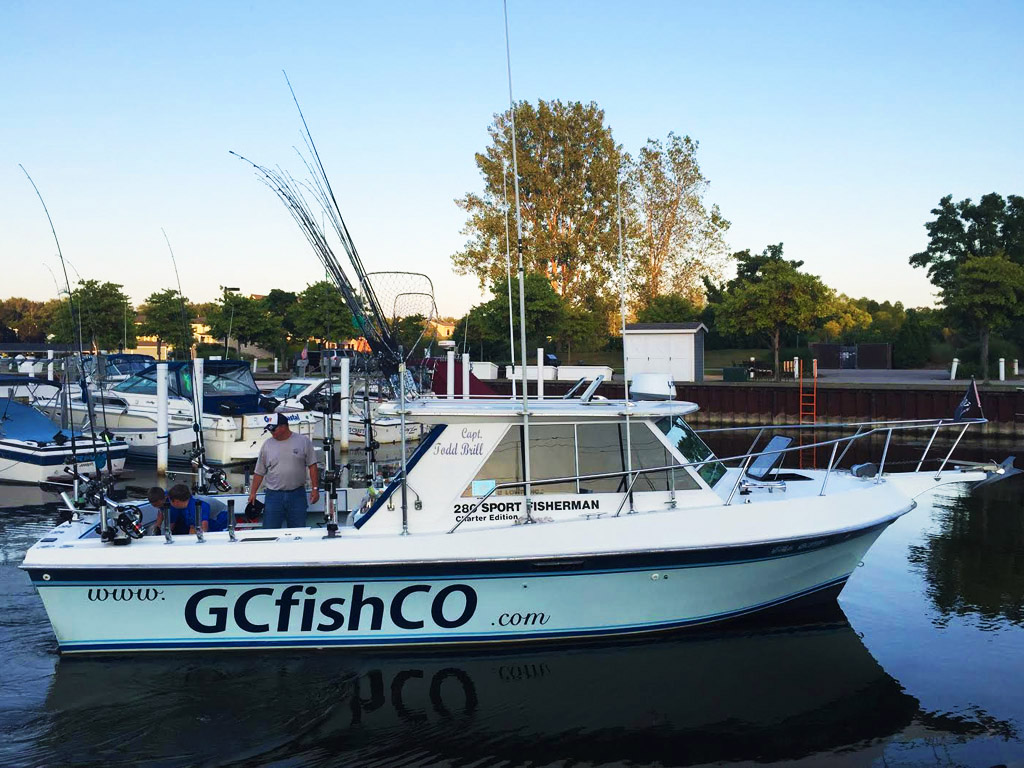 Gold Coast Fishing Company caters to smaller groups of people looking to get out on Lake Michigan or the St. Joseph River in chase of salmon, steelhead, and trout, as well as to folks who just want to get out on the river and go fun fishing. Whether you are experienced anglers or just looking for a great time on the water, Gold Coast Fishing Company will provide you with an unforgettable experience. Your Captain, Todd Brill, is a local full-time, year-round charter captain. Captain Todd holds a US Coast Guard captain's license, and your trip will take place on one of Gold Coast Fishing Company's state DNR-licensed and inspected vessels. As both a member of the National Association of Charter Boat Operators and the Michigan Charter Boat Association, Captain Todd will provide you and your guests with a safe and enjoyable day on the water.
Your Lake Michigan charter will take place aboard Bad Influence, a 27 foot Penn Yan hard-top "Sportfisherman." Gold Coast Fishing Company uses this style and size of boat for many reasons, like its large fishing platform and open pilothouse. It also has a head (lavatory) in its cuddy cabin for your convenience. This vessel is equipped with all the high quality fishing gear, tackle and electronics to ensure that your fishing experience is one to remember. With currently record low water levels, Bad Influence's tunnel hull allows us to easily travel the river to the big lake. Our boat is also much more fuel efficient than many other charter fishing vessels, enabling us to pass along those savings to our clients through lower charter rates.
Your St. Joseph River charter will take place aboard Chameleon, a 21 foot heated and enclosed Starcraft river boat. Chameleon also has a head (lavatory) for your convenience. We will supply all the gear, tackle, bait and electronics you will need for your St. Joseph River charter. Although Steelhead fishing is the premier river fishing trip, we also offer fishing trips for catfish, walleye and more. Our "Family Fun Trip" is especially popular with families and kids of all ages. Be sure to check out our "St. Joe River Fun Fishing Trip." This is a great and inexpensive way to get out on the river with a group of friends, catch a mixed bag of fish, and just have a fun, stress free time on the water. It you prefer not to fish, we also offer the opportunity to cruise the St. Joseph River; you will see how beautiful it really is no matter what time of year.
Additional Information
Lake Michigan Charters: salmon, trout, perch & sunset cruises
St. Joseph River Charters: salmon, Steelhead, catfish, walleye, family fun trips, scenic river rides & fun fishing trips
We provide all tackle, gear & bait
We do not offer pet accommodations
No Upcoming Events Published By Gold Coast Fishing Company