TORP Improv Comedy Night | The Oak Room at the Citadel
Event published by The Oak Room at the Citadel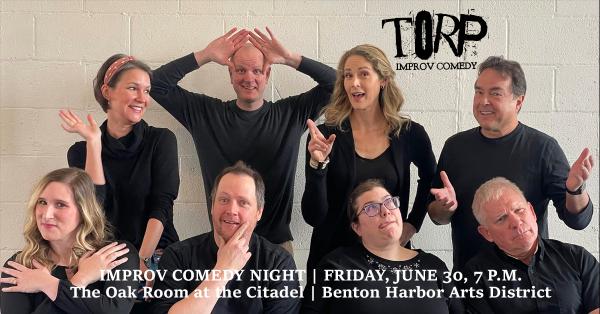 Jun 30, 2023
7:00pm - 10:00pm
More fun than mere mortals should be allowed to have.
TORP will thrill you with fits of laughter, amaze you with daring hilarity, and wow you with impressive feats of strength. OK, not so much with the accomplishments of power, but definitely the other two. Whether you prefer to chuckle, guffaw, giggle, snicker, or outright belly laugh, be at The Oak Room at The Citadel – in the heart of the Benton Harbor Arts District –on Friday, June 30, at 7 p.m. to laugh out loud with TORP.
A beer and wine cash bar will be available when the doors open at 6:30 p.m. and for an afterglow with the cast immediately following the performance.
Will it be funny? You bet. Will there be adult language? Very possibly. Will we stray off-topic? Count on it. It's all based on audience suggestions - unscripted and inspired.
Admission: $15