What you should know before you follow the Makers Trail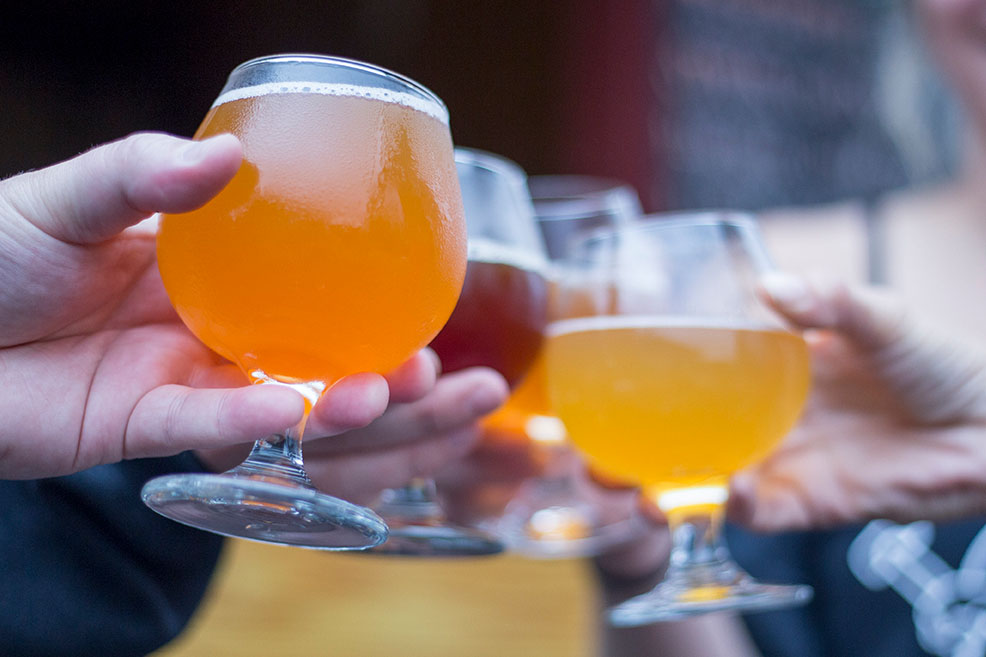 Your road to craft beers, wines and spirits in Southwest Michigan.
When is the best time to tour the Makers Trail? Fall, winter, spring and summer! The Makers Trail is enjoyable year round, offering a different experience each season. With more than 30 members scattered across Southwest Michigan, you'll have fun tasting new and long-time favorite handcrafted brews, wines and spirits. Come on your own or bring family and friends. The makers and their staffs look forward to your coming. Here are some tips to make your time at each stop more enjoyable:
Call or register online to schedule a tour or group tasting. The staff at sites along the Makers Trail are excited to see you. But several of the sites require advance notice for large groups (10 or more) so they have adequate people available to serve you. Others request that you make reservations to tour their vineyards, brewery or distillery (please arrive 10-15 minutes before your scheduled time).
Plan to visit only three or four sites per day. Each site has its own personality and specialties. Take time to enjoy them!
Do your research. It is helpful to know a little bit about each of the locations on your itinerary so you know what to expect and can have the touring experience you are looking for. For example, some offer a full menu, others snacks and some focus on their beer, wine and spirits selections. You'll find some have tables and chairs outdoors, others only indoor seating. There are venues that are pet friendly, offer music-filled festivals or cooking and pairing classes. Visit makerstrail.org for more information about our members.
Know your limits. It's great to sample and taste new flavors until you find what you like, just be cautious about how much you are drinking. Don't overdo it. Many craft beers and local wines also contain higher percentages of alcohol, so that buzz might hit sooner than you think. All of the sites along the Makers Trail are not permitted by law to serve anyone who appears drunk regardless of who is driving, per section 801 of the MI liquor code.
Keep it clean and not too loud. Out of respect for our staff, guests and their children, swearing, crude language and adult paraphernalia are not permitted. Please also use "inside" voices so others can comfortably converse.
Travel safely. Please designate or hire a driver who will not drink alcohol BEFORE your tour begins. Most sites offer non-alcoholic choices so even the DD can have fun tasting. If a limousine or bus service is more practical, leave the driving to Grape & Grain Tours, or Fruitful Vine Tours. They would be happy to transport you to each location.
Do not bring other beverages on site. Keep your drinks and food in your vehicle or tour van. Please honor the maker by enjoying what is offered at each destination. Bringing your own lawn chairs, umbrellas and tents are encouraged for longer visits by some stops.
Bring a valid photo I.D. and money for tastings/tours. All members of the Makers Trail require a valid photo I.D. before serving any alcoholic beverages. Customers must be 21 years of age or older to purchase or consume alcohol. You can frequently buy your samples by the flight or glass. Most places accept cash and major credit cards.
Avoid wearing strong perfumes or colognes. Strong scents can be overwhelming and ruin the tasting experience for you and others.
Don't feel intimidated. Never been on a tour like this before? That's okay! Everyone with different levels of knowledge on wine, beer, and spirits can feel welcome along the Makers Trail. The friendly and helpful staff will guide you through the whole experience.
Ask questions. If you're not sure what to try ... or want advice on food pairings ... or always wondered why we use oak barrels, just ask. We love talking about our crafts!
Try more than one. If you don't like the taste, you don't have to finish it. Ask to sample something else.
Be open-minded. Maybe you've tried a similar type of wine, beer, or spirits before and weren't impressed, but that doesn't mean you won't fall in love with the flavor at a new place. Chocolate wine. Pumpkin beer. Jalapeno spirits in your cocktails. Every maker's craft is unique and you might be surprised by what becomes your new favorite.
Bring them home to enjoy. Each maker would be proud if you purchase the wines, beers or spirits you like. They make great gifts, too.
Tip: Look for our Makers Trail Guide at any of our member locations or on our website. Not only will it guide you in the right direction, it will also tell you the hours, contact information and interesting facts about each location. Don't forget to pick up a Makers Trail coaster, too!
Now you know how to be the perfect tourist on the Makers Trail (even if you are a local). Start planning your route today!
Cheers!