Winter Wedding Photos in Southwest Michigan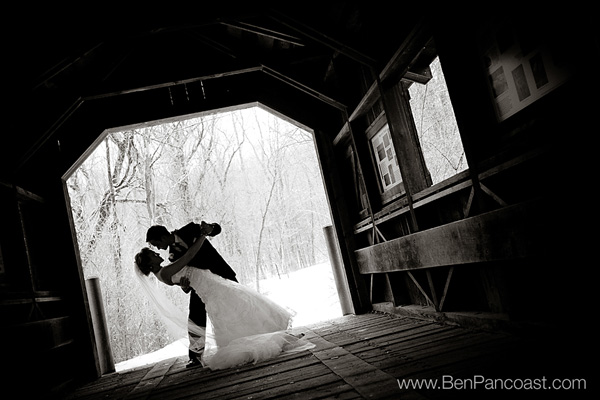 The best thing about a winter wedding is how unpredictably magical your photos can be. There's nothing quite as beautiful as snow falling around a couple on a wooded path or lights twinkling in the background. Even the lakeshore is transformed as the ice builds up around the pier and off the beach. Southwest Michigan provides unlimited opportunities for capturing these naturally beautiful winter scenes by the lake, in the woods, or even along the twinkling paths of the many quaint downtown cities.
How to Have the Best Winter Photoshoot:
One of the keys to capturing great wedding photos in the winter is to have a plan. Talk with your photographer about the types of pictures you're most excited about and possible locations for each of those photos. Consider how much time each location would require you to be outside and how far you might have to trek through the snow. Your photographer should be familiar with the area and know the best spots for photos at each location to minimize your exposure to the cold. I would highly recommend picking locations that are versatile and allow you to get more than one type of shot without requiring additional travel.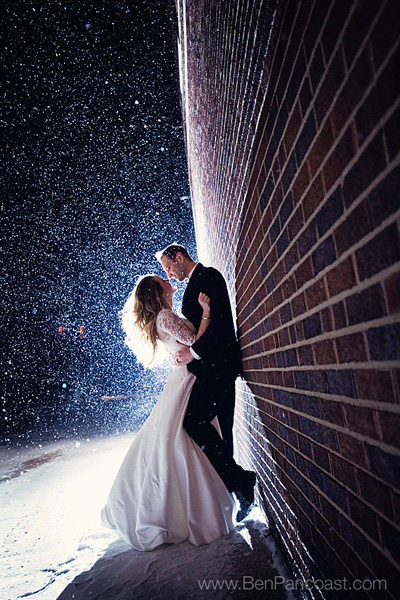 Dress Appropriately:
My advice to couples is to come prepared with the right layers. If you're dressed appropriately you can shoot in any kind of weather. I always recommend a big puffy winter coat with a loose hood for the bride along with warm boots. The boots will be hidden by the dress and the loose winter coat is great for throwing over a wedding dress. Having a loose hood you can put over your ears without ruining your hair can be especially handy as well. I like to keep my brides warm as long as possible and will typically pose and light the couple and have everything ready to go for a shot before asking the bride to take her coat off. At the last moment, we'll have the bride toss her coat to an assistant and click away, then the bride can put the coat back on usually within only a few moments. Having warm flexible layers means we'll be able to keep you happy in between shots and as a result we get to shoot longer and get even more great photos for you!
Important Considerations for Picking a Photographer for Your Winter Wedding:
Find someone who is familiar with the area. You want to have a plan and know where you're going before the day of the wedding. You also want your photographer to be ready with a contingency plan in case the weather throws you for a loop and it's incredibly windy, or too cold to be outside. Make sure you have a photographer who knows how to pose people. While candid photos are wonderful, you need a photographer who can help you look your best and make sure it happens FAST. The other key consideration is to make sure your photographer has excellent off camera lighting skills. Off camera flash is an important tool during the winter. Not only can you use it to create beautiful pictures when the snow is falling but most winter days are grey and the light fades relatively early. Being skilled with off camera flash means your photographer can create pictures at any point in the day regardless of the conditions. It will also be especially important when it comes to taking those nice family photos which will almost certainly be inside. Ultimately, your best bet when searching for a winter wedding photographer is to ask the photographer to see examples of any past weddings they shot during the winter so you can have an idea of what your photos will look like.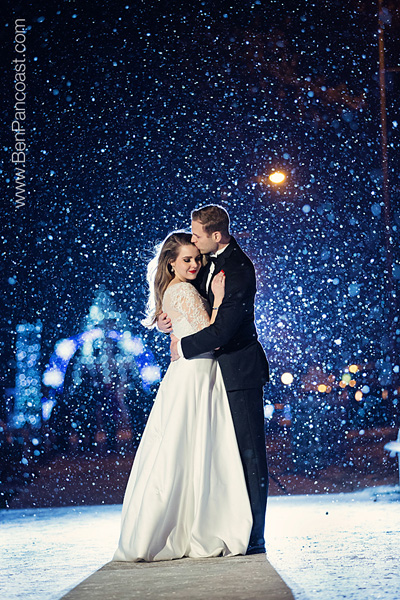 Winter Wedding Venues:
There are some incredible venues in Southwest Michigan that are ideally situated to help you take advantage of all the winter beauty and then warm up and have a great time. Venues like the Shadowland on Silver Beach, The Inn at Harbor Shores have incredible spaces that are within minutes of the beautiful lights along the bluff, the frozen light house, and the magical snowy wooded paths. There are many talented wedding planners in the area who can help you bring a little of that winter magic inside as well by adding that perfect uplight or center piece.
Favorite Photos:
Covered Bridge-
I love how versatile this location is. You can get several different shots that all work well without having to change location. Versatility is key when you're considering locations for winter wedding photos.
Night Time Wedding Photos-
Off camera lighting makes these photos pop. Without the ability to light the couple not only would you not see the couple, you wouldn't see how magical the snow is all around them!
Decorative Lights-
I love to take advantage of the beautiful lighting everywhere! Decorative lights look beautiful in the background of winter wedding photos!
Snow Scapes-
Everything covered in white makes even the simplest of landscapes seem more beautiful. I love how we can take advantage of the leafless trees to add interesting lines and shapes to an otherwise clean landscape.
Ben Pancoast has been a professional Michigan wedding photographer since 2004 and has been blessed to travel the country shooting everything from weddings and family portraits to concerts and corporate conventions. While his career has taken him across the country and back again, Ben has focused on Michigan wedding and portrait photography and shoots primarily in Southwest Michigan, the South Bend area, and Chicago. Ben is known for his artistic eye and technical expertise, but his clients love his easy going demeanor and passion for capturing beautiful moments.