Makers Trail tips from a 2021 Passport grand prize winner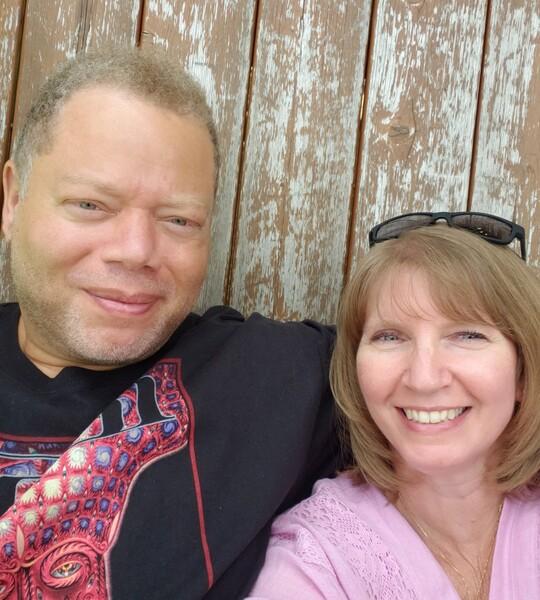 Michael Miller of Hazel Crest, Illinois, was thrilled when he learned he was one of five winners in the 2021 Makers Trail Flight Crew Passport Grand Prize Drawing. His reward was a two-night, all-inclusive stay at a Southwest Michigan hotel. He immediately offered to share his story with others so they could discover how much fun they would have participating in the 2021/2022 program that ends May 31. We called Michael, and here are some of his tips:
How long have you participated in the Passport rewards program?
My fiancée Keri and I started visiting wineries on the Makers Trail in 2015. We were staying at the Holiday Inn in St. Joseph in 2018 when we saw a flyer for the Makers Trail Passport. We jumped on the chance to win the rewards. Since then, we've gotten a Passport every year. It's ingrained in us.
What was it like participating in the Passport program your first year?
At first, I was overzealous trying to earn as many rewards in as little time as I could. We were visiting too many places on the Trail in a day. Not only were we tasting a lot of wine, beer and spirits in one day, but also we were having a hard time staying within our budget. Now we are more strategic in planning our visits.
What advice would you give to other Passport holders?
Spread out your visits to collect your stamps. Throughout the program, which runs from September to May, we visit breweries on two days; wineries on two days, then take day trips to visit the distilleries, cideries and the remaining breweries and wineries on our list. Just remember, you don't want to overdo it.
Each day, take time between visiting the breweries and wineries to get something to eat. Stop at Kilwins for ice cream, go for walks, enjoy your time in and around St. Joseph.
Set a budget for each trip. We typically set a budget of $100 for buying our favorite wines, beers and spirits to bring home. Keri belongs to a couple of wine clubs on the Makers Trail so she gets discounts. When budgeting, also factor in the tasting fees, meals and hotel stays if you can stay overnight.
Get out of your comfort zone. Keri likes familiar sweet wines, I like Merlots. But we are glad we tried Baroda Founders Wine Cellar's Smoreleaux; it's like a s'more in a glass. They don't always have it, so get it when you can. Two others we are happy we tried are Round Barn's Black Walnut Cream and Salted Caramel Cream Wines.
The Passport has also introduced us to beers and spirits that we wouldn't have tried without the incentive to get a stamp from breweries and distilleries, too. Our goal each year is to complete all the reward levels and, if possible, visit every winery, brewery, cidery and distillery on the Trail.
Take time to learn more about winemaking, brewing, cider making and distilling as you go from one site to the next. Tour the facilities when you can. I like talking to the makers. I am especially interested in the different grapes they use. People are very willing to tell you about their crafts. At Dablon Winery & Vineyard we learned about their ice wine and how long the grapes had to stay on the vine. It is so good.
Want to know a serving tip for their ice wine? I pour it like syrup on fluffy pancakes. It is a great breakfast!
What are some of your favorite Makers Trail stops?
Round Barn's Filling Station on Friday Road, just off I-94 in Coloma. It's a very relaxing place to get something to eat and try their beer, wine, spirits and sangria.
Journeyman Distillery in Three Oaks. We love this place. It is a very American distillery. While you are here, you can enjoy The Acorn, Froehlich's Bakery and Journeyman's Staymaker Restaurant. We stop and get one of their Featherbone Bourbon Vanilla Adult Malted Milkshakes every chance we get. It is soooo good.
Peat's Cider Social in Stevensville. You can try their hard ciders and seltzer waters while bowling.
Arclight Brewing Company in Watervliet. We love this place, too. Both of us. They have frozen hard coffee, hard smoothies, sours, hard ciders, craft sodas and beer.
Contessa Wine Cellars in Coloma. This place is like visiting a castle on a hill overlooking the orchards.
Chill Hill in Baroda. This winery, tasting room and gift shop lives up to its name. You will chill while you're here enjoying their ciders and wines.
In Bridgman, we like to visit Lazy Ballerina Tasting Room, Transient Artisan Ales and Haymarket Taproom. If you're from Chicago, you'll recognize the Haymarket's beer selection.
Why would you and Keri recommend getting a Passport and earning rewards on the Makers Trail?
If you are attempting to grow in a relationship, this is the way to do it. Going out on the Trail is very therapeutic. When we come to St. Joseph, our stress levels drop to zero. We may not agree with each other on everything, but we don't argue when we are here. Some urban winery tasting rooms are opening up near us in Hazel Crest. The experience there is nothing like sipping a glass of wine in the vineyards of Southwest Michigan. We love getting away. It's like a vacation every time we come. And when we collect enough stamps for a shirt, hoodie and YETI® mugs, we get excited. It was great to win the Grand Prize hotel stay this past year. We'll get a new Passport and earn more rewards this year. Consider us lifetimers in the Passport Flight Crew.