Grape and Grain Tours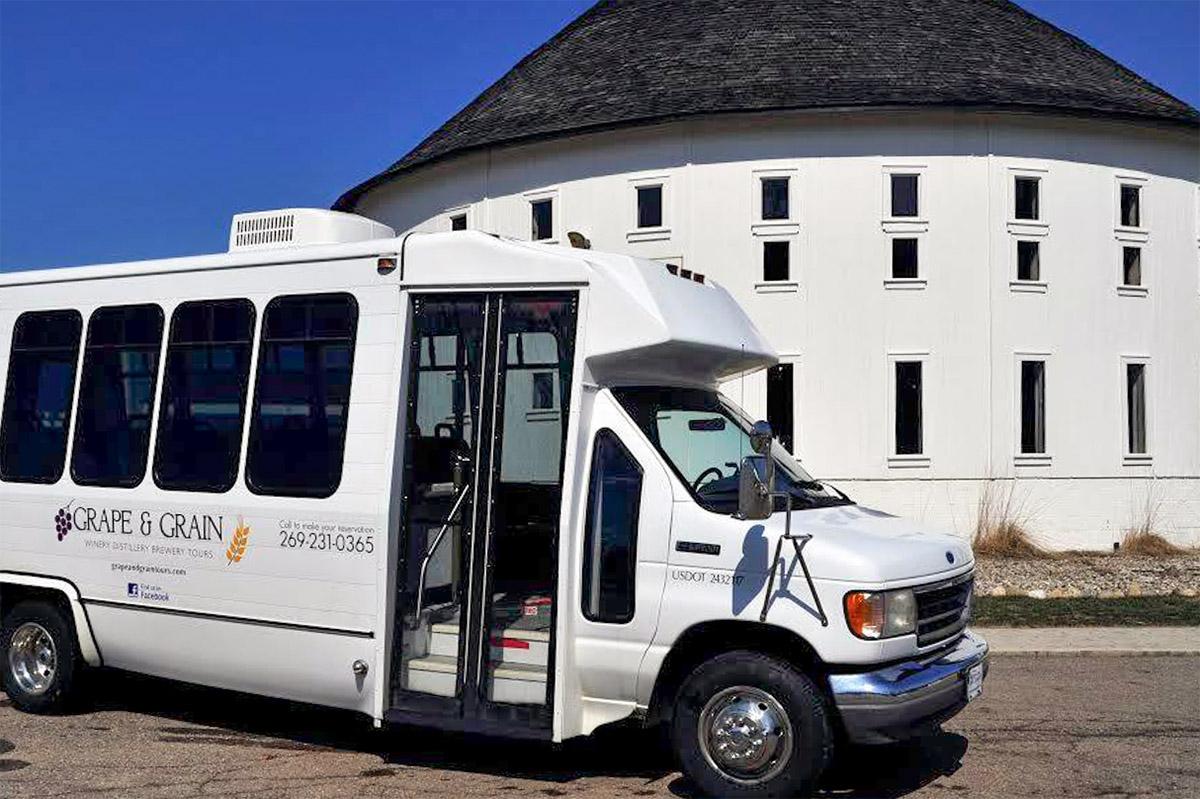 Have lots of fun (staying safe, too) on Southwest Michigan's Makers Trail
Company: Grape and Grain Tours
Contact: Ashley Rojics Rubino, social media marketing manager
Email: info@grapeandgraintours.com
Phone: 269-231-0365
Website: grapeandgraintours.com
We recently asked Ashley Rojics Rubino to share how you can have more fun visiting wineries, breweries and distilleries along the Southwest Michigan Makers Trail. Here's what she had to say about letting Grape and Grain Tours do the driving:
We are a mom-and-pop, actually, a mom-and-daughter shop
Grape and Grain Tours, LLC was established in August of 2012 by Kim Knuth, her husband Grant Knuth, and Matt Moersch from the Moersch Hospitality Group (the family who founded Round Barn Winery). Over a glass of wine on Moersch's estate, the three founders realized transportation companies from Southwest Michigan were missing the mark on showcasing the best local wine and beer experiences to tourists and locals alike. Kim, Grant and Matt have spent their entire lives in this region and witnessed first-hand the explosion of talented crafters and vintners emerging each season. Many of the existing tour companies in the region were overlooking newer destinations. The three of them set out to change that.

Grape and Grain Tours' humble beginning started with one tour bus on Friday, Saturday and Sunday. They focused mainly on the Round Barn Winery and its sister wineries. With the expansion of the Moersch Hospitality Group, Matt left Grape and Grain Tours in 2016 and Kim's daughter Ashley joined the marketing team in 2017.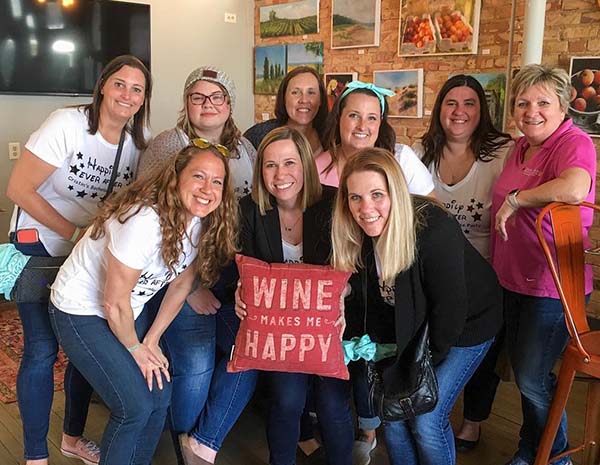 Ask us to be your designated driver all year-round
Today, Grape and Grain Tours continues to operate on the weekends with multiple shuttles and tour options. The company also offers additional tours Monday through Thursday (Memorial Day through Labor Day) with partnerships at six wineries and three local restaurants.
Choose between three tour options (you can book online):
The daily wine tour seats up to 14 guests and includes transportation to and from hotel partners, tasting fees at three or four wineries, lunch, and chances to enter-to-win social media giveaways.
The private wine tour is for large groups that want a more intimate experience and exclusive transportation from any nearby lodging.
A private shuttle lets you personalize your itinerary. This is ideal for large groups (up to 14 guests) who want to manage their schedules and omit the tasting structure. You determine the brewery, winery and/or distillery destinations you want to visit (we can help you with suggestions). You also receive special perks such as pick up/drop off privileges from local hotels.
What makes our tours stand out
Because we live in the area we tour, we are familiar with the crafters ﹘ the winemakers, brewers and distillers ﹘ as well as the ambiance of local hot spots. We build our tours with a variety of destinations and products to offer something unique to the overall experience. Guests can find a classic tasting in a vineyard with award-winning selections exclusive to the region, or a glass of fun, seasonal flavors in a laid back tasting room. With the supplemental education from our tour drivers and the approachable tasting consultants at each location, it's important to us that our guests feel welcomed when they arrive and feel like locals when they leave.
Upcoming special events
This August is Grape and Grain's 6-year anniversary and we are offering additional savings on tours and giveaway opportunities all month long.

In Spring 2020, Grape and Grain Tours will restructure its daily tours by adding even more wine, beer, and distillery tour partnerships and themes of the week. It will introduce you to our region's expanding diversity of products and buzzing events ﹘ giving you more reasons to try us the first time or to come back again and again (repeat guests get extra perks, too).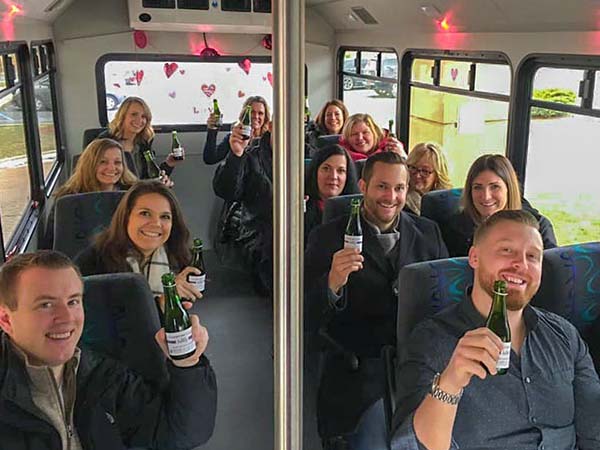 Insider tips for planning your Grape and Grain Tour
Our daily wine tours fill up fast so we recommend that you book your spot at least 45 days in advance, if not sooner.
We provide complimentary water and day-of-itinerary wine totes for purchase. You can bring snacks on the bus (however snacks are not allowed in the wineries).
If you prefer to plan an itinerary with our 6-Hour Private Shuttle, we can consult with you on what the best options are based on your "perfect day" as well as where your pick up/drop off lodging is located. Leave yourself at least one hour at each destination to order your flights, soak in the atmosphere and eat a bite. A good rule of thumb is 3-4 wineries + lunch to keep a relaxed pace and 5-6 wineries + lunch if you're throwing drinks back in under 45 minutes.
You should always call ahead to place your winery/brewery/distillery reservations. Be mindful that the majority of wineries and breweries operate on a first-come-first-serve basis. Pro Tip: Ask about any day-of special events. These could make your destination more crowded than usual. Inquire whether outdoor patios and food are available as well as each destination's hours of operation (they tend to change seasonally).
Your safety is our number one priority. Our vehicles pass yearly safety inspections and our drivers keep all of your personal belongings and purchases locked on the bus during tastings (the bus remains on-premise during tastings).
Tours are popular in the spring because of bachelorette parties and in the fall because of the harvest and gorgeous fall colors. Please reserve your tour date several months in advance to fit your plans.
Tours operate on Eastern Standard Time so make sure to keep that in mind when planning your day-of traveling.
Let us help you plan your hassle-free day of fun
You will work directly with the owners of Grape and Grain Tours. We will answer your questions, help you plan your day and make sure you experience the best Southwest Michigan has to offer! Let us make some of your happiest memories. Contact us at www.grapeandgraintours.com or follow along on social media for the latest offers and behind-the-scenes experiences @grapeandgraintours.
See the tour experience
To help you visualize the tour experience, @grapeandgraintours is taking over the Makers Trail Instagram account on Saturday, August 3! Follow @makerstrail's stories to go on a wine tour with them and experience the fun of a Grape and Grain Tour!