Find Out What's "Tappenin" at Red Top
What is Red Top?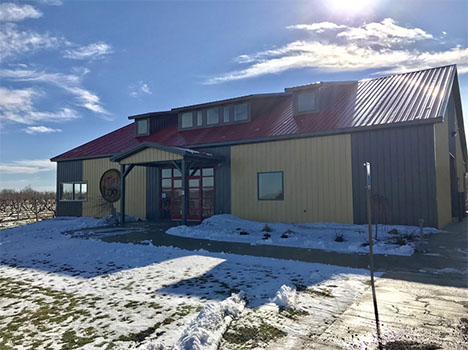 Red Top is a Southwest Michigan winery offering a new and innovative wine tasting experience. With enticing wines on tap, instead of in the bottle, owners Rockie & Allison have opened their doors to a completely different style of winery. A delightful ten-minute country cruise south of downtown Baroda, MI will place you at Snow Road, where the beacon of a truly wonderful wine tasting journey begins. It all started in '97, when Rockie & Allison were originally farmers who sold their grapes to local wineries in the Berrien County area. From there, the decision to open a winery they could call their own blossomed, and in 2011 Gravity was born. With the newfound success and over 18 acres of vineyards, the idea to add another location flourished. So on May 19th, 2017 Rockie and his beautiful red-haired wife Allison opened a winery with a name that fit, Red Top.
What's different about Red Top?
The main difference about Red Top is how original and eco-friendly the winery is. By serving the wines on tap through keg lines, each 15.5 gallon keg is able to provide 1,984 one ounce tastings! That way, we're able to let more people try wines they prefer, or try something they may have never tasted before all while keeping a lot less bottles out of landfills. We also believe that music and wine go hand in hand, so for each tasting, you'll receive 6 guitar picks and for each pick you hand back, you're able to sample the wines of your choice for only $12, in addition to taking the glass home! Cheers!
How does it all work?

We all know what happens when a bottle of sparkling wine is left out for too long and it begins to lose its fizz. Fortunately, here at Red Top, we like to make sure that our sparkling wines always have bubbles. In our backroom, we have CO2 tanks that pump out our sparkling wines and nitrogen tanks for the stilled wines. By doing it this way, the carbon dioxide is able to keep the sparkling wines carbonated and fresh so that every taste is like opening a new bottle!

What should I try?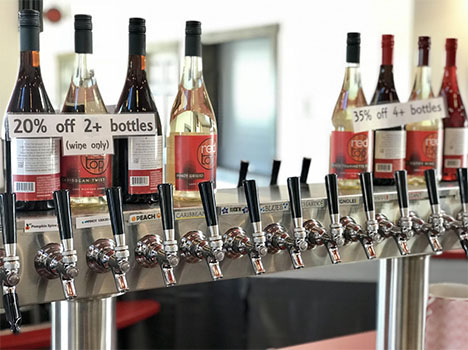 Where do we begin?! With an array of varieties to choose from, answering the classic questions of "dry or sweet?" and "white or red?" will get the wine rolling! For our dry wine fans, we usually recommend our traditional style Chardonnay or our dry, yet tropical, light-bodied Vignoles that goes well with spicy foods. Some of our sweeter selections include the "MI Happy Wine", a blend of the naturally sweet Vidal grapes and our "Radiant Red", which is an easy going red with a rosé color made from Zweigelt grapes. Two of our sweetest sparkling wines to taste are the "Blueberry Blitz", made from 100% fresh blueberries from a farm in South Haven or our "Caribbean Twist", which is a Seyval Blanc infused with coconut that's similar to a Piña Colada and will make you feel like you're right on the beach! One of the best wines to look out for that's currently only available by bottles is our "Bourbon Barrel Aged Cabernet Franc." Aged in Wild Turkey Bourbon Whiskey barrels, it's the perfect blend of a smoky, oaky, dry mouth feel of the Cab Franc, blended with a bold, bourbon finish.

When is a good time to visit?
There's never a bad time to experience all of the amazing wineries, breweries & distilleries along the Makers Trail! Around the summertime is when we start offering live music on our back patio overlooking the vineyards outside and food trucks to go with our wine as well. Our current winter hours are Fridays through Sundays from 12p.m. to 5p.m., we'd love to see you then!
Blogger: "My name is Brandon Woodcox and I'm a 23 year old from South Bend IN, 30 minutes south of Baroda, MI. I started working as a Wine Consultant at Gravity last June, but now I'm the Shift Lead at its sister winery, Red Top. I love what I do, the amazing people I work and interact with, and the overall gorgeous, scenic views of Southwest Michigan! Everyday I'm there feels like I'm on a vacation. I also love singing, writing songs and sailing the Makers Trail!"