Roti Roti Art Center of Buchanan: The community space that fosters creativity and connection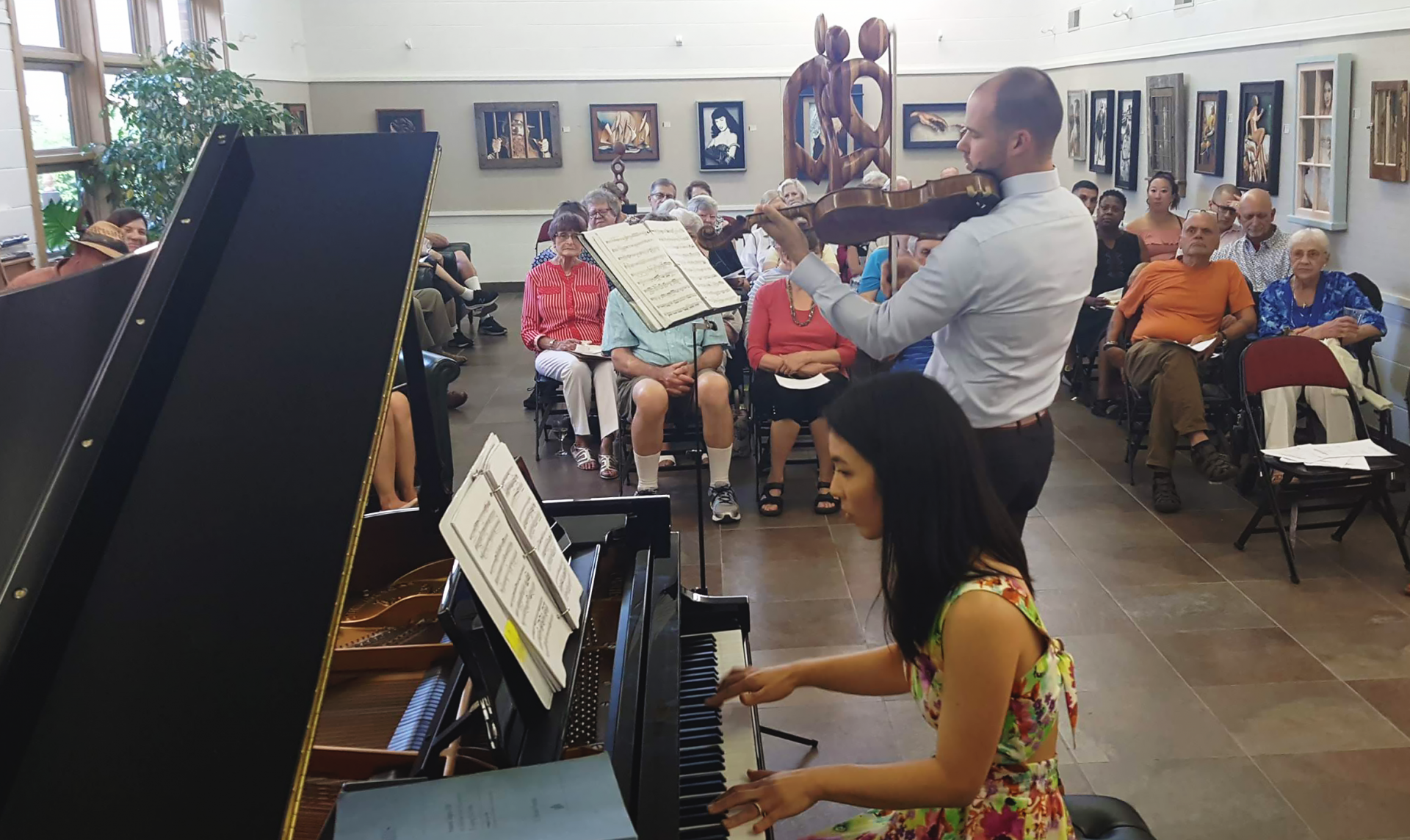 The Roti Roti Art Center of Buchanan is celebrating its sweet 16 this year! Over the years, it has not only made contributions to the community but given community members a place to come when promoting, working on or learning about various mediums of art. The BAC also recently joined the new Creative Connections game as a destination so tourists can both create and purchase local creations themselves, too.
We spoke with Executive Director Danielle Wilborn to talk about the story behind Roti Roti Art Center of Buchanan, what it offers visitors, how they're growing and most importantly, how they are celebrating this anniversary! Read below to find out what she had to say.
How did you celebrate your anniversary?
We held a Sweet 16 Anniversary Celebration earlier this month. Our galleries will have the following exhibits through Aug. 22:
"Remembering Shirley Roti Roti," a memorial exhibit for one of our founders and biggest supporters over the years featuring her artwork, many of which are paintings and drawings in watercolor, oil, pastel, acrylic, charcoal and pen and ink.
"Roti Roti Art Center of Buchanan All Members' Exhibit," which showcases a variety of the styles and mediums created by art center members.
During the celebration, we did live art demonstrations of different mediums, a pottery instructor and student showcase sale and a collaborative community project that will be installed in the Art Center. We also presented our 2021 donation check of $2,500 to Redbud Area Ministries from our Empty Bowls Pottery Workshops and Sales. It is our highest donation to date, despite not working with schools this year due to the pandemic. We've been participating in Empty Bowls since our inception, and our head potter, Marie Remington, brought the program to our area 26 years ago.
How did the Roti Roti Art Center of Buchanan come about?
The Roti Roti Art Center of Buchanan opened its doors in 2005 after spending a year or so rehabbing the old Buchanan Library building. Each year we add more to our programs and events. Currently, we host eight rounds of exhibits each year in 3-4 gallery spaces. Our gift shop features around 50 artists at any one time with new items arriving frequently. All of our artists are local to Southwestern Michigan. We offer four sessions of classes every year for all skill levels and multiple mediums/styles. Pottery is our most popular medium.
What days/hours are you in operation?
Located at 117 W. Front St., Buchanan, we are open Wednesday to Sunday, Noon-6 p.m. Our hours do change seasonally, so it's best to check our website or Facebook page.
Who is attracted to Roti Roti Art Center of Buchanan?
Our classes attract local and part-time residents of all ages — predominantly from Berrien County, St. Joseph County in Indiana, and the Chicago region. We do have some dedicated students that come up from Elkhart County, Indiana. Our exhibitions and receptions pull from the same areas with a higher representation of the part-time residents from the Chicago area. Our most frequent visitors are families with children and older adults. We have been adding to our programming to create classes and events of interest to teens and those in their 20s to 40s. This month, a Fired Ink Memo Board class is scheduled for teens! We do have a relatively steady flow of tourists, most of which are visiting family or Lake Michigan.
How did you get involved with the Roti Roti Art Center of Buchanan?
I started as a desk volunteer at the Roti Roti Art Center of Buchanan back in 2006, a year after its inception. My exhibit was in one of the galleries at the time, and I served on the board. After I graduated from Indiana University South Bend, I didn't want to lose touch with the local art world, so I joined as many organizations as I could find. This is the one that stuck the longest.
What do you offer to visitors? Anything new this year?
We offer classes in a variety of mediums for all skill levels and ages. Mediums include pottery, fired ink for teens, light and shadow for kids and photography. New classes are listed regularly.
Our 2021 Summer Concert Series takes place at 2 p.m. on the last Sunday of each month through August with a bonus concert on Sept. 2 for Classical Music month. The next two concerts are as follows:
Cello/piano duo concert — 2 p.m. on Sunday, Aug. 29: Cellist Emily Munn-Wood performs with the Peoria Symphony Orchestra. She is also a committed teacher of the cello and maintains studios with four Chicago-area music schools, as well as a private studio. Dr. Geena Kam is a classical pianist, pedagogue and art administrator. She is a Chamber Music Academy Director at Fischoff National Chamber Music Association and also an adjunct piano faculty at Saint Mary's College, Notre Dame. Munn-Wood/Kam Duo will perform music by Brahms, Chopin and Nadia Boulanger.
Violin oboe duo concert — 2 p.m. on Sunday, Sept. 5: American violinist Daniel Fields and oboist and English hornist Abigail Pitts both currently study at Indiana University's Jacobs School of Music. Fields performs as a violinist with the Richmond Symphony Orchestra. Pitts won the SBYSO Concerto Competition in 2016 and played with the Intercollegiate Masterworks Ensemble in Indianapolis. She was later invited to play as principal oboist with the Notre Dame Symphony Orchestra for 2 years and toured Germany, Poland, and the Czech Republic for three weeks in 2017 with NDSO.
Our exhibitions change every six weeks, so there is always something new to explore. We also take part in many city celebrations, and those all get listed on our events page. Once the Sweet 16 installations are taken down, the galleries will feature the following three exhibitions from Aug. 25 to Sept. 26 — Caste: Community Exhibit, Ideas on the Land: Regional Painters and Peter Jones Photography. More information will be on our Exhibits webpage when these are up in the galleries.
Why should tourists/residents include Roti Roti Art Center of Buchanan on their list of stops in Southwestern Michigan?
All of our artists are local to the region and their work isn't what you would typically find in a gift shop. They are pieces you can truly incorporate into your daily lives to give yourself little reminders of your time spent in Southwestern Michigan. Some of these creations may be a painting of a familiar spot you visited or pottery created in town. Working with all local artists, our programs and exhibits not only help support our community projects but also dozens of artist- entrepreneurs. Our instructors and artists are in and out of the building all the time, so you may get to meet the potter that made the bowl you are purchasing while you are here!
What makes you proudest and most excited about your organization and the coming year?
We are definitely more active within the community this year and plan to continue that in the future. We are partnering with Redbud Area Ministries on free art classes for kids during the summer. We're also bringing low-barrier art activities to the public so anyone can have fun art-making experiences that can contribute to a sense of belonging and an actively welcoming community.
How can people learn more about you and any exciting news you have?
The best way is our website, www.buchananartcenter.com. We are also on Facebook and Instagram. Here you can view and sign up for classes, see our gallery schedule and get a peek at our current exhibitions. You can also join with a membership or donate. A membership means gift shop discounts, special event offerings, a class brochure mailed to you and a class registration discount. Stop by the Roti Roti Art Center of Buchanan today to see local artwork or create some of your own. Make sure to wish them a happy Sweet 16 while you're there!