Best ice skating in Southwest Michigan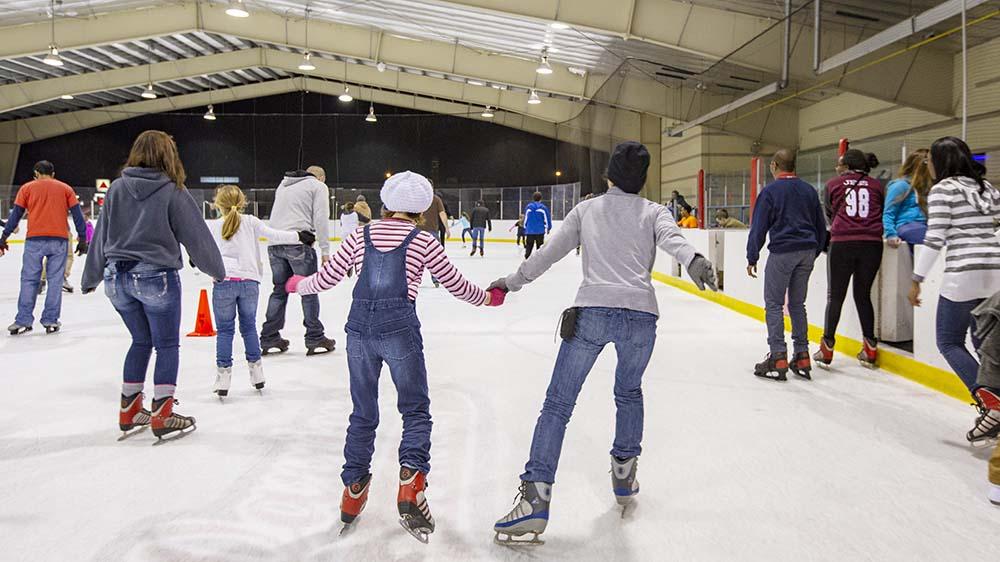 Several winter sports invite us to stay active in the cold months, but in some Southwest Michigan rinks, you can enjoy one of them year round — ice skating. Whether you need to shuffle through your first few steps or prefer to take off with a firm accelerating push, a fresh sheet of ice is waiting for you in more than one Southwest Michigan location. Both indoors and out! So, grab your skates, or rent them, and experience the best ice skating in Southwest Michigan. Then try some of the extra fun activities these rinks have to offer.
Outdoor Ice rinks
John and Dede Howard Ice Arena
The John and Dede Howard Ice Arena in St. Joseph is over 20 years old. However, ice skating at this location has been popular for much longer. The vacant lot where the arena now stands was historically flooded and transformed into a large outdoor skating rink. In 2001, a generous donation from local residents John and Dede Howard made it possible to improve the skating experience with the creation of a covered ice rink with boards, an enclosed warming area and restrooms. Over the following years, improvements have been made to the facility with the addition of locker rooms, lockers in the warming area, a party room, a concession stand and better boards and glass around the NHL-sized, open-air ice rink.
Additionally, the fireplace in the warming area is a favorite. Warming up by the fire is the perfect way to take a break from skating on cold days. The fireplace also gives the arena a really homey, comforting quality. Guests also appreciate the fact that the Zamboni resurfaces the ice regularly to maintain perfect skating conditions. Ice quality does depend on the air temperature though, and it is important to call in advance on warmer days to confirm skating will be available. There is also a concession stand and skating assistance apparatuses, hockey skill programs and skate rentals onsite.
Find public open skate hours and information on the City of St. Joseph Parks and Recreation website. John and Dede Howard Ice Arena opens a few days before Thanksgiving as long as it is cold enough to freeze the ice.
Harbert Park ice rinks
Among this Sawyer Park's baseball field, picnic tables, fishing pond, volleyball courts and more are not one, but two outdoor skating rinks. One of them is made just for your young children who are still navigating their balance on ice, too! The Dinky Rink and Harbert Park ice rink are open from dawn to dusk with ice skates available to rent for free. Park off street. The rinks are open depending on weather, so call ahead to be sure before you visit!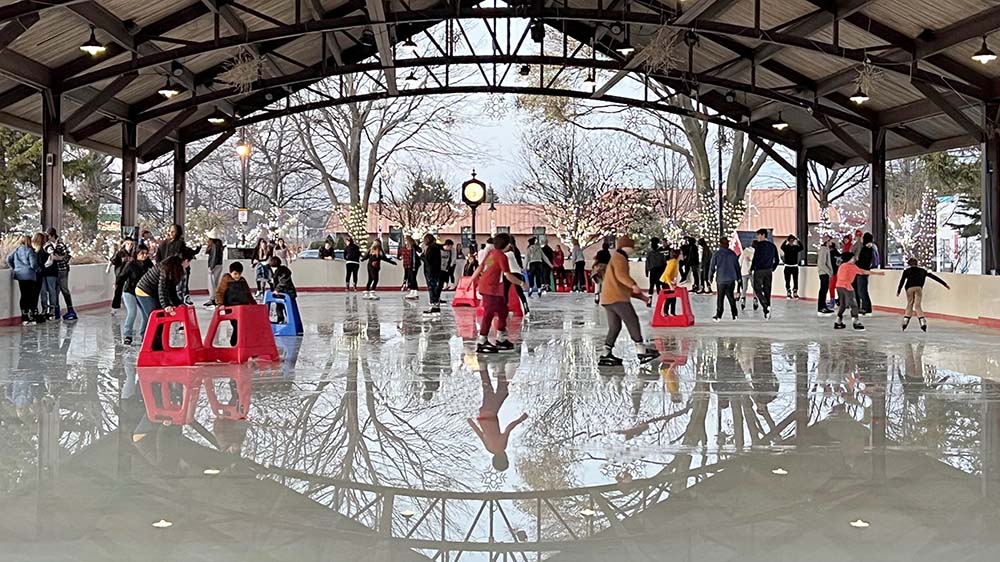 South Haven Ice Rink
Located in downtown South Haven, this outdoor ice rink invites you to skate into the winter wonderland of Southwest Michigan. Don't worry though, a large pavilion overhead allows you to watch the snow without it falling on you. Thanks to that same roof, a winter storm and other weather conditions are rarely going to stop your fun! The rink also remains at a constant frozen temperature due to the coils underneath the ice.
Rent skates, or bring your own, and enjoy winter fun. Once you're done, walk to a nearby shop, cafe or restaurant to enjoy a warm beverage or meal. The ice is professionally cleaned to maintain a safe skating surface for you and your friends. Enjoy the rink for open skate most days throughout the winter, even with temperatures of 40-50 degrees.
If you're a fan of watching Olympic curling every couple of years, you can satisfy your curiosity by taking classes at the South Haven Ice Rink, too. You don't even have to know how to skate to take classes! For more information on the classes, curling leagues and open skate hours, visit the rink's website or call their office.
Indoor Ice Rinks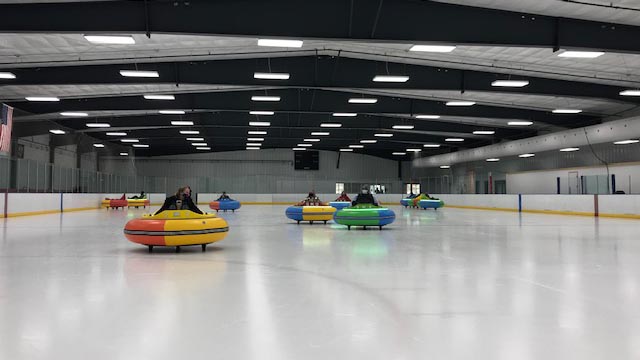 The Garden Ice Arena
St. Joseph's The Garden Ice Arena is open year round for indoor skating each Friday evening. And sometimes, you can even drive a bumper car on ice.
The Garden was started by a local who grew up playing hockey at John and Dede Howard Ice Arena. When he and his wife considered starting a business, they decided to pursue a lifelong passion — offering on ice opportunities for fun in the community.
Special weekends are designated year round for ice bumper cars, where you can speed around and ram into your friends and family for fun. Guests must be 6 years or older and at least 42 inches tall to drive a bumper car. A driver has to be 18 or older to have a 3-to-5-year-old passenger on board with them.
Rental skates and concessions are available at this rink, too.
Host a birthday party at our ice rinks!
Are you looking for a fun, unique birthday party idea? Host your gathering at our rinks in Southwest Michigan! Some offer private rooms for party games, and you can rent the ice so it's all yours. Contact the rinks individually to schedule your event.