Antique Stores near Southwest Michigan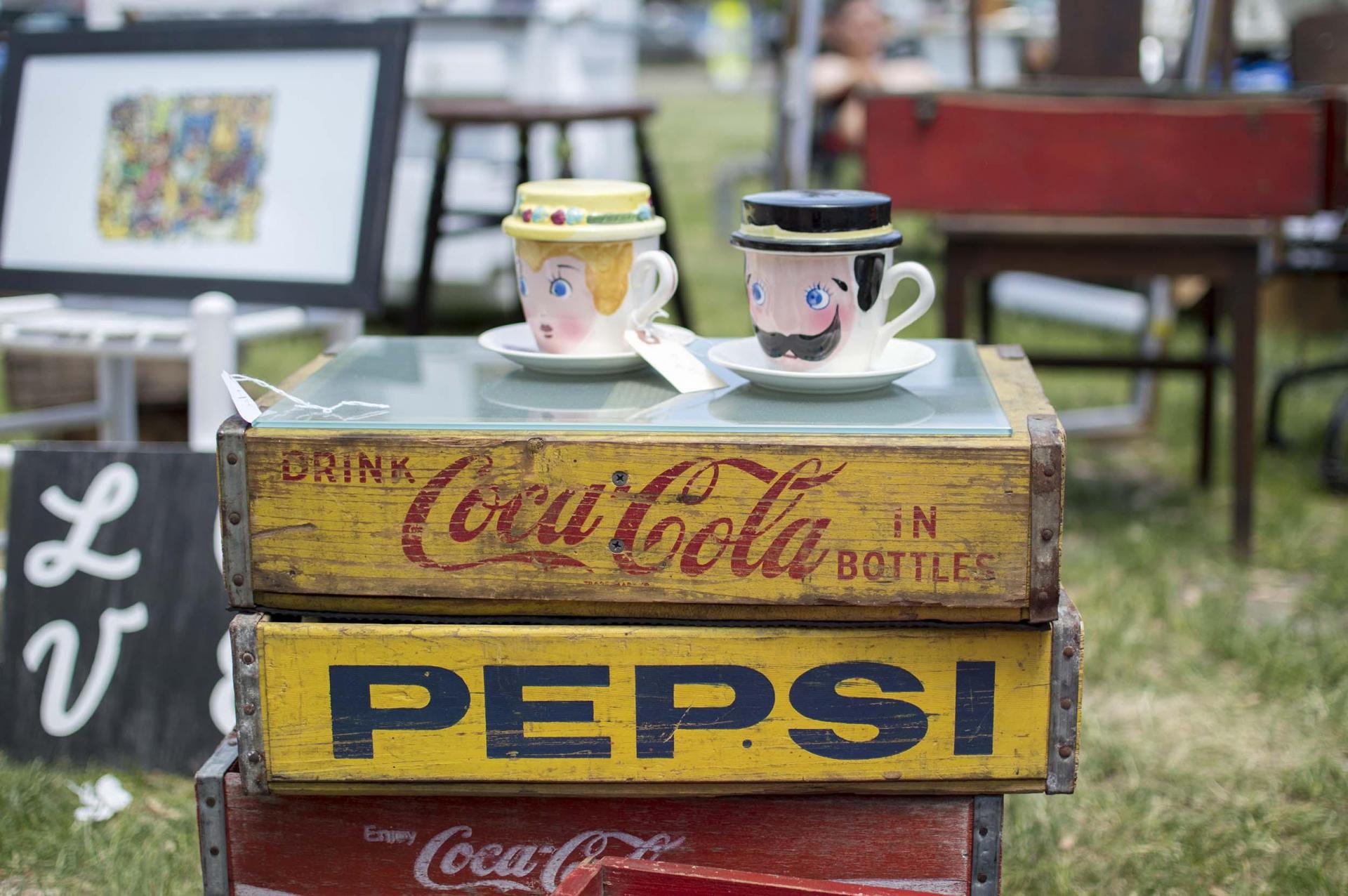 What's old is new again! Shopping for antiques and vintage finds has never been more fun. Find a unique souvenir that has a flare of Southwest Michigan's past, too. Whether you're looking for old toys, photos taken decades ago, vintage farm equipment, handcrafted furniture, decor from the past or something else, you are sure to find it at these antique stores near Southwest Michigan.
Baroda
Shawnee Road Antiques
Shawnee Road Antiques is one of the oldest and largest private antique shops around town. You can't miss the striking blue barn landmark, and you'll have three buildings to shop through. They've stayed in business for over 50 years, partially housed in a rustic, white-washed barn built by their predecessors in 1938. Imagine the treasures you'll find. Their annual Memorial Day Weekend Sale draws crowds from miles around every spring. And don't miss the super-cool wire hanger art displayed on the walls!
Buchanan
Alan Robant Antique, Vintage & Modern
A hotspot for local and international interior designers, Alan Robant offers a huge collection of sophisticated, cutting-edge interior design resources, including mirrors, lighting, objects and furniture. The owner Alan has been in the design and antique business since 1988 and has created a friendly environment. And he's quite knowledgeable with a story behind every piece you'll find!
Dean Antiques
You never know what you might find in the way of vintage and mid-century furniture, lamps, art and other items at bargain prices when you visit Dean Antiques. A talented jazz musician, Dean might also bust out a tune on his baby grand piano if you ask nicely.
Coloma
Great Lakes Antique Mall
Just off of I-94, this antique mall is full of fun surprises. From vintage furs, old cameras, decor and clothes to toys from decades prior, gorgeous furniture and lamps. And that's just scratching the surface! The dealers bring in new finds all the time, so stop by often! 
Harbert
Harbert Antique Mall
This mall has a wide selection of antiques curated by more than 25 dealers and hundreds of eager consigners. Find collectibles, jewelry, furniture, comic books, art work, clothing, lighting, glassware, barware, rugs, handmade pottery, books, old kitchen finds, toys, games, lighters and so much more. 
Niles
Four Flags Antiques
Located in a historic old building in downtown Niles, this two-level antique mall has more than 50 dealers who contribute an array of unique antiques. Take a peek through home décor, handmade arts and crafts, furniture and so much more. When you're done, take some classic candy home for your kids, too.
Picker's Paradise Antique Mall
If you like the thrill of the hunt, it's worth picking through Picker's Paradise for hidden treasures. This antique mall gives off a flea market feel, offering everything from furniture to toys, antique glassware and lighting.
Sawyer
Sawyer Antique Mall
The Sawyer Antique Mall is home to over 700 vendors in one 20,000 square foot building. You will discover a tremendous, ever-changing collection of art and antique furnishings. In addition to furniture, you'll find linens, pottery, glassware, jewelry and retro collectibles. Peruse the outdoor collection of garden iron and decor. You'll also find collections of American, European and Asian antique furniture. You're bound to find the treasure you've been looking for.
South Haven
Eagle Street Market
Vintage furs coats and heels, antique furniture, repurposed furniture, and more. Come peruse this shop!
Farmhouse Finds
Farmhouse Finds specializes in garden and cottage décor and mid-1800s antiques, plus it's housed in a beautiful Greek revival farmhouse.
Murphy's Antique Mall
Shop through two floors of antiques curated by more than 100 dealers. More information.
Sunset Junque Shop
Situated along Lake Michigan's sunny shores, you'll find this expansive open-air antique hotspot brimming with wonders for every eye. Enjoy architectural salvage pieces, statues and sculptures, LPs and records, vintage postcards, and that's just the start!
St. Joseph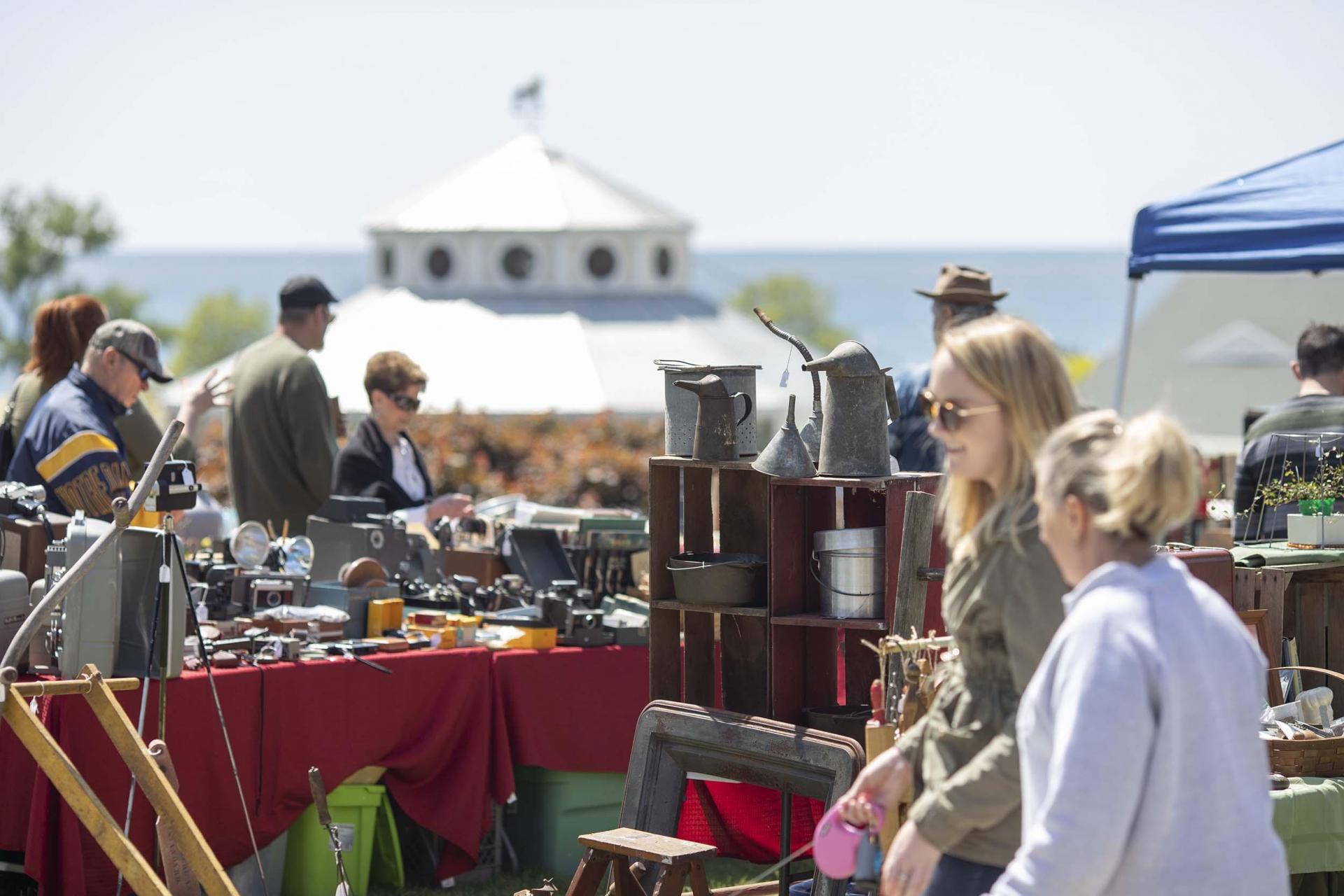 Antiques on the Bluff 
Find hidden treasures along Lake Bluff Park at this premier antique show that overlooks Lake Michigan. This event features over 50 vendors from Southwest Michigan, Chicago and other locations. It runs the first Sunday of the month, May through October rain or shine.
Elephant's Breath Antiques
From records and books to gorgeous antique furniture, Elephant's Breath has a huge selection of unique items to look through. Some of their top-notch selections include beautiful mid-century modern, industrial and primitive-style furniture, pottery, vintage clothes, jewelry, cameras and more.