Amy Perkins has kayaked on Lake Titicaca in Peru, the largest freshwater lake in South America, and was awed by the majesty of the Andes Mountains. She has paddled through massive chunks of glacial ice in Alaska. But many of her hours on the water are spent paddling in Southwest Michigan. We asked her to share why you would want to dip an oar into our waters.
What inspired you to start kayaking?
When I was in graduate school in Florida, a friend loaned me her kayak for the weekend. The moment my paddle hit the water, I was hooked. The experience of silently skimming across a lake, sitting just above the surface of the water, is stabilizing — emotionally and physically. As you paddle away from shore, the busyness of your day is left on land. For the moment, it's just you and the water, and there's something remarkably unique about the serenity that comes with that experience.
What styles of kayaking do you like to do?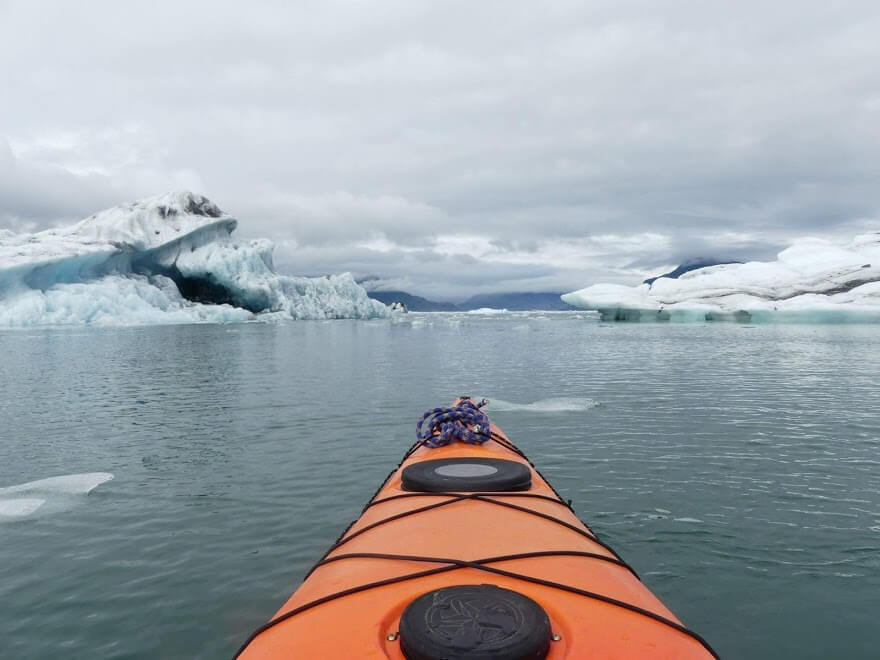 It depends on the day. Whitewater kayaking is less of an option here in Southwest Michigan. Locally I often opt for a fast paddle on the lake or in nearby rivers. But nothing beats a slow-paced paddle to watch the sunset on Lake Michigan. I've also kayaked during my trips abroad. Paddling Lake Titicaca within sight of the Andes was an unforgettable experience. Kayaking the Prince William Sound in Alaska with massive bits of glacial ice floating all around was awe-inspiring. Nature has a way of putting you in your place — dwarfing you with its majestic beauty. Kayaking in Alaska and Peru gently reminded me that in a world where size matters, I am very small.
Can you talk a little about kayaking in different seasons and what you should expect from each?
Wind and current can be your friends as often as they are your enemies. The calmest kayaking tends to be during the summer months. Long periods of daylight and warmer water temperatures make the experience more enjoyable. However, it's hard to beat paddling through this area's rivers during crisp fall days, with a palette of autumn colors reflected in the water.
How is kayaking different when on a river, on an inland lake, on Lake Michigan?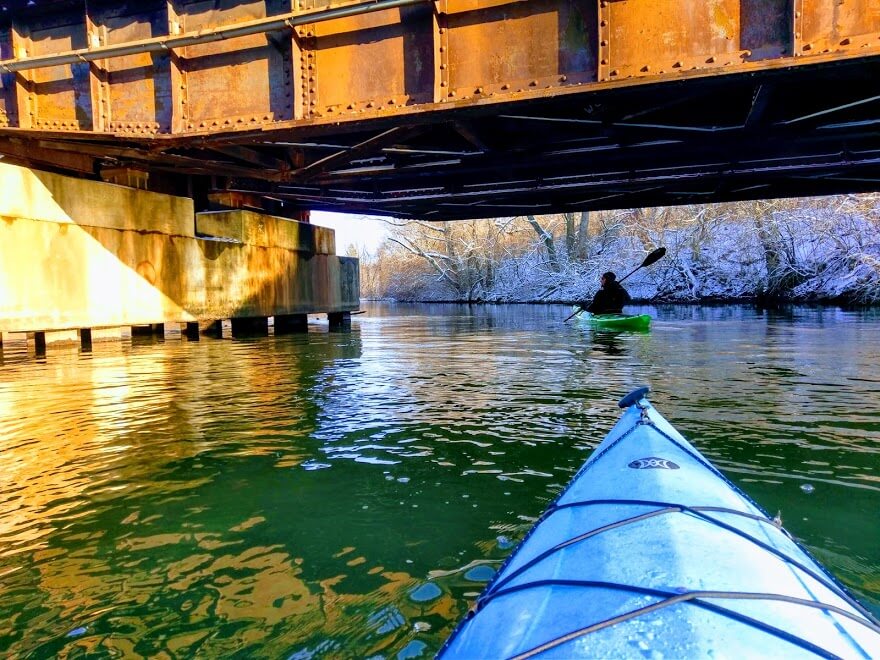 Inland (smaller) lakes are very predictable and perfect for beginners. You are essentially in a controlled environment, so there are fewer risks to consider. Rivers vary depending on the time of year. The key factors to consider are current and navigability. Paddling upstream can be a great workout, but it's important to consider your physical limitations when choosing a drop- off/pick-up location. Currents tend to be faster in the spring, thanks to heavy rain and high water levels. And although the challenge of paddling around and over downed trees can be fun, it's not for the faint of heart.
Any safety tips for kayaking?
Always wear a life jacket. No joke. Buy one that fits you comfortably and use it. Also, dress in layers. The air temperature on the water can be different than on land; this is especially true when you're on Lake Michigan. And always check the weather before planning your excursion. I frequently reference the stats available online through Great Lakes Buoys (especially the Cook Nuclear Buoy) before venturing out on the big lake.
What is the most exciting place to kayak in Southwest Michigan?
For me, the biggest thrill is late-night kayaking on Lake Michigan in the summer. After the sun goes down and recreational boaters have docked for the night, you essentially have the lake to yourself. When you paddle between the pierheads and out onto the glassy surface of the lake, you are wrapped in a blanket of stars. The water and sky become one; the horizon no longer distinguishable. I could sit out there for hours on calm nights. On windy nights … well, that's a COMPLETELY different experience.
Conversely, what is the most relaxing place to kayak in Southwest Michigan?
One of my favorite haunts is the Galien River, just north of New Buffalo. I like to paddle upstream, away from the put-in point near Galien River County Park. There are very few boaters, several forested bends in the river, and a train bridge that crosses overhead. With essentially no development along the river, you can enjoy nature without interruption.
What do you like to do while kayaking?
I enjoy taking pictures and spotting wildlife when I'm out on the water. More often, though, the simple, meditative experience of leaving the shoreline is the best part of having my paddle in hand.
Any etiquette that beginners should know about?
Be mindful of other people in the water and allow them room to navigate around you. Avoid erratic steering, bouncing from one river bank to another. Pack your trash and take it with you. Remember that you are nature's guest. Respect what's around you.
Anything else you would like to mention?
There are many important lessons that kayaking has taught me, but this lesson remains the most profound: nature will not conform to your expectations, and it commands your respect. Whenever you go out on the water, remember that you are not in total control of the variables around you. The experience will require you to be aware and adaptable. In this sense, kayaking is a metaphor for life.
Meet our blogger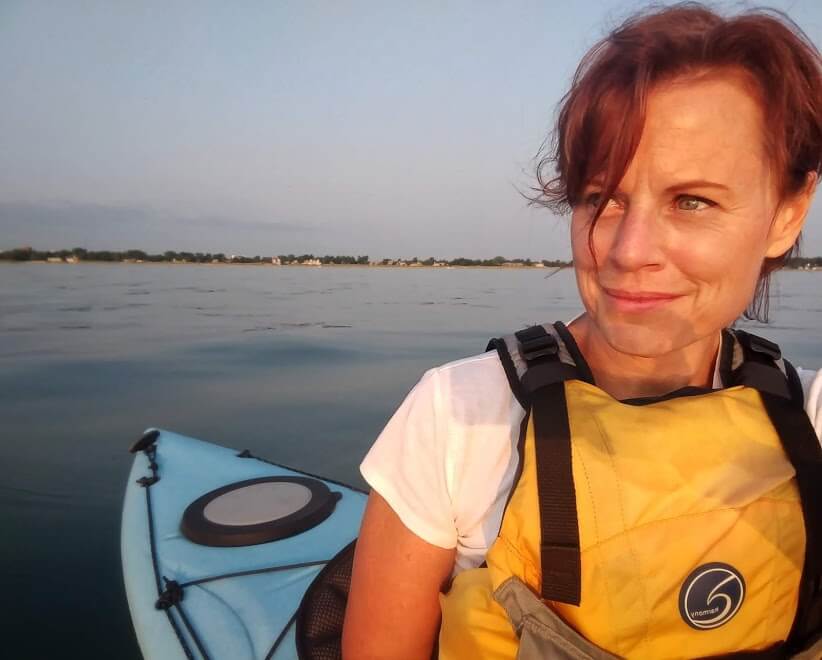 Amy Perkins teaches U.S. History and World History at Lakeshore High School in Stevensville. An avid world traveler and amateur photographer, she prefers to spend as much time in nature as possible. Southwest Michigan has been her home for 19 years, and it's not uncommon to see her tooling around Saint Joseph with her kayak mounted to her rooftop. Her friends joke that she's always prepared for a flood; her paddle and life jacket are never far from reach.