The Fab Lab at Lake Michigan College is an awesome resource for Southwest Michigan community members and tourists who want to get creative. However, many people don't understand what they can do at the lab. So, we talked with Chad Dee, the director of Hanson Tech Center at Lake Michigan College to learn more.
What is the Fab Lab?

Fab Lab is an open-access digital fabrication studio and collaborative workshop located within the Hanson Technology Center, 2755 East Napier Ave, at Lake Michigan College's Benton Harbor Campus. We provide access to information, tools, software and space for anyone who has an interest to learn and create. The lab is constantly evolving based on student needs and the community needs.
Some examples of the workshops or classes we offer include turning a wood block into a usable pen, laser engraving pumpkins or etching wine glasses. But it is also a place where everyone is encouraged to experiment, tinker, solve problems and collaborate on projects.
Who has access to the Fab Lab?
The Fab Lab is available to anyone eight years old or older. Those under the age of 18, need to have some sort of parental companion while in the lab (except for during summer camps).
Why should tourists/residents include the Fab Lab in their itinerary of where to go/what to do in Southwest Michigan? How does the Fab Lab stand out from other activities?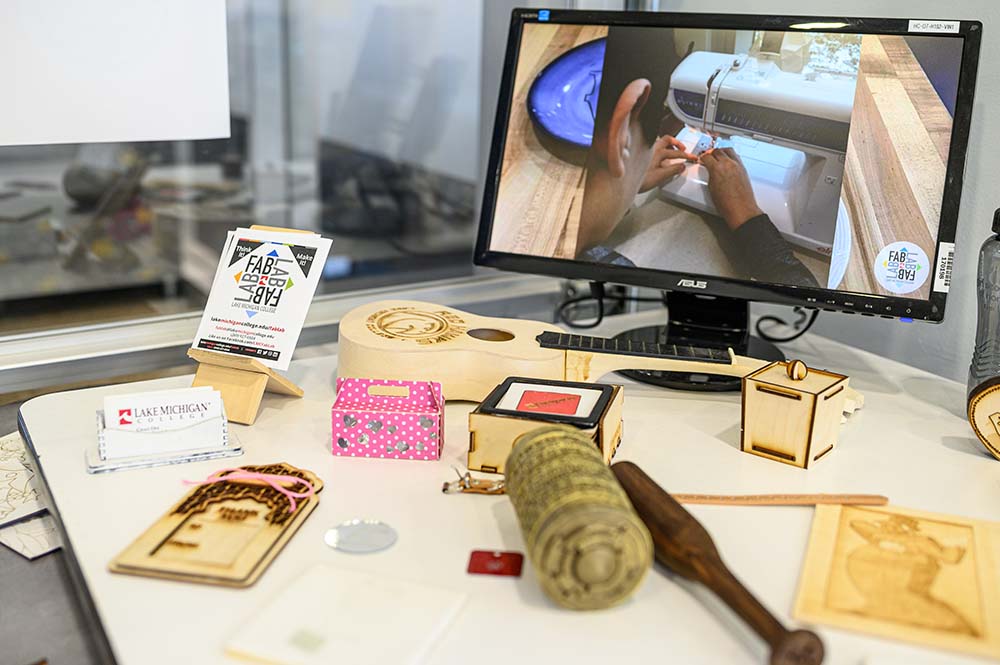 Makerspaces and Fab Labs are popping up all over the world. What makes ours special is the ability to have students create their own projects in other classes that they may not have had access to in previous years. We have vinyl cutters, laser cutters, 3D printers, a ShopBot, woodshop, access to Adobe Creative Suite software and a complete sewing department that is available to anyone that wants to learn more about using them. It's a pretty large and impressive space that community members can utilize, they just need to have the drive to be a self-starter and create cool stuff!
What services, programs, or events does the Fab Lab offer to tourists/residents in SW Michigan?
We have new workshops, seasonal workshops and summer camps available to the public for anyone who wants to learn something new. See our calendar for the most up to date workshops. We also always have open lab time for the public so they are able to come in and utilize the lab for their own specific needs.
When is the Fab Lab Open?
The Fab Lab is open 4-8 pm, Monday through Thursday, when the Napier college campus is in session. Occasionally we have to change hours based on lab availability for the public.
How much does it cost to use the Fab Lab?
Our current equipment rates can be found in our Fab Lab Manual and workshop rates can be found here.
How can tourists/residents find out more about the Fab Lab?
Visit our website at https://www.lakemichigancollege.edu/community/fab-lab, follow us on Facebook (facebook.com/LMCFabLab) or sign up for our monthly e-newsletter for updates.
The Fab Lab at Lake Michigan College is one of 19 Creative Connections you can make when playing Creative Pursuit now through April 30, 2020. Stop in and get creative to earn a stamp and work your way towards fun artsy prizes!