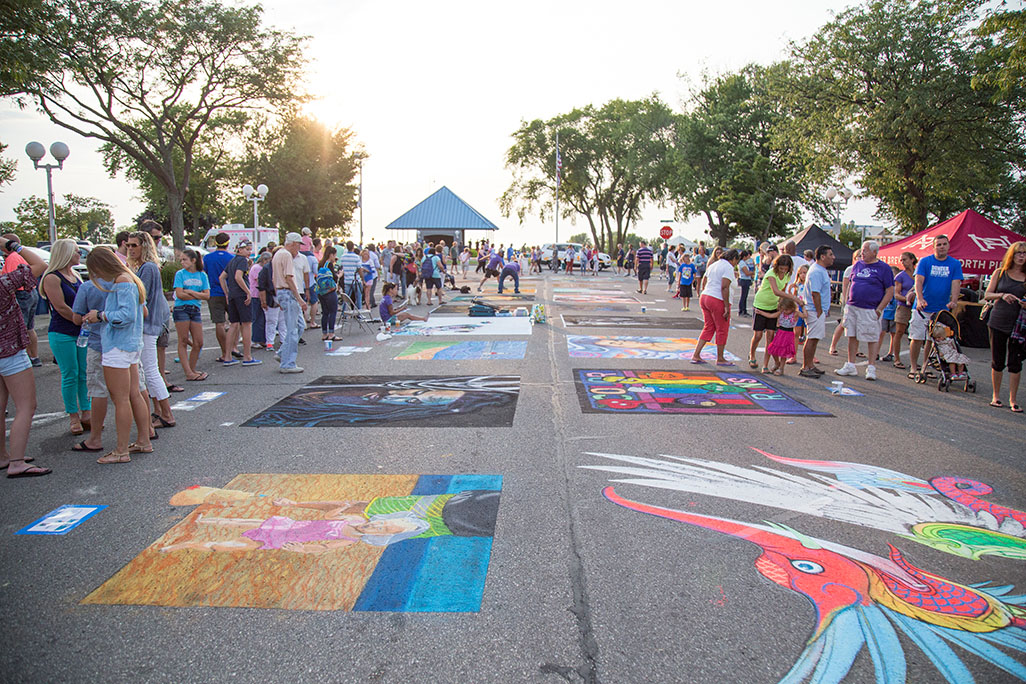 On August 2-5, St. Joseph, Mich., is packing in as much summer family fun as it can! While chalk-wielding artists take center stage, there is plenty of entertainment for all ages in this Lake Michigan resort town. Here are some must-dos:
22nd Annual Chalk the Block
For 22 years, regional artists have been creating beautiful works of art out of chalk pastels using the downtown streets of St. Joseph as their canvas. This year they'll be mapping out their ideas and transforming them into masterpieces on Broad St. between Lake Blvd. and State St. Artists draw whatever they choose so each piece is unique. You can watch the artists at work starting on Friday evening and view their finished pieces all day Saturday and Sunday. Walking by, you'll see why this free event is a perennial favorite for thousands of locals and visitors.
Kids can create their own chalk works of art in front of the Silver Beach Carousel.
Thursday, August 2:
Sculpture Walking Tour: 5:30 p.m.
The Heritage Museum & Cultural Center and the Krasl Art Center will offer sculpture walking tours featuring the Krasl Art Center's public sculptures created by world-renowned and regional artists. The one-hour guided tours start at 5:30 p.m. from The Whitcomb and continue along the St. Joseph River. While the tour is free, a suggested donation of $5 is appreciated.
Friday, August 3:
North Pier Lighthouse Open Hours: 11a.m.-2p.m.
Tour the historic North Pier Lighthouse! Access the pier from Tiscornia Beach.
Horse-Drawn Trolley Rides: 5 p.m.-8 p.m. (weather permitting)
Your carriage awaits you at the corner of Elm and State Streets. Experience the historic downtown of St. Joseph on a horse-drawn trolley ride. The best part — it's FREE! All thanks to the Frederick S. Upton Foundation.
Friday Night Concert Series at the John E.N. Howard Band Shell: 7:30 p.m.
Bring your friends and family and enjoy a FREE concert on the bluff overlooking the St. Joseph River and Lake Michigan. Jack Adams & the Breakers will perform oldies, pop and rock hits. Thanks go out to the Boulevard Inn and Bistro for sponsoring this event!

Saturday, August 4:
Farmers Market: 9 a.m-2 p.m.
Find Southwest Michigan's best local produce at the St. Joseph Farmers Market located at Lake Bluff Park. A nice selection of wines and cheeses are also available.
2018 Summer Jam presented by 97.5 Y-Country at Shadowland Pavilion: 4 p.m
Every year Y-Country brings rising country stars to St. Joseph to showcase the next big thing in country music. This year's Summer Jam will feature artists Kari Holmes, Tucker Beathard and William Michael Morgan. This is a general admission show, no reserve seating is available. Advance tickets are $20 and day-of-the-show tickets are $25. Parking is first come first served at Silver Beach County Park for a fee. There is free parking available above the bluff also, just be prepared to walk. This will give you a chance to check out the Chalk the Block art in progress on your way down! Vendors will be inside concert grounds serving food and beverages (no coolers allowed). Wine and beer will be served until the music stops!
Bring cash for parking, tickets, food and drinks and wear comfortable shoes for walking.
Summer Movies in the Park- Hugo, at Whirlpool Centennial Park: 10 p.m. (dusk)
What's better than enjoying a family movie beneath the stars? Bring your blankets and chairs and settle in at Whirlpool Centennial Park (right across the street from the Silver Beach Carousel) for the FREE Summer movies in the Park series presented by the City of St. Joseph. Don't forget the snacks! Head to the Carousel before the movie starts and buy fresh popcorn and cotton candy.
Sunday, August 5:
View the Completed Chalk Art: all day; judging at noon
Antiques on the Bluff: 10 a.m.-5 p.m.
Shop for antiques in Lake Bluff Park, rain or shine, all while enjoying a beautiful view of Lake Michigan.
Municipal Band Concert: 7:30 p.m.
Listen to the St. Joseph Municipal Band perform at the John E. N. Howard Band Shell! The concert is FREE and is brought to you by the City of St. Joseph. What a great way to end your weekend.