Makers of happiness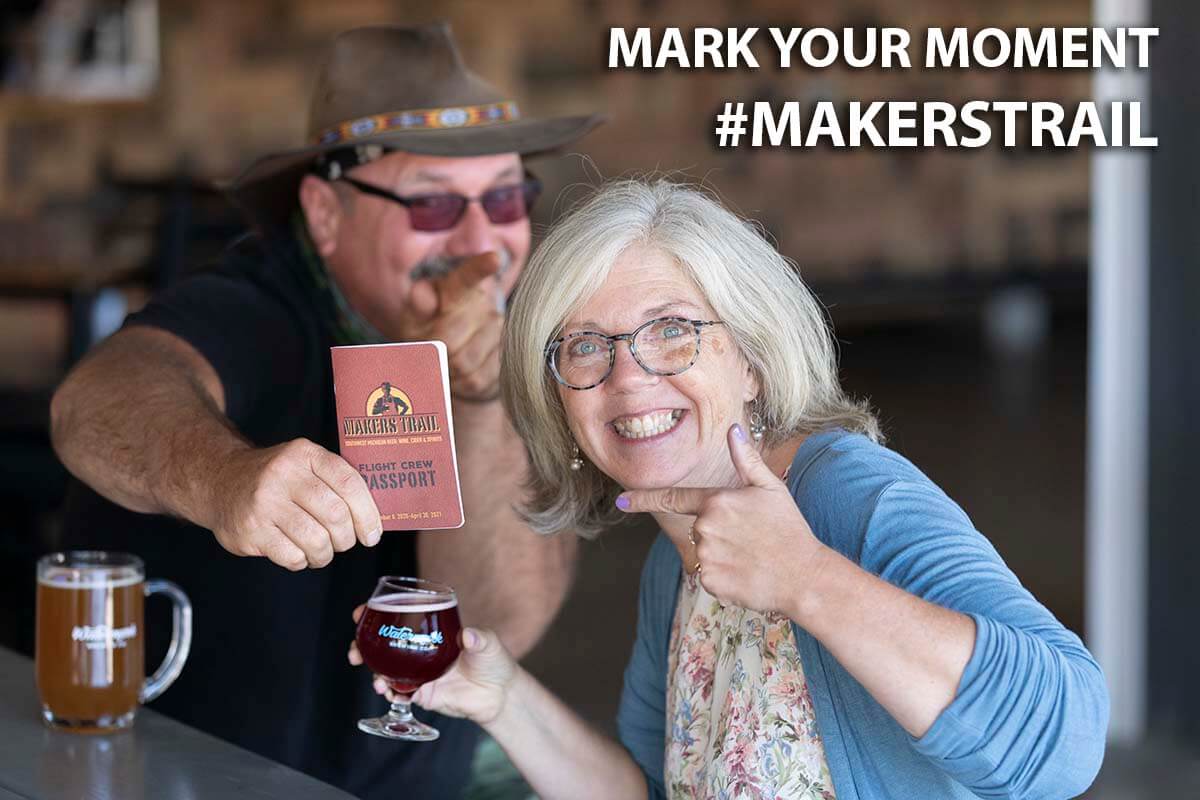 Every land has its makers. Crafters of furniture. Forgers of steel. Tillers of earth. Ours are masters of making wine, beer, cider and spirits. More and more of these makers are putting down stakes near our Lake Michigan shore where they handcraft award-winning beverages. You're just minutes from each one in Southwest Michigan.
Just follow the Makers Trail. What a welcome you'll receive at each stop along the way in Berrien County as we pop wine corks, tap beer kegs and whiskey barrels, and pour flights for you and your friends. Drink in our makers' art and bring home your favorites. Along the trail, enjoy your choices with pairings of savory cheeses, smoky grilled meats, crisp vegetables and hand-dipped, creamy chocolates. Most of our maker's foods are made with locally sourced ingredients. Pause for a moment in the whirl of life. These are the makers of happiness.
Makers of good times all year-round

When is the best time to travel the Makers Trail? Spring, summer, fall and winter! Each of our makers has his or her own unique gathering places to taste their craft. Many throw crazy-fun festivals at their sites or on the beach. Others have spaces to celebrate your weddings and special events. You'll find makers along the Trail who offer delicious full menus for lunch and dinner. Some give food pairing, yoga or art classes, show films, discuss books or invite artists and music makers to share their talents, too. And yes, there are also dog-friendly stops. All have makers and staff that are passionate about their craft and like nothing better than to answer your questions, share their stories and make recommendations of what to try next. Laugh and enjoy life with us!
Makers Trail Blog
Gravity Vineyards and Winery: Cheers to a new decade of escaping the everyday
Everyday life is a juggling act — your family, job, sports, volunteer commitments. For 10 years, Gravity Vineyards and Winery has focused on creating a place for you to escape your everyday routines and truly relax. We asked owners Allison and Rockie Rick to share more about their winery, its first decade and plans for the coming year. Here's what they had to say:
Read more
Niles Brewing Company celebrates first anniversary
In December 2020, Niles native Brandon Townsley took his homebrewing expertise and opened a brewery with his wife, Alyssa, during a pandemic. On Dec. 12, Niles Brewing Company celebrates their first anniversary after a year of navigating business ownership, partnership, creating community and setting new goals.
Read more
Makers Trail Gift Guide: Presents for wine lovers, beer lovers and more
Looking for gift ideas for the cider, spirit, beer and wine lovers on your holiday shopping list? Travel the Southwest Michigan's Makers Trail. What makes this shopping trip extra fun is that each craft winery, brewery, cidery and distillery lets you taste most of the gifts before you buy them. This is an easy way to find sure-to-please presents to bring to parties or deliver on your gift-giving holiday AND pick up your favorite craft beverages to bring home to enjoy, too.
Read more
Southwest Michigan Staycation Guide: How to vacation at home in winter
Oftentimes, we all need a breather. It can take many forms — a wine tasting with friends, meal out with family, solo walk along the beach and so on. These little breaks allow us to return to our daily lives refreshed after some self-care. Why should that time only last a few hours?
Read more