Makers of happiness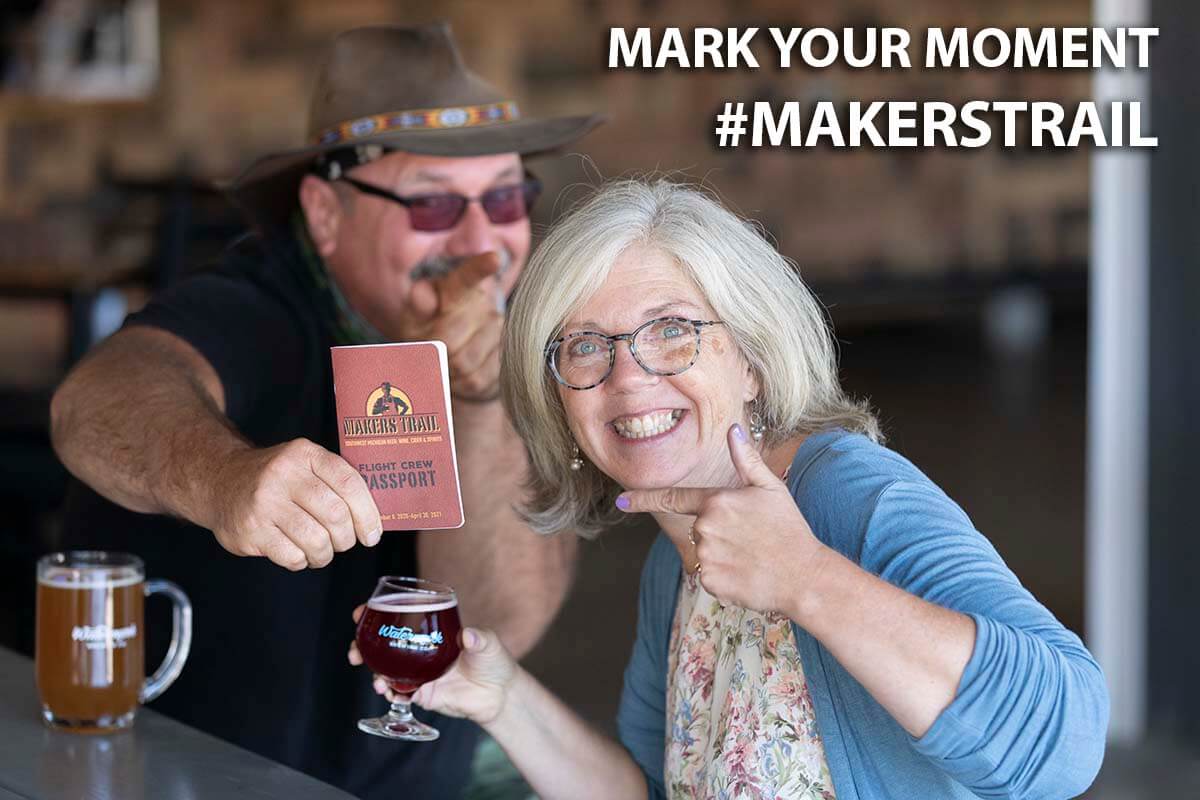 Every land has its makers. Crafters of furniture. Forgers of steel. Tillers of earth. Ours are masters of making wine, beer, cider and spirits. More and more of these makers are putting down stakes near our Lake Michigan shore where they handcraft award-winning beverages. You're just minutes from each one in Southwest Michigan.
Just follow the Makers Trail. What a welcome you'll receive at each stop along the way in Berrien County as we pop wine corks, tap beer kegs and whiskey barrels, and pour flights for you and your friends. Drink in our makers' art and bring home your favorites. Along the trail, enjoy your choices with pairings of savory cheeses, smoky grilled meats, crisp vegetables and hand-dipped, creamy chocolates. Most of our maker's foods are made with locally sourced ingredients. Pause for a moment in the whirl of life. These are the makers of happiness.
Makers of good times all year-round

When is the best time to travel the Makers Trail? Spring, summer, fall and winter! Each of our makers has his or her own unique gathering places to taste their craft. Many throw crazy-fun festivals at their sites or on the beach. Others have spaces to celebrate your weddings and special events. You'll find makers along the Trail who offer delicious full menus for lunch and dinner. Some give food pairing, yoga or art classes, show films, discuss books or invite artists and music makers to share their talents, too. And yes, there are also dog-friendly stops. All have makers and staff that are passionate about their craft and like nothing better than to answer your questions, share their stories and make recommendations of what to try next. Laugh and enjoy life with us!
Makers Trail Blog
Five Ways to Get Out This Winter
Winter is here in Southwest Michigan, and it's time to get outside, get fresh air, and take in some frosty fun. Here are five ideas for getting out this winter:
Read more
Makers Trail Gift Guide
Find fun and unique holiday gift ideas for the beer, wine, cider or spirits lover in your life. Shop small and support local businesses and makers in Southwest Michigan by purchasing the items below.
Read more
Pet-friendly Makers Trail Stops
There's nothing your dog loves more than spending time with you. So, next time you go out for a drink, bring them along! The Makers Trail has many wineries, breweries and distilleries that will welcome you and your pet so you can enjoy a drink and spend time with your best friend.
Read more
UNIQUE WINTER WINE EXPERIENCES IN SOUTHWEST MICHIGAN
Did you know Southwest Michigan is one of five American Viticulture Areas in Michigan? The sloping terrain along the lakeshore, mild temperatures and variety of soils make it the perfect location for growing grapes and other fruits that serve as the inspiration for a vast array of award winning wines. In fact, our growing season has been compared to noteworthy destinations such as Bordeaux, France and Piedmont, Italy.
Read more