Makers of happiness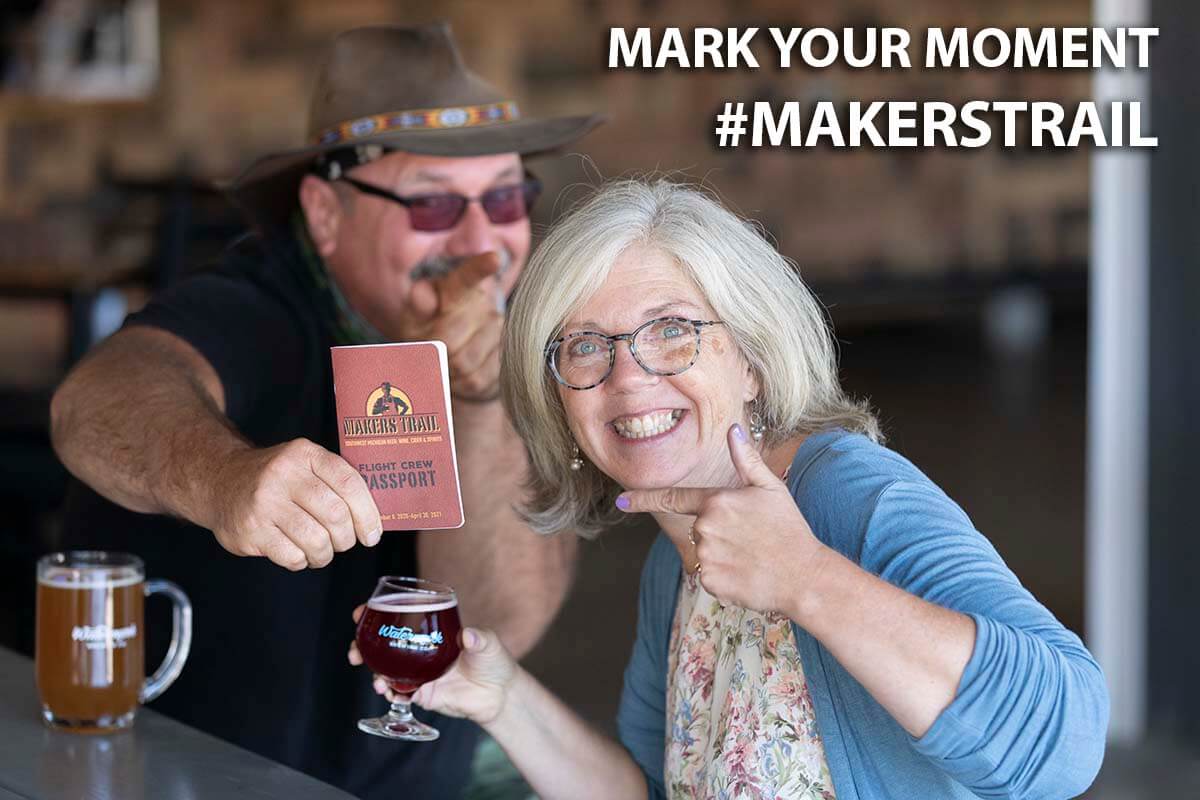 Every land has its makers. Crafters of furniture. Forgers of steel. Tillers of earth. Ours are masters of making wine, beer, cider and spirits. More and more of these makers are putting down stakes near our Lake Michigan shore where they handcraft award-winning beverages. You're just minutes from each one in Southwest Michigan.
Just follow the Makers Trail. What a welcome you'll receive at each stop along the way in Berrien County as we pop wine corks, tap beer kegs and whiskey barrels, and pour flights for you and your friends. Drink in our makers' art and bring home your favorites. Along the trail, enjoy your choices with pairings of savory cheeses, smoky grilled meats, crisp vegetables and hand-dipped, creamy chocolates. Most of our maker's foods are made with locally sourced ingredients. Pause for a moment in the whirl of life. These are the makers of happiness.
Makers of good times all year-round

When is the best time to travel the Makers Trail? Spring, summer, fall and winter! Each of our makers has his or her own unique gathering places to taste their craft. Many throw crazy-fun festivals at their sites or on the beach. Others have spaces to celebrate your weddings and special events. You'll find makers along the Trail who offer delicious full menus for lunch and dinner. Some give food pairing, yoga or art classes, show films, discuss books or invite artists and music makers to share their talents, too. And yes, there are also dog-friendly stops. All have makers and staff that are passionate about their craft and like nothing better than to answer your questions, share their stories and make recommendations of what to try next. Laugh and enjoy life with us!
Makers Trail Blog
Southwest Michigan Fall Color Report
Our fall color show continues in Southwest Michigan! If you haven't made your fall color tour yet, come this weekend. Bright gold, red, orange and deep brown leaves create a camera-clicking canopy of color along our roads and trails. Falling leaves are creating a quilt of autumn hues on the ground and as they float in our rivers, streams and lakes, too.
Read more
Celebrating 10 Years of local craft spirit heaven: Journeyman Distillery
Over the past decade, from refurbishing the breathtaking 1883 EK Warren Featherbone Factory building to handcrafting a wide selection of sought-after liquors, Journeyman Distillery in Three Oaks has become a renowned staple of Southwest Michigan's craft spirit experience.
Read more
Double your fall color tour fun: Nature + Makers Trail
Many places in Michigan focus their fall color experiences on the dramatic changes in leaf colors. But in Southwest Michigan, you can also see and taste another autumn color show on our Makers Trail — glasses filled with amber, russet, garnet, deep purple, straw yellow and rosé wines, beers, ciders and cocktails. Stay for one or more of our Lake Michigan fiery red, orange, yellow and lavender sunsets and you will see why this is an extraordinary fall color destination.
Read more
Makers Trail tips from a 2021 Passport grand prize winner
Michael Miller of Hazel Crest, Illinois, was thrilled when he learned he was one of five winners in the 2021 Makers Trail Flight Crew Passport Grand Prize Drawing. His reward was a two-night, all-inclusive stay at a Southwest Michigan hotel. He immediately offered to share his story with others so they could discover how much fun they would have participating in the 2021/2022 program that ends May 31. We called Michael, and here are some of his tips:
Read more