In this issue: Stress-free December | Soups On! | Decorating Made Super-Easy | Luminary Festival | Autumn Artisan Market
Want a Stress-Free December? Here's how!
Wouldn't it be great if this December you could relax and enjoy the weeks leading up to the holidays? Attend the festivals and concerts? Not worry about what you still have to buy and whether it will arrive on time? You CAN enjoy a stress-free December! Come to Southwest Michigan this month and get a jump on your shopping. Create even more fun by staying a night or two with your spouse, your mom or sister, or best friends. There are plenty of ways to relax together after a successful day of gift hunting. Plus in November, our hotel rates are some of the best of the year!
Start your gift hunting in town.
Southwest Michigan offers six main downtowns: St. Joseph, Benton Harbor, Dowagiac, New Buffalo, Stevensville and South Haven. Each offers an eclectic selection of retail and museum shops, galleries, restaurants, beer and wine tasting stops and bakeries. Here you can actually see, touch, taste, sniff and hear the gifts before you bring them home. Within a few minutes' drive from our main downtowns' sidewalk-lined streets and free parking, you also will find smaller communities with destination shops, markets, wineries, breweries, distilleries and galleries each with its own unique-to-our-area gifts. Black Friday and Small Business Saturday, Nov. 29 and 30, offer must-get savings in non-stressful settings throughout the region. Plus, this issue features four shopping events that make gift buying even easier.
Give treasured experiences.
Some of the best gifts are memories made together. In Southwest Michigan, you can pick up a bag of Carousel ride tokens (they never expire). Tickets to The Mendel Center performances or speakers series. Seats at the Southwest Michigan Symphony Orchestra concerts or the Howard Performing Arts Center. Passes to children's and historic museums. A show at the Twin City Players, GhostLight or The Acorn theaters. Or wrap a certificate to a local hotel or lodging. Many of our hotels offer year-round pools as well as romantic or family packages.
Recharge your energy for tomorrow.
Whether you shop alone or with family or friends, it's good to enjoy some unwind time before continuing your gift hunt the next day. Consider attending these events:
Nov. 9, Annual Winemakers Dinner, 6-9 p.m., St. Julian Winery, Paw Paw
Nov. 14, Hunter Widow Evening, 6-8 p.m., White Pine Winery, St. Joseph
Nov. 15, 2nd Annual Holiday Food & Wine Fete, 5:30-8:30 p.m., Bistro on the Boulevard, St. Joseph
Nov. 17, Canadian Brass, 7-9 p.m., Howard Performing Arts Center, Berrien Springs
Nov. 30, Sean Masterson's Timeless Magic, 2 p.m., The Acorn, Three Oaks
All November, spectacular sunsets and waves viewed daily from Lake Michigan bluff parks and beaches in and around St. Joseph.

Find uncommon gifts over soup
Soup's On! | Nov. 7-8 | 11 a.m.-1:30 p.m. | Krasl Art Center | 707 State Street | St. Joseph | $10 lunch
Few things are more relaxing than a steaming bowl of soup. At this annual event, choose from a variety of flavors prepared by chefs from 12 local restaurants, slices of fresh-baked bread, a handmade dessert and a beverage. All proceeds benefit Krasl Art Center (KAC) programming. Then visit The Shop where you will find regionally-made gifts for your loved ones and business associates that are not available in stores or on Amazon.
Meet a different artist every day.
Come every day to meet a different featured artist demonstrate their artistic processes and talk with you about their one-of-a-kind pieces. Other great gifts are the collectible ceramic bowls ($10 each) made by KAC's Clay Guild.
New this year: lunch discounts for special groups
Nov. 7 - Military Appreciation: Present your military I.D. or VA card for $2 off one meal
Nov. 8 - Teacher Appreciation: Present your school badge for $2 off one meal
Featured artists & soups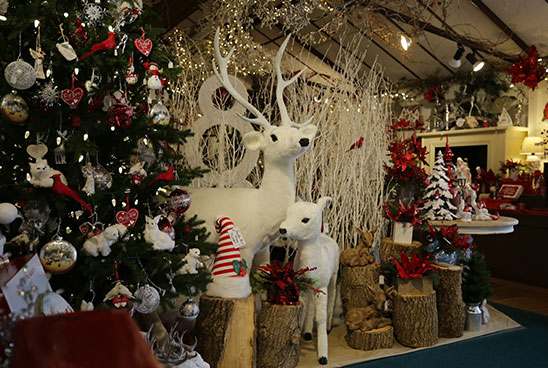 Decorating made super-easy
Enchanted Holiday Open House
Nov. 9 | 8 a.m.-5 p.m.
Crystal Springs Florist & Greenhouse
1475 Pipestone Road | Benton Harbor
FREE Admission
Looking for holiday decorating ideas for your home or office? Know exactly what you plan to do this season, but need a source to make it happen? Come to this amazing store. During this open house, Crystal Springs Florist will showcase a wide selection of ornaments, holiday trims and gifts. There will be beautiful fresh evergreen and artificial wreaths, swags, themed trees, lovely arrangements and centerpieces designed by the talented staff. You will find hundreds of poinsettias, grown right here, available in colors to fit any setting. And if you need a custom-designed arrangement, talk with staff (this month or next) and Crystal Springs will create it.
Ideas galore
Bring the whole family to the open house and watch your kids' eyes sparkle as they enter this enchanting, winter wonderland.
Free gift for all guests plus holiday refreshments.
Enter to win prizes, including a special contest for the kids to win a Celebration Cinema gift basket.
Festive entertainment: Mockingbird, 8-11 a.m.; Lighthouse Chorus, 11 a.m.-1 p.m.; Ed Skjordal, 1-3 p.m.
Holiday decorating seminars: Free Fall Floral Seminar, 11 a.m.-12 p.m.; Make-and Take Swag Workshop, 12-3 p.m., Free Holiday Floral Seminar, 3:30-4:30 p.m.
Open House invitation

1,000 luminaries light your way
25th Annual Luminary Festival 
Nov. 22 | 5:00-8:00 p.m. 
Downtown St. Joseph
How soothing to walk amidst the soft glow of candlelight. This evening, the city glimmers with 1,000 luminaries lighting your way to shops where you will find everything from lovely to quirky gift ideas, books and toys for all ages, the latest fashions, pet presents, holiday treats and much more. 
Shops will stay open late on Friday. Throughout the weekend, they will provide refreshments, great sales, bountiful gift selections and more! While here, eat, drink and be merry at restaurants, wineries and breweries located downtown or a short drive away.
Locations & promotions

Put artsy ideas under the tree!
Autumn Artisan Market
Nov. 23 | 10:30 a.m.-7 p.m.
Nov. 24 | 10:30 a.m.-5 p.m.
Journeyman Distillery
Three Oaks | FREE Admission
Sip favorite craft beverages while gathering creative gifts for everyone in the old Featherbone Corset Factory, home to Journeyman Distillery. For two days, meet some of the area's most talented and dedicated artists. They will help you come home with locally-sourced gourmet food and personal care items, handcrafted decor and jewelry — and much more to delight all ages on your list. Food and beverages will be available for purchase. This event is popular with men and women alike!