Southwest Michigan is filled with stories about dads who have successfully started farms and businesses that make it even more fun to visit here. 12 Corners Vineyards is a modern-day story about a dad who is sharing his passion for winemaking with his son. We asked Dad Glen (winemaker) and Son Grant Greiffendorf (marketing and sales coordinator) to tell you more:
What's your backstory?
Glen: I grew up working on my grandfather's farm in Baroda and learned to farm grapes — so ours is a multi-generational story. I live on the same farm and for 35 years have harvested my own crops. I worked for 10 years for another local winery before joining 12 Corners.
It seems like our family was at a winery event every weekend when Grant was growing up. He would assist with harvesting our grapes. After high school, he attended Grand Valley State University in Allendale, Mich., and earned his marketing degree which is now being utilized at 12 Corners.
A quick history of 12 Corners Vineyards
Grant: A group of investors sought my dad out to start a winery in 2011. We had our first vintage by 2013 and 12 Corners opened its doors that June at 1201 N. Benton Center Road, Benton Harbor. We both have been employees ever since. The winery owners are husband and wife Doug and Gloria Oberst and we are a tight-knit team.
Today we are an estate winery on 115 acres of terroir. We grow our own grapes and apples for use in wine and hard cider. The name, by the way, comes from our neighborhood community, Twelve Corners, Mich.
How has your dad influenced your business decisions?
Grant: Dad has a strong work ethic and by choice would opt to spend sunrise to sunset working outside in the vineyard. His knowledge and expertise in grape growing have led us to brand our lifestyle as an "estate winery." Good wine is grown in the vineyard and with dad's help, a good product will sell itself!
How have Grant's ideas helped 12 Corners evolve?
Glen: Grant's marketing knowledge and experience with customer service impact how things run at the winery. Because he has worked in production, operations and pouring wine, he can field any questions the customers might have about the vineyard or the cellar.
What do tourists enjoy most about their 12 Corners experience?
Grant: People love seeing the grapes during harvest season and the full tanks and barrels during fermentation. My dad loves to educate and show visitors how the cellar and vineyard operate as many don't realize how much labor and science go into crafting our wine.
What makes you proudest about being a father/son team?
Grant: Working together comes easily and our differing skill sets make for a unique team. When marketing and production can communicate goals clearly and collaborate on projects, operations move along effortlessly. We are creating wonderful wines and great memories. Come see us!
Have Fun with the 12 Corners "Family"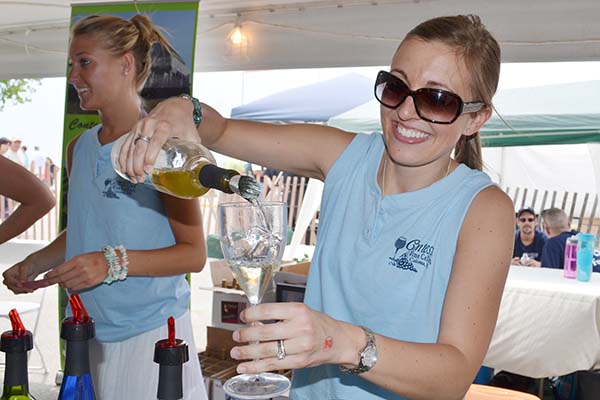 June 15 | Lake Michigan Shore Wine Fest | Warren Dunes State Park | 12032 Red Arrow Highway | Sawyer | 1-9 p.m. | $15 Advance/ $20 Gate | More Details
12 Corners is one of 17 regional wineries pouring their select vintages by the taste or glass under the big tent at Warren Dunes. Party in this gorgeous Lake Michigan beach setting. Try exceptional wines, dance to great music and pick your favorites from a lineup of food trucks. Admission includes 5 tasting tickets, a souvenir wine glass and live music. More tasting tickets are $1 each.
Sip wine and listen to great music in the vineyards
Join us at 12 Corners to hear:
June 15 | Ed Skjordal | 3-6 p.m. | Acoustic guitar and singing
June 22 | Lexi Adams | 3-6 p.m. | Beautiful stories through music
June 29 | Mark Sala | 4-7 p.m. | Singer/songwriter
July 13 | Lucas Pederson | 3-6 p.m. | Folk/rock artist
For the 2019 Fall Harvest Festival and future art and wine class dates, check for updates on our website or Facebook.
35th Annual Father's Day Festival & More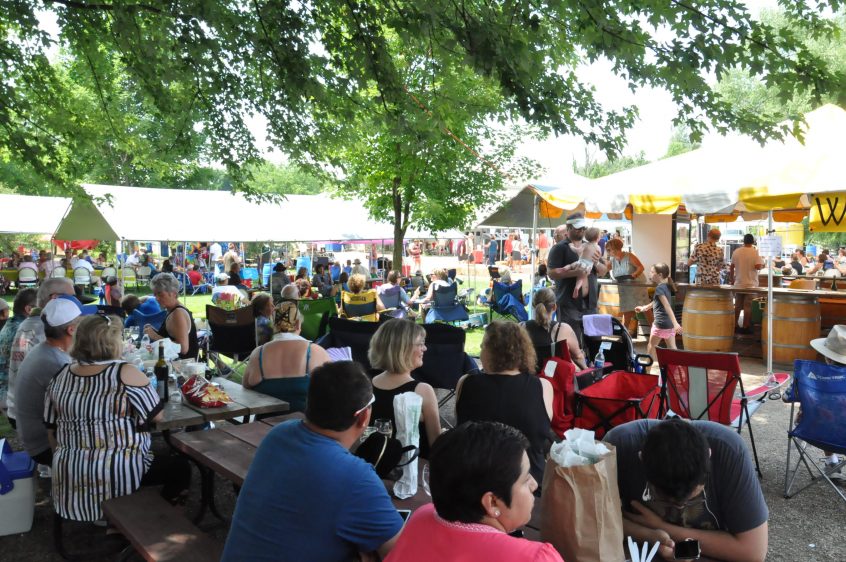 June 16 | Lemon Creek Winery | 533 East Lemon Creek Road | Berrien Springs | Noon to 6 p.m. | $12 adult; 20 years and under FREE with parent | More Details
Bring your dad to Michigan's longest-running wine festival. He and the entire family will enjoy the classic Corvette car show (60 to 80 cars), live music by Libido Funk Circus (Chicago's premier dance and party band), wine tasting, kids' games, hayrides, food trucks and more. Come and relax outdoors. Adult admission includes a souvenir wine glass and three tastings. Bring a lawn chair or blanket and snacks. No outside alcoholic drinks, coolers or pets at this event.
Father's Day Brunch at Journeyman's
June 16 | Journeyman's Distillery/Staymaker Restaurant | 109 Generations Drive | Three Oaks | 10 a.m. to 2 p.m.
Start your dad's day with a trip to Journeyman's fabulous Sunday brunch buffet! Feast on breakfast-themed pizzas, pastries, casseroles, and meats. He'll rave about the donut bar! Then challenge him on the 18-hole "Welter's Folly" putting course. Make your reservations today.
Lighthouse Tour
June 16 | North Pier at Tiscornia Beach | St. Joseph | Noon-4 p.m. | $0 to $5
Explore the Inner Lighthouse at your own pace and learn about St. Joseph/Benton Harbor's' rich maritime heritage. See the first-floor exhibit at no cost; climb to the top of the lantern house for $5/person (you can see for miles in every direction).
Dad's "Stop Boredom" Guide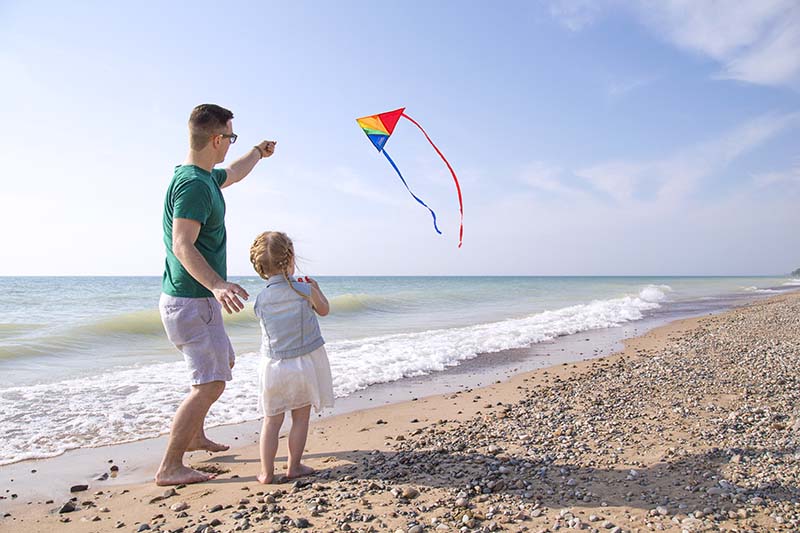 Many schools are taking a summer break. That means millions of toddlers to teens are eager to fill their days playing with their friends and families. So what can dads do to help kids spend less screen time and more memory-making, "best summer ever" moments? Try these boredom busters:
June 13-15: Mermaid MegaFest. Downtown South Haven. FREE. Come celebrate merfolk, pirate duels, a South Pier Mermaid Gathering, the Circus Siren Pod (a group of professional water artists performing in North America's tallest mobile swim tank).
June 14-15: Harborfest. South Haven. Celebrate the maritime history of the region. Includes dragon boat races, concerts and arts and crafts show.
June 20: Out-of-This-World Magic with Magician John Dudley. Bridgman Library, 4460 Lake Street, Bridgman; 11 a.m.-noon; FREE
June 22: Lest We Forget Salute to Our Navy "Anchors Aweigh," 275 Upton Drive, St. Joseph; 9 a.m.-5 p.m.; FREE. Your older children will be enthralled by the beach landing re-enactments, flame-thrower demonstration, Huey helicopter and landing craft water rides and 20th-century equipment displays.
July 3: City of St. Joseph Fireworks, downtown/Silver Beach, 10 p.m.
July 6-Aug. 24: Outdoor Summer Movies, Saturdays, St. Joseph locations, 330 Broad Street, St. Joseph, 9:30 p.m. FREE. Feature Films.
July 19-20: Dowagiac Summer Days, downtown on Front Street. Enjoy Taste of Dowagiac, Summer on Tap, music and dance performances, plus a zip line, climbing wall and games for the kids.
July 26-28: Christmas in July, Silver Beach Carousel, 333 Broad Street, St. Joseph. Ride to Christmas music and visit with Santa and Mrs. Claus (they love vacationing in Southwest Michigan, too!)
Aug. 2-4: Chalk the Block, downtown St. Joseph. FREE. See artists transform our streets into galleries. Fun activities for the entire family.
Other good times with dad
Rent a Surrey Bike, Bikes, Canoe or Kayak from Scooter Joe's Wheel & Water Rentals in downtown St. Joseph.
Horse-drawn Trolley Rides; downtown St. Joseph, Saturdays, Noon.-2 p.m.; FREE. Schedule.
Whirlpool Compass Fountain, Whirlpool Centennial Park, 330 Broad Street, St. Joseph; 10 a.m.-9 p.m. FREE. All ages have a blast playing in Michigan's largest splash pad.
Curious Kids' Museum and Discovery Zone, 415 Lake Boulevard and 333 Broad Street, St. Joseph. Two site choices and double the fun doing hands-on exploration. Admission fee.
Silver Beach Carousel, 333 Broad Street, St. Joseph; Small ride token fee plus FREE activities. 48 hand-painted and hand-carved figures plus two chariots (one is wheelchair accessible) and lots of interactive family activities make this a popular stop until sunset. Summer Hours.
Dog-Friendly Beaches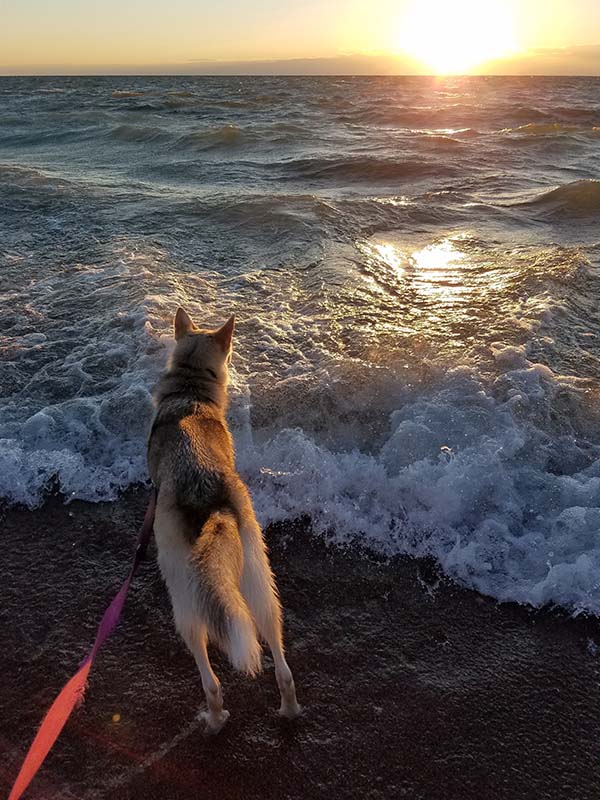 There's no need to leave behind your water-loving, Frisbee-chasing, best buddy when you come to Southwest Michigan. Several Lake Michigan beaches in Berrien and Van Buren Counties welcome you and your dog. Just keep your dog on a six-foot or less leash and under your immediate control at all times. Be sure to properly dispose of all pet waste in receptacles, too.
Warren Dunes State Park, 12032 Red Arrow Highway, Sawyer. Dogs are allowed on the beach north of the northernmost beach parking lot. Map.
Grand Mere State Park, I-94 to Exit 22, John Beers Road, south to Thornton Drive, Stevensville. It's about a ½- to ¾-mile walk over the dune to the beach.
Hagar Beach, 5440 M-63, Coloma. This beach is accessible by a staircase (approximately 100 steps). If you want to walk the miles of shoreline, you need to keep yours and your pet's feet in the water.
Roadside Park, 6928 Blue Star Highway, Coloma. This small beach is just south of Van Buren County.
Deerlick Creek Park, 76750 13th Avenue, South Haven. Nice place to kayak with your dog, too. Map.
Beach Tips
The sand can get blistering hot so during the high-heat days of summer visit beaches early or late in the day. Protect your pup's paws.
Bring a beach umbrella or small tent to create shade for your dog between romps in the water. Put down a towel or blanket for your pet as well.
Provide a bowl for fresh water.
Not sure how well your dog swims? Use a dog life vest.
Heed posted flags on the swimming beach. If it is not safe for you to swim, it is not safe for your dog. Riptides are dangerous on Lake Michigan.
Short-muzzled dogs overheat more quickly than long-snouted dogs. Watch for rapid panting, excessive drooling, coordination problems, vomiting, diarrhea and fainting.
You will be sharing the beach with other dogs. Please keep your dog's shots up to date.
Please properly dispose of your pet's waste in receptacles.