The U.S. might designate May 12 Mother's Day, but in Southwest Michigan, we can celebrate our favorite women every day in May. It won't take much effort to win Mom's heart here:
May 10: Make it a Mom-and-Me evening listening to "Michigan's Songbird" May Erlewine perform live at 8:30 p.m. in the Box Factory for the Arts, 1101 Broad Street, St. Joseph. Her music soothes weary hearts, lightens the darkness and fills the room with joy and peace. She instantly connects with everyday folk. Ticket: $15
May 11 & 12: Treat your mom to a two-hour St. Joseph River tour on the new CycleBoat docked at the Inn at Harbor Shores, 800 Whitwam Drive, St. Joseph. Bring your own beverages, food, water, music and pedal-pushing energy. This weekend only, for every four paid seats, mom rides FREE! Ticket: $40
May 12: Take your mom on a lighthouse tour. Go inside the North Pier Lighthouse in St. Joseph and, if you are up to the climb, take the stairs and ladder to the lantern house. The views in every direction are awesome! Open 10 a.m. to 2 p.m. You can access the lighthouse from Tiscornia Beach, 80 Ridgeway Street. Free first floor visits; $5/person to climb to the lantern house.
May 12: Let our area chefs do the cooking and enjoy family time at the:

Buffet brunch from 11 a.m. to 3 p.m. at the Bistro on the Boulevard, 521 Lake Boulevard, St. Joseph. Please call 269-983-3882 to secure your reservation. Adults: $40; 5-12 years: $20; Age 4 & under: Free
Celebration at Domaine Berrien Cellars, noon to 5 p.m., at 398 E. Lemon Creek Road, Berrien Springs. Buy Mom a glass of wine to sip while listing to the amazing live music of Dave Van Dyke. Encourage her to try the winery's newly released wines plus the Classic Catering's delicious wood-fired pizzas and sandwiches. There will be flowers for all of the moms, too.
Brunch at Fernwood Botanical Garden and Nature Preserve, 13988 Range Line Road, Niles. Chef Tim Carrigan will provide a delightful repast for the entire family followed by the Second Sunday concert and free admission to the gardens, etc. Reservations required: (269) 695-6491. Adults: $20.95; 6-12 years: $9.95; Age 5 & under: Free.

May 12: Give her the gift of beautiful music performed by the Lake Michigan Youth Orchestra. Their Spring Concert will be held at 4 p.m. in the Howard Performing Arts Center, 4160 E. Campus Circle Drive, Berrien Springs. Tickets are available at the door: $5 for adults; $3 for seniors and students.
Pamper her at ReVive Spa or the Spa at Harbor Shores.
Choose colorful hanging baskets and fresh flowers at local farm markets.
Treat her to creamy chocolates from Kilwins in downtown St. Joseph, The Country Store in Watervliet or from our countryside wineries.
Jersey Boys | May 16 | 7 p.m. Mainstage | The Mendel Center LMC | 1100 Yore Road | Benton Harbor | $47-$95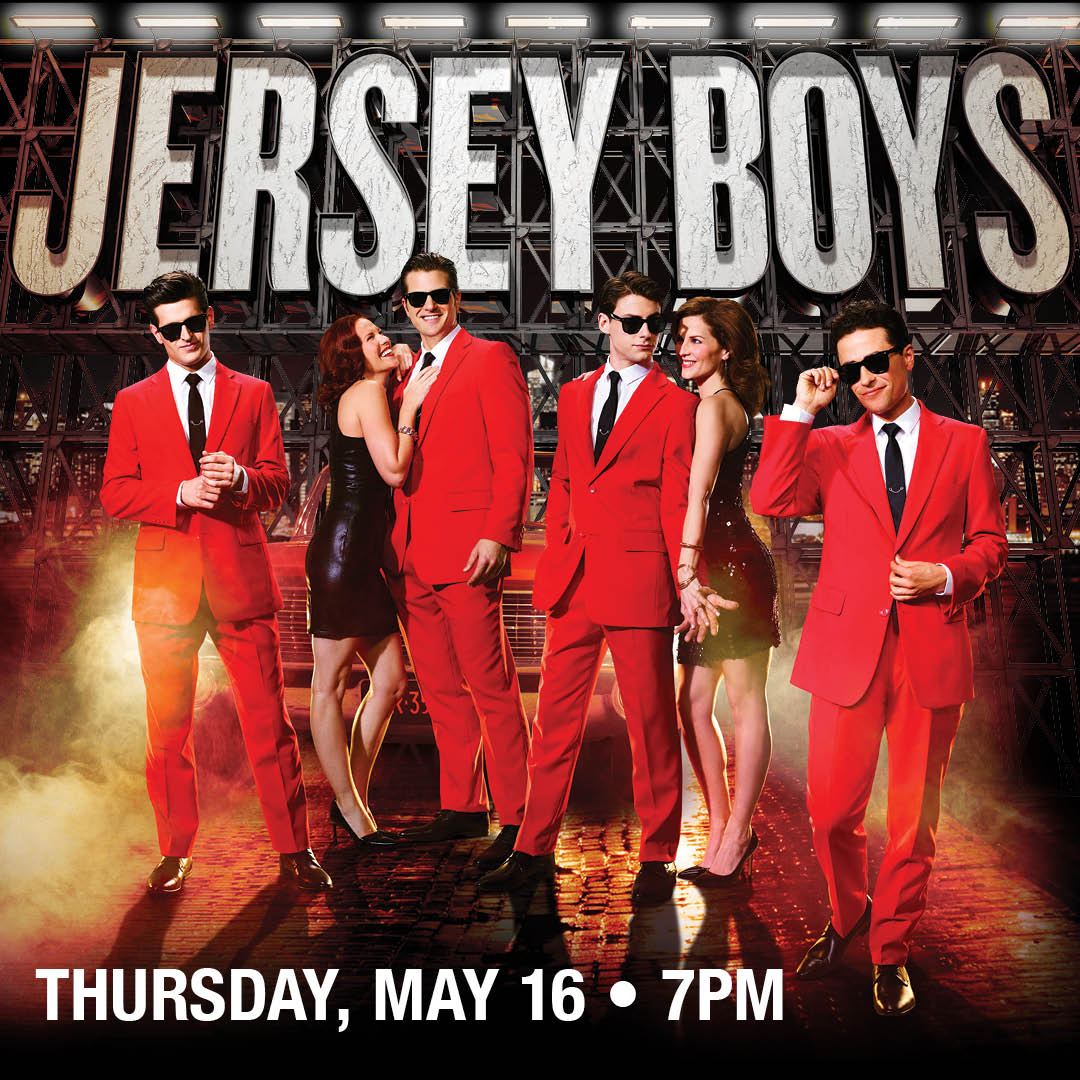 They were just four guys from Jersey until they sang their very first note. They had a sound nobody had ever heard … and the radio just couldn't get enough of Frankie Valli and The Four Seasons. But while their harmonies were perfect on stage, off stage it was a very different story ﹘ a story that has made them an international sensation all over again. Go behind the music and inside the story when you see this Tony Award®-winning true-life musical phenomenon right here in Southwest Michigan.
From the streets of New Jersey to the Rock and Roll Hall of Fame, this is the musical that's just too good to be true. You will go wild listening to "Sherry" • "Big Girls Don't Cry" • "Walk Like A Man" • "Can't Take My Eyes Off You" • "December 1963 (Oh What A Night)."
Sponsored by the Southwestern Michigan Tourist Council, several of our members are offering special theater/overnight stay packages. This is a great reason to take a long weekend and enjoy Makers Trail tasting tours, shopping and May 17-19 events!
Please note, this show is recommended for 12+ years of age due to content.
7th Annual BBQ, Blues & Bluegrass | May 18 | noon to 8 p.m. | Whirlpool Centennial Park | St. Joseph $20 Advance | $25 Gate | Kids under 8 FREE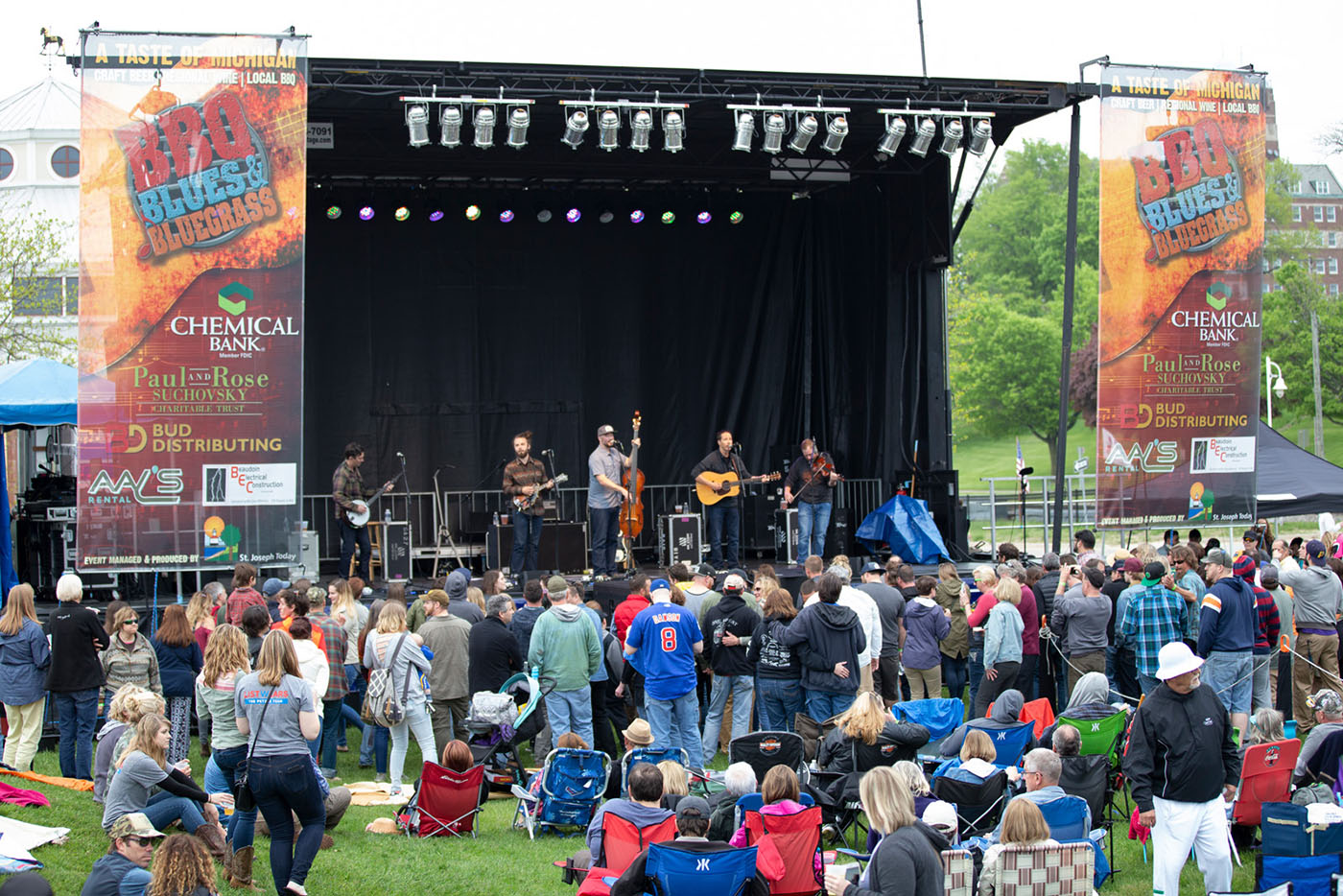 The 7th Annual BBQ, Blues & Bluegrass is a great way to enjoy the start of warm weather. This popular, outdoor rain-or-shine event is a celebration of live music, craft beer, regional wines, and local BBQ. Bring the whole family, a lawn chair or blanket, sunglasses and your appetite for a fun-filled day of listening to this amazing lineup:
(Please note, times are approximate and subject to change)
Your event ticket gives you access to the grounds. You can purchase drink and BBQ tickets after you arrive.
Whirlpool Centennial Park, located just below the bluff from downtown St. Joseph and within view of Lake Michigan and Silver Beach, is one of the premier festival locations in West Michigan. Arrive early and stay late to enjoy area shopping, splashing in Compass Fountain, playing on the beach, watching the sunset and much more.
For advance tickets or to learn more, visit St. Joseph Today.
Woo-Hoo! Historic Train Rides | Saturdays & Sundays | May 25 to Sept. 1 | Noon to 5 p.m. | Eden Springs Park | Benton Harbor | $3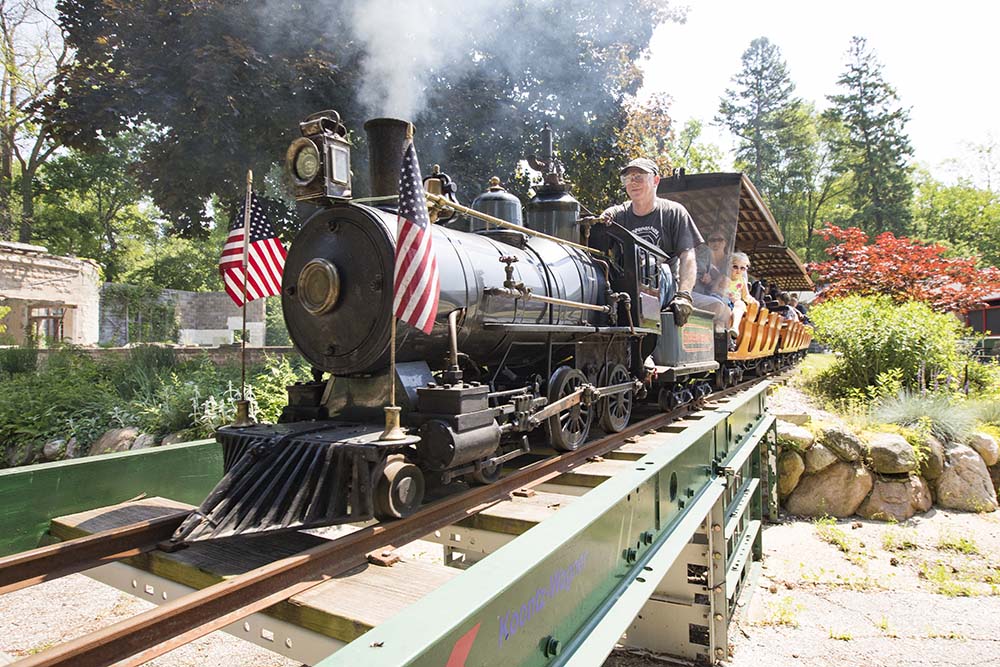 May 25th is opening day for Eden Springs Park at the House of David. This family-friendly historical attraction is a wonderful place for reminiscing about the past as well as creating fun new memories. (We love seeing grandparents with their grandkids ﹘ so many stories to share!)
A fun reason to come is to ride the park's small-scale trains, including one pulled by an antique, coal-powered steam engine. Specific train engines operate on different days, so come back often to ride them all. In addition to the train rides, visitors can tour the former amusement park grounds which were once operated by the House of David. This religious society has deep historical ties to and influences on the history of the region. Picnic areas and a campground are also available.
For upcoming activities including, seasonal and paranormal events, concerts and vintage baseball games, check out their Facebook page. Two round-the-corner events to add to your calendar:
May 26: The Echoes vs Livery Brewers vintage baseball game, 1 p.m.
June 14: Spaniels & PastTime, outdoor benefit concert, 7 p.m.
Makers Trail Festival | Craft Beverages, Food & Live Music | June 8 | 3 to 9 p.m. Weko Beach | 5239 Lake St | Bridgman | $10 Advance | $20 Gate | FREE for children under 10 years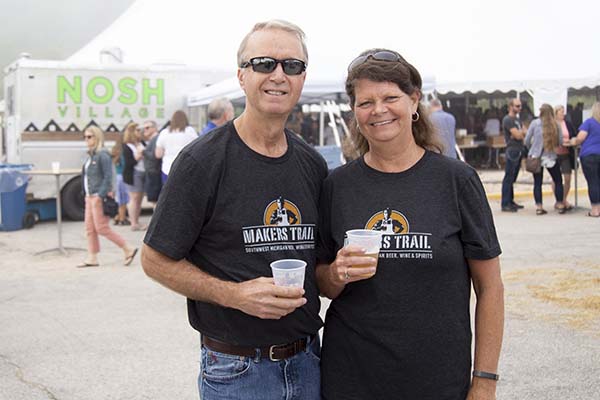 Everything is better by the Lake! You will see why at the 2nd Annual Makers Trail Festival. We'll be popping corks, tapping kegs and pouring your favorite spirits 'til sunset. This is Southwest Michigan's beach party of the year and right now you can buy tickets at half off!
Save 50% Now on Tickets
Advance tickets are only $10 for ages 10 years and up, $20 at the gate and free for children under 10 years. Your admission ticket includes listening to a great lineup of music makers that will play dancing as well as chilling-on-the-beach tunes until the sun starts going down. To get the savings (and ensure getting into the festival), buy them online today. Then bring cash to the festival to purchase food and pay for drink tickets ($1 each). Buy Tickets Now
You Will Party Right-On-the-Beach
The Makers Trail Festival takes place on the beach. While you are here, you can relax by the water or follow the wooden walkway to the top of the dunes for a spectacular view of Lake Michigan. (If you are lucky, you might see Chicago's skyline 50 miles across the Lake!)
The festival will be held rain or shine. If it rains, no worries. There will be plenty of room for you under the big tents.
FREE Parking and Shuttles from Nearby Lots and Hotels
That's right. There's no charge to park or ride the shuttle to this beach party! Parking will be off-site and shuttles will run frequently, so you can come and go as you want. There will also be regular shuttles to-and-from area hotels when you reserve a room for a night or more. Find parking locations and hotel details at Makerstrailfestival.org.
Drink and Eat the Craft of Local Makers
At this event, at least 17 Southwest Michigan wine, beer and spirits makers will come together in one place. This is the perfect chance for you and your friends to try new drinks or stick to your go-to favorites. You will also have an opportunity to try delicious foods from local restaurants and food trucks. Check out the current makers lineup.
Live Music 'til Almost Sunset:
Three energetic and family-friendly bands will be performing.
The Newports have their roots in Chicago's south suburbs and play a mix of blues, funk, rock and soul.
Slim Gypsy Baggage is a Southwest Michigan favorite who plays an eclectic bluesy rock with soulful vocals.
Top Secret has a mission to make you dance. They play something for everyone and are sure to bring you to your feet.
The order in which they will perform has not been announced so stay for the whole event and enjoy them all.
Want to know more? For current news and updates, visit the Makers Trail Facebook page, makerstrail.org or call 269-925-6301. See you at the beach!