This is the 10th year Captain Todd Brill, owner of Gold Coast Fishing Co. located at Eagle Pointe Harbor Marina in St. Joseph, has made fishing and boating fun for all ages. From reeling in king salmon to relaxing on a sunset cruise, Captain Todd shares his tips:
Making reservations
Gold Coast Fishing Co. offers charter fishing trips year-round while some other area captains are only seasonal. Call, email or book online at least two weeks in advance. For summer trips, it's best to make reservations now. Weekend slots fill faster than weekdays. With Gold Coast you can choose between 5- or 7- hour trips ranging from $500 to $700 on Lake Michigan and $250 to $400 on the St. Joseph River. You will need to make a deposit; most captains take major credit cards.
Who to invite
The U.S. Coast Guard limits each boat to six passengers. Gold Coast accepts toddlers to adults. If you have a larger group (up to 25) in town for a wedding or special event, contact me and I can usually work with other area captains to accommodate everyone.
What the charter fishing company supplies
One of the best reasons for using a charter fishing company is that you get all the thrills and adventure without having to invest in a boat and a lot of equipment. It's a good way to "test the waters" before buying your own equipment. Our area captains know the waters, where the fish are biting and the state fishing regulations.
When you fish with Gold Coast you get a U.S. licensed captain, a state, DNR-inspected and certified boat, electronics, fishing gear, safety gear and a cooler on the boat with ice for your catch. I also will clean and bag your fish (except for perch) and can help you find a professional car service to transport you to and from the dock.
What to bring
Everyone over 17 years old will need a valid one-day or annual Michigan ALL-SPECIES fishing license. Licenses can be purchased online or at area bait and tackle shops.
Dress in layers for the weather. When you are on the open water it can be much cooler. It may be 80 degrees on the Lake Michigan beach and 40 degrees out on the Big Lake.
Bring sunscreen, sunglasses, hat, food and drinks (a cooler if needed), a camera or video camera and a cooler with ice to bring your catch home.
Catch and Cook Restaurants
Want a local chef to prepare your catch? Check with the captain for restaurants that participate in the area.
Avoid sea or motion sickness
If you are susceptible to motion sickness, don't wait to get on the boat to take your over-the-counter motion sickness medication. Take it the night before and then again in the morning.
Area fishing tournaments
May 11 & 12, Michigan Steelheaders Schu's Summer Challenge, professional and amateur divisions, St. Joseph
May 17-19, South Haven Steelheaders Pro Am, South Haven
May 25, June 29, Aug. 24, Trifecta Challenge, Church Tackle and Tackle Haven, Benton Harbor
Early December (TBD), Michigan Steelheaders Winter Challenge, open to the general public, St. Joseph River
Sunset and river cruises
You don't have to fish to enjoy the water. At Gold Coast, I also offer river trips that let you relax and see the beauty of the St. Joseph River all year-round. I also offer seasonal sunset cruises on Lake Michigan. They are breathtaking.
What you can catch and when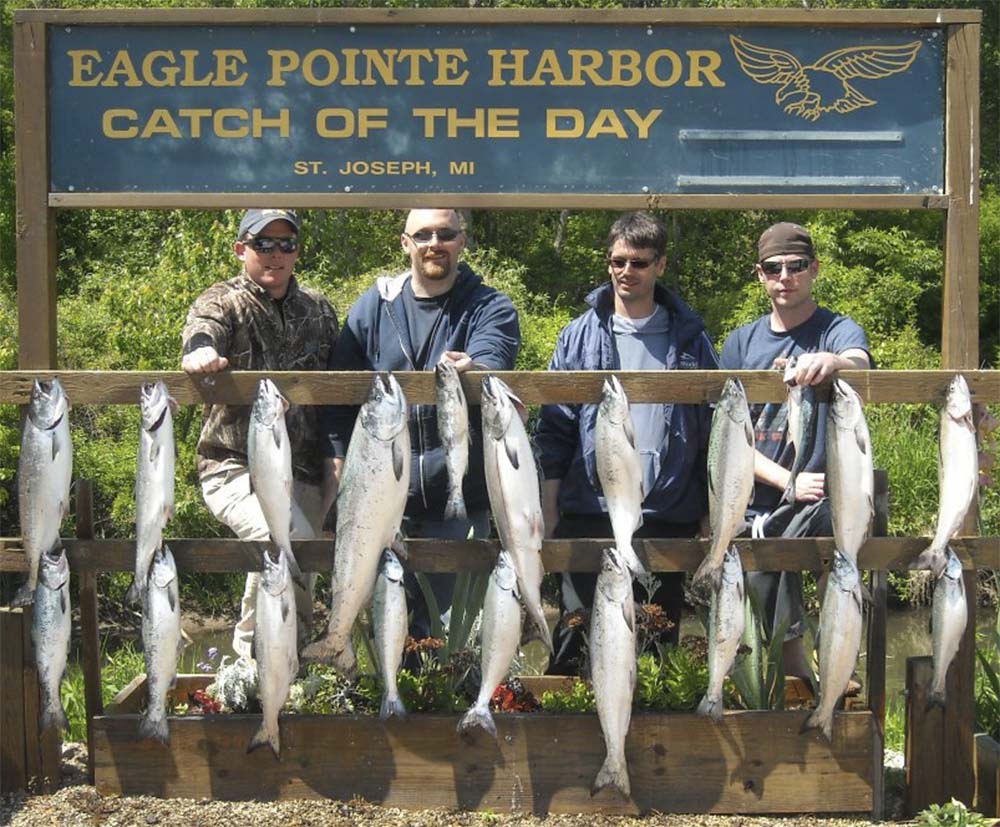 "I have had the opportunity to fish all over the country and still feel that Southwest Michigan has one of the greatest fisheries around!" says Captain Brill. From reeling in feisty bluegill to mighty king salmon you will find thrills on the water all year-round. Here are some of the best times to fish for specific species:
Year-Round: panfish – inland lakes
October-March: king salmon, coho salmon and lake trout – the St. Joseph River, Galien River, Black River and Dowagiac River
November-March: steelhead and brown trout – area rivers and streams
April: coho salmon – Lake Michigan
April-May: brown and lake trout– area rivers
May: king salmon– Lake Michigan
May-September: small-mouth bass, walleye and catfish – area rivers
June: steelhead and lake trout– Lake Michigan
July: yellow perch – Lake Michigan
Free Fishing Weekends
June 8 & 9, 2019 and Feb. 15 & 16, 2020
Whether you are an avid angler or eager to try this premiere Michigan outdoor activity, you won't need a fishing license on these two weekends. Residents and out-of-state visitors can enjoy reeling in all-species of fish on Lake Michigan and Southwest Michigan's inland lakes and waterways. All fishing regulations, however, still apply.
Where you can launch or moor your boat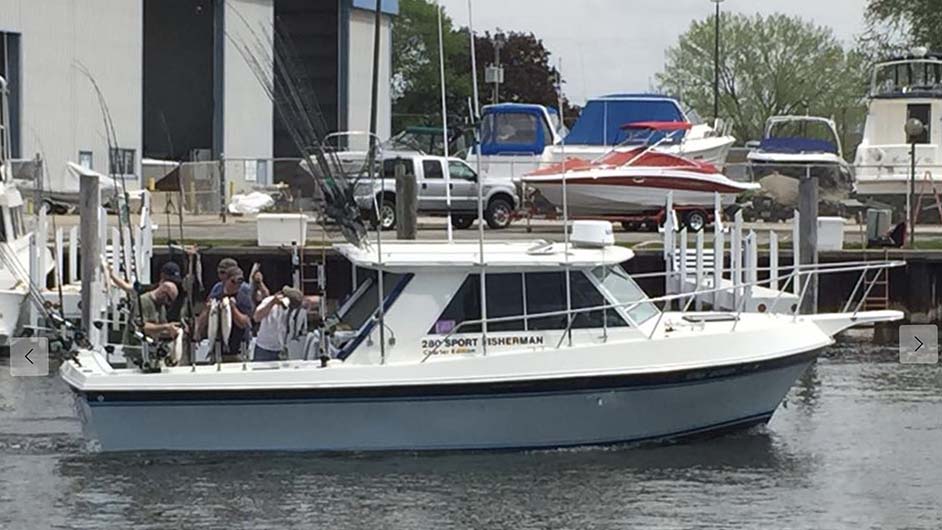 From Lake Michigan harbors or inland lake and river boat ramps to walking out on public piers or wading into streams and creeks, it is easy accessing great fishing grounds in Southwest Michigan. Here are some popular locations:
Southwest Michigan Public Harbors
New Buffalo Marina
St. Joseph Marina Basin
South Haven Municipal Marina
Southwest Michigan Boat Ramps
Berrien County
DNR St. Joseph River Ramp, 700-1098 Riverview Dr., Benton Harbor
Benton River Township Park, 601 Zollar Dr., Benton Harbor
Carronde Park, 2600 Riverbend Dr., Benton Harbor
Paw Paw River, 601 Graham Ave., Benton Harbor
DNR Jasper Dairy Road, 2599-2251 Jasper Dairy Rd., Berrien Springs
Shamrock Park, 9385 Old 31, Berrien Springs
Buchanan River Access, 1206 Red Bud Trail, Buchanan
Mead Road Launch, Buchanan
Miami Marina Boat Launch, 4351 E River Rd., Buchanan
Paw Paw Lake - East and West, Coloma
Bond Street Boat Launch, French Paper Mill Dam, Niles
Marmont Street Launch, Niles
City Boat Launch, 282 Anchor Court, Marina Island, St. Joseph
Riverview Park, 2927 Niles Rd., St Joseph
Cass County
DNR Dowagiac River, M-139
Van Buren County
Clear Lake
Eagle Lake
Black River Park, E. Wells St., South Haven
South Haven Boat Launch, 298 Black River St., South Haven