Southwest Michigan luckily offers four great seasons. One is happening now and way too many people miss out on winter's majestic, quiet, yet fun-filled beauty. So we asked several locals to share 10 reasons you should get off your couch this winter. Here's what they suggest:
See the ice-coated lighthouses and catwalk in St. Joseph. Kaitlyn drives up from South Bend, Ind., to walk along the shore of Tiscornia Beach to catch the best views. Silver Beach and Lions Park are also good ice formation siting destinations.
Ride fat tire bikes over snowy trails at Love Creek County Park in Berrien Center. Josh recommends bringing your own fat tire bike or renting one at the Nature Center ($15/hour or $25/2 hours). The 3.5 miles of beginner and intermediate trails showcase winter's woodsy beauty. The park entry fee is $3 ($5 non-resident); the trail fee, $5.
Snowboard or snowshoe at Warren Dunes State Park, Bridgman. Erika warns this is a mega-workout, but you can't beat the view of seeing Lake Michigan from these lofty mountains of snow-covered sand and the exhilaration of flying down them.
Sip hot chocolate with the kids in downtown St. Joseph. Nicky says pocketing your phone and listening to your kids over steamy cups of hot chocolate, tea or coffee is a great break in their winter routine. A popular stop is Kilwins on State Street.
Ice skate at John and Dede Howard Ice Arena in St. Joseph. Erika says this is the perfect family or date destination. Open skate times are available seven days a week.
Learn to downhill ski or snowboard at Swiss Valley in Jones. Jamie says the ASEA-certified instructors make learning fun for ages 4 to adult. There are 11 runs to improve your skills on and a Chalet to warm up in. She adds to be sure to try SV's famous Rice Krispies treats available in Cafe 225'.
Walk the Lighted Bluff in St. Joseph. Kaitlyn points out this is a sure-fire way to brighten your mood. The twinkling lights stay lit through mid-February. Come at dusk and catch a gorgeous winter sunset as you look out at Lake Michigan.
Cross-country ski or snowshoe at Fernwood Botanical Garden and Nature Preserve or Madeline Bertrand County Park in Niles. Elisa says this is on her list of couch-avoiding to-dos. Bring your own snowshoes or skis to Fernwood. This is one of the best times for winter birdwatching along the trails. Or go night skiing along lighted trails on Fridays and Saturdays 'til 9:30 pm at Madeline Bertrand County Park. Bring your own or rent equipment here. Learn more.
#9 Watch chainsaw ice carving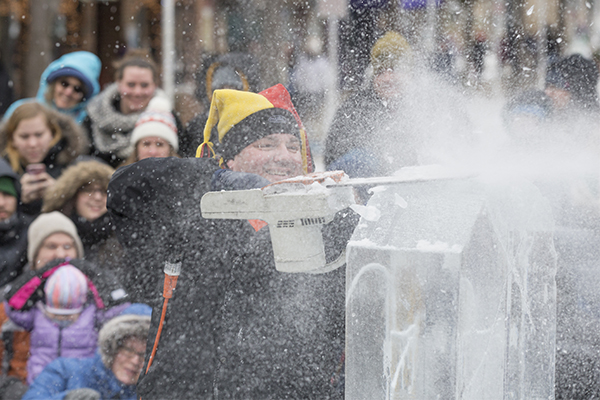 Repeatedly on locals' lists is be sure to bundle up and see the 15th Annual Magical Ice Fest, Feb. 1-3 in downtown St. Joseph. Here are a few of our favorite activities. You'll find the complete fun-packed schedule and a list of hotel packages here.
Friday & Saturday: Watch professional carvers fire up their chainsaws starting at 5:30 pm Friday and 8 am Saturday. It's jaw-dropping exciting to see how they transform blocks of ice into crystal-like sculptures.
Friday: Fire & Ice Tower at 7:30 pm. You'll be awed by the roaring blaze inside this frozen tower.
Saturday: Frozen Fish Toss and Ice Bowling, 10 am to 4 pm, outside the St. Joseph Today Welcome Center, 301 State Street.
Ice Wars! Pro carvers duel it out in 15-minute rounds to see who can create an ice sculpture the fastest! Cheer them on from 4:30 pm to 6 pm at State and Pleasant Streets.
#10 Hang 10 below the bluff
Waikiki Weekend | Jan. 31-Feb 3 | Silver Beach Center | St. Joseph | Tropical fun for all ages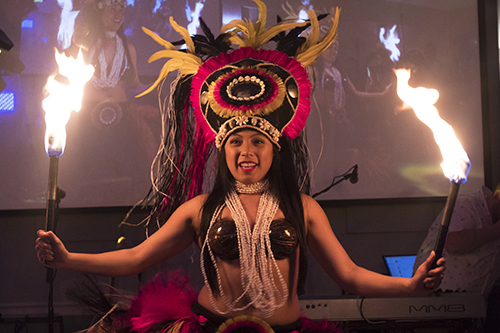 They're cranking up the heat and Hawaiian music for four fun-filled days in paradise at the Silver Beach Center, 333 Broad Street, home of the Silver Beach Carousel and Shadowland Ballroom.
Thursday: Bring the kids to the Silver Beach Carousel for Aloha Moana! Family Fun Night, from 4-8:30 pm. Take $1 rides on the tropical-themed Carousel and enter free hourly drawings for Moana and Maui towels.
Friday: Gather up your adult friends (18+ years) and hang 10 at the Fire & Ice Party held in the Shadowland Ballroom. 8 pm-midnight. Dance to DJ 27 Entertainment, be wowed by the fire dancers, enjoy the photo booth, martini luge, cash bar, Silver Beach Pizza and Zick's sticks. Arrive early! There's FREE ice cream from Fire & Ice Creamery to the first 200 guests! $10 cover.
Saturday: Kids and adults can learn how to hula dance from Aloha Chicago at 1:30 and 3 pm. Then at 4 pm, be amazed by Magician John Dudley's tricks. Both FREE events are in Shadowland Ballroom.
Saturday & Sunday: Put a lei around your neck and take a spin on the Waikiki Carousel, then play games together. This is one of the toastiest places to be 11 am-5 pm, Saturday and Noon-5 pm, Sunday.
Jan. 29: National Plan for "SOUTHWEST MICHIGAN" Vacation Day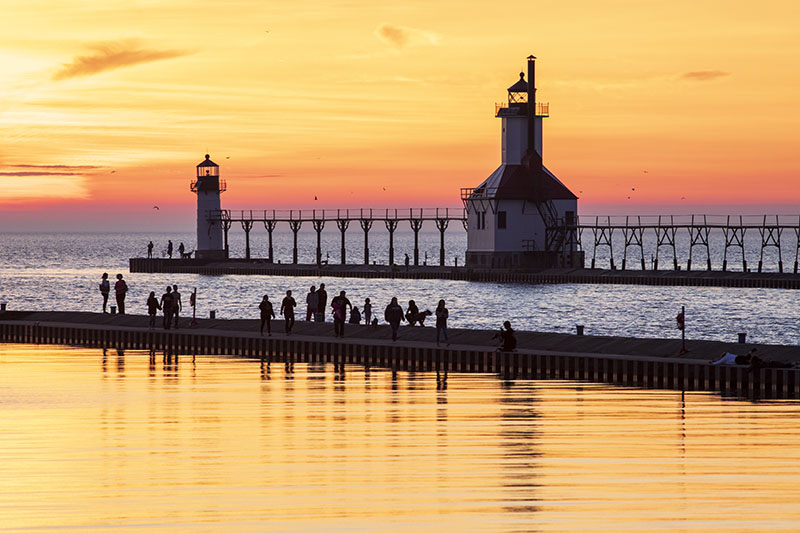 Are you among the 50+% of Americans who didn't use up their vacation time? Research shows that taking your allotted time off is important to your health and wellbeing. If you don't take time to relax, your body can actually lose its ability to shift into lower stress mode. Constant high stress is not good for you. Vacations are necessary to refresh your mind and body, boost your energy and creativity, increase your overall happiness and lower your risk of heart attack.
Research also shows the best way to ensure taking your time off is to plan ahead. One destination to add to this year's plans is Southwest Michigan where you can take it as easy or make your vacation as adventurous as you want.
On Jan. 29 (or any other day in the next few months), use this vacation planning tool to mark National Plan for Vacation Day. Then book your Southwest Michigan lodging here! We hope you get to relax with us often!