November is such a natural month to get together in Southwest Michigan. In this issue, you'll find fun-filled reasons to spend time with your kids, extended family and the friends you didn't get a chance to meet up with during your crazy summer. Then, check out our new website for even more ideas.
Nov. 9 | Ian Maksin & the ZARIA Band | 7 pm | Hanson Theatre, The Mendel Center, Lake Michigan College | Benton Harbor |$15 adults/$10 seniors and students
Members of the Southwestern Michigan Tourist Council are thrilled to sponsor the next Hanson Living Room Series Concert when Russian-born, Chicago-based cellist and composer Ian Maksin will comfort the soul. He will shake up your ideas of how a cello is to be played. Yes, he's highly regarded as a classical artist, but he's opened for Sting and guitarist Dominic Miller as well as collaborated with jazz, blues, flamenco, rock, R&B and world music greats such as Andrea Bocelli, P. Diddy, Snoop Dogg, Gloria Estefan and Barry Gibb. What's wonderful about seeing him in the Hanson is you'll be so close, you can feel his music course through you.
Nov. 17 | Unwrapped at the Box: Mike Struwin & Daniel Deitrich | 7 pm | Box Factory for the Arts | St. Joseph | $10
Another don't-miss-concert is when regional singers and songwriters Mike Struwin and Daniel Deitrich each shine on the Box stage. You'll see why Struwin's unique style of folk, roots, rock, reggae and jam tunes makes him a local favorite. Deitrich will move you with his honest, heartbreaking, yet hopeful Americana anthems and catchy Indie rock.
Earn Free Stuff Together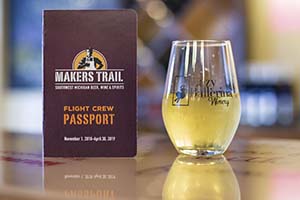 Now-April 30, 2019 | Flight Crew Passport | Makers Trail Breweries, Wineries & Distilleries
The Makers Trail Flight Crew Passport is back! It's a great reason to tour Berrien County with family and friends trying locally crafted beers, wines and spirits. PLUS the more places you visit, the more passport stamps you'll collect, the more free stuff you'll get! You can earn all new rewards including a BONUS prize and a chance to win one of five Grand Getaways!
Spend Time with Veterans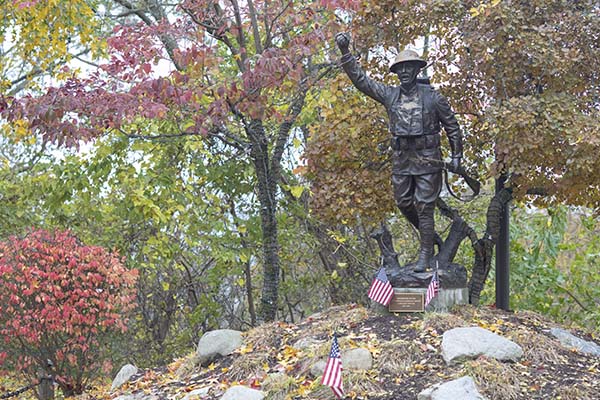 Nov. 11 | 2 pm | Lest We Forget Patriotic Concert | Southshore Concert Band | The Mendel Center | Benton Harbor | $10
The weekend of Nov. 9-11, Southwest Michigan honors the men and women who have served our country in the military and defended our freedoms. You and your family can spend time with our area veterans at several events, including a heart-stirring concert on Veterans Day. Please join us for:
13th Annual Patriotic Concert
The music will be moving, loud and enthralling when the 91-member Southshore Concert Band, led by Dale Reuss, marks the 100th anniversary of the end of World War I. Join them for the "Making the World Safe for Democracy – Music from World War I" concert. It's a salute to U.S. veterans from all conflicts and all branches of the service. There will be special musical tributes to Lest We Forget members who have passed on and to veterans who are missing in action.
Prior to the concert, Lest We Forget will take photos of veterans from 1:00-1:45 pm. Veterans can pick up their free print following the concert. There also will be lobby displays of a map of Vietnam that Vietnam veterans can sign where they served as well as World War I helmets, uniforms and memorabilia from the Robert Dunn collection.
Tickets can be purchased in advance at the St. Joseph and Stevensville Martin's Food Markets, from Lest We Forget members or at the door for $10. Advance tickets are also available through The Mendel Center for $12. Children 17 years and younger are free. Click here for more information.
Other Nov. 11 Veterans Day Events
8-10 am | Veterans Day Breakfast | American Legion Post # 49 | 129 Michigan Ave. | South Haven | Veterans and Active Duty: FREE; Spouses & Children $5
1 pm | Rededication of the Relocated World War I Plaque | Lake Bluff Park | St. Joseph
The 95-year-old plaque listing the 100 Berrien County residents who died during World War I will be rededicated in its new place next to The Doughboy statue. The event includes wreath-laying ceremonies at four war memorials in the park as well as a bagpiper, Honor Guard and playing of Taps.
Go Gift Hunting Together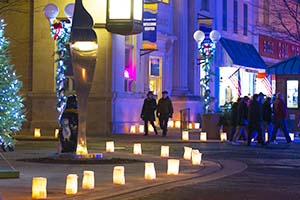 Southwest Michigan has excellent hunting grounds for bagging presents. Here are three:
Nov. 16 | 24th Annual Luminary Festival | 5-9 pm | Downtown St. Joseph
1,000 candlelit luminaries line the sidewalks as you shop! Enjoy refreshments, a great gift selection and prices. Find a table at any of the downtown restaurants to try local chefs' dinner creations, too.
Nov. 17-18 | Autumn Artisan Market | 10 am-7 pm | Journeyman Distillery | 109 Generations Drive, Three Oaks
This pop-up market is where you can find unique clothing, jewelry, food, holiday decorations and more. While shopping, try craft cocktails you can replicate at your parties or stop in Staymaker for classic dishes made with an inventive twist.
Nov. 24 | Small Business Saturday |In and Around St. Joseph
See, feel, taste and enjoy the fragrances before you buy your gifts. Shops, galleries and bakeries throughout Southwest Michigan create a festive experience and eliminate any worry about whether your gifts will be delivered on time.
Book Holiday Time Together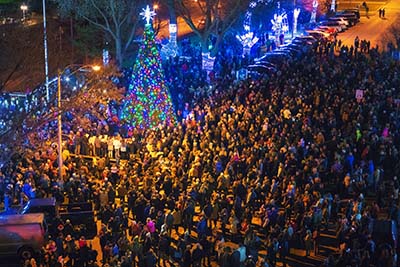 Whichever winter holidays you celebrate with your loved ones, now is the time to book a room at one of our area lodgings to make your time together extra special. We have dozens of fun festivals, concerts, shows, snow activities and more to bring you together in December, January and February. Holiday getaways make great gifts, too!