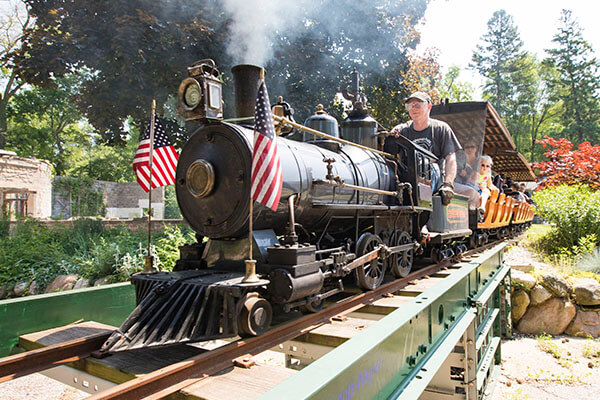 For 4-year-old Jamie, this miniature train ride was the thrill of a lifetime. Sitting beside his grandpa, in the open-air coach, he could hear the clacking of the wheels and watch the steam billow from the engine's stack. This was like being pulled by Thomas the Tank Engine!
His grandpa, a history buff, was smiling, too. This Sunday afternoon visit to Eden Springs Park (formerly the House of David) in Benton Harbor, was whisking him back more than a century.
115 years ago … In 1903, Benjamin and Mary Purnell founded the Israelite House of David (IHOD) in Benton Harbor. This Christian religion's followers were vegetarians and celibate and the men didn't shave or cut their hair.
People from town would often peek in the colony's building windows to see its long-haired members. To satisfy their curiosity, Purnell encouraged them to come by selling them ice cream. He then purchased the Eden Springs property and in 1908 purchased the quarter-scale Cagney Engine #7 (still in operation today), its railroad cars and track from the Bergen Beach Amusement Park in Brooklyn, NY. Soon, #7's shrill whistle could be heard for miles around.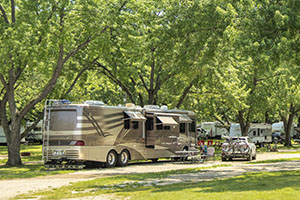 The park was a popular destination for boatloads of visitors from Chicago and Milwaukee. They took a streetcar from St. Joseph to Benton Harbor. At the park, they would watch stage shows, stroll through beautiful gardens and tour the zoo with its lions, bears, monkeys and the then-exotic hamsters. They were enthralled by the semi-pro home baseball team with its long-bearded players or the visiting Negro League. By 1973, the popularity of amusement parks had waned and the religious sect closed Eden Springs. The IHOD's numbers had dwindled too, so little was done to upkeep the property and its buildings.
Wholesome family fun returns. In 2009, the current owners purchased the overgrown property from the IHOD and with the help of dedicated volunteers they have slowly begun restoring this historical gem. Today, families can camp here or come to:
Ride the antique trains on Saturdays and Sundays from Memorial Day Weekend until Labor Day Weekend, 12-5pm. The gas-fired engine typically runs on Saturdays and the steam engine on Sundays. Special Halloween and Christmas runs are offered in October and December. Tickets are $2 during the regular season; $3 for holiday rides.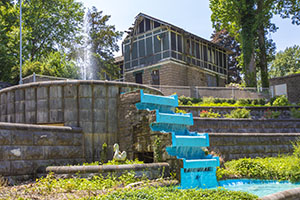 Watch vintage baseball played with pre-Civil War rules. No one on the teams uses a glove, the hurler (pitcher) throws underhand and the rover (shortstop) can play anywhere on the field. Home games are usually played on Sundays and tickets are just $3, so bring the kids!
Want to help save this national historic landmark? You can! Volunteers and donations are needed for many different restoration projects or to help with running the trains and events on weekends. To learn more, leave a message for Debbie Boyersmith at (269) 927-3302 or on the Eden Springs Facebook page.
Make memories at the Springs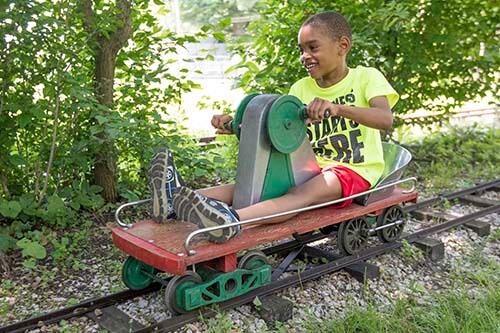 You and your family won't want to miss the upcoming 50s-60s music concert, ice cream social, vintage baseball games, ghosts, not-too-spooky train rides and more:
All events are at Eden Springs Park, 793 M-139, Benton Harbor unless noted.
Aug. 10: Fundraising Concert-Past Time!
7-9pm, great '50 & '60s rock and roll music; bring a folding chair; $5 suggested donation; $2 train rides
Aug. 11: Opening of House of David Memorabilia Exhibit
10am-2pm, Morton House Museum, 501 Territorial Rd., Benton Harbor
Dan & Debbi Geib's personal collection; talks at 11am and 1pm; ice cream social + special ticket to ride the Eden Springs train on Aug. 11 & 12; $7 adults; $5 children
Sept. 2: Vintage Baseball
HofD Echoes vs Grace Lutheran Hornets
1-4pm, bring a folding chair; $3
Sept. 15: Adam Hawkins in Concert
7-9pm, listen to Adam's tranquil Native American Flutes; bring a lawn chair; $25
Sept. 16: Vintage Baseball
HofD Echoes vs Chicago Salmon
1-4pm, bring a folding chair; $3
Sept. 21 & 22: Paranormal Investigation
7:30-10:30pm, explore the park with 387 Paranormal Research; ages 10 years and up; $25
Oct. 13/14, 20/21 & 27/28: Halloween Train Rides
5-9pm, kid-friendly decorations along the route; $3
Dec. 8/9, 15/16 & 22/23: Christmas Train Rides
5-9pm, merry fun for the entire family – you'll love seeing the engine's puffs of steam in the frosty air! $3
Plan Your Fall Vacation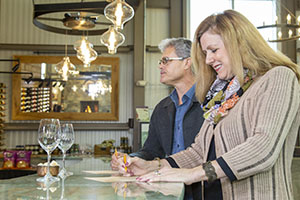 Once the kids are back in school, there are still plenty of warm-weather days to enjoy in Southwest Michigan. Most lodgings offer autumn rates plus several have special deals and packages that add romance and fun to your stay. Come as a couple or bring friends to gather up crisp, juicy apples and festive fall decorations from our farms and markets; taste your way along the Makers Trail to find your favorite craft wines, beers and spirits; shop for cozy clothes and must-have antiques in our lake resort towns; or paddle our fresh waters and hike scenic trails during our gorgeous fall color days in September and October.