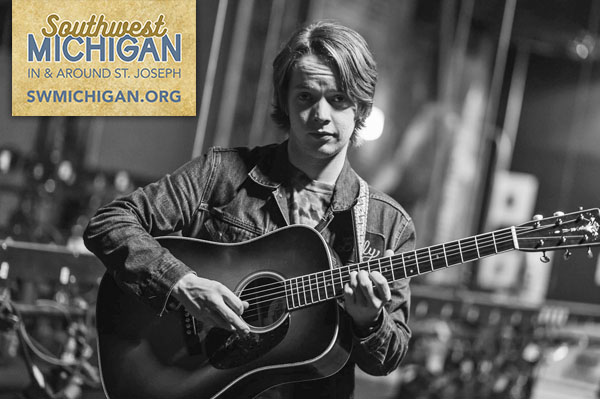 We're counting down to the first Makers Trail Festival, June 9, 1 to 10 p.m. at Weko Beach in Bridgman, Mich. Twenty-three of the best makers in Berrien County will be popping corks, tapping kegs and pouring spirits so you can taste their refreshing crafts on the shore of Lake Michigan. Get your advance tickets now online for only $10 (ages 10 and up; 10 and under are FREE) and, for no extra charge, you'll soak up the music of five of the best beach-grooving bands including headliner, bluegrass phenom, Billy Strings!
Billy plays so blistering fast his strings go flying! Homegrown in Ionia, Mich., he relocated to Nashville, Tenn., in 2016 where his career has exploded! The Journal of Roots Music "No Depression" newsletter said Strings' September 2017 debut album, Turmoil & Tinfoil, is "a fiery, down-home, foot-stomping, barn burning, sawdust flying" collection of music. In August 2017, Rolling Stone named Strings among the "10 New Country Artists You Need to Know." We talked with him, so you could do just that:
When did you pick up a guitar? My dad handed me my first one when I was 3 or 4 years old. He's an amazing guitarist. Growing up, he and Doc Watson were my main inspirations.
What's your career trajectory? As a kid, I had this picture-perfect life fishing and strumming with my dad and his friends, listening to all types of music.
In middle school I gravitated to metal bands like Black Sabbath and Led Zeppelin. I picked up an electric guitar in sixth grade and wanted to play with kids my age. I joined a metal band in high school and played and lived hard. That's where I learned how to perform on stage.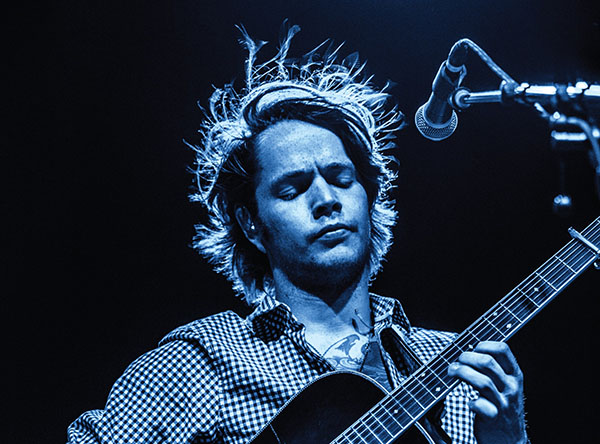 Offstage, I started picking up my acoustic guitar and playing some bluegrass for my metal band friends. They liked it. Playing brought back happy memories from my little-kid days. I started playing bluegrass at open-mic nights in Traverse City, Mich. That's when I realized I could make a living playing bluegrass, so I went to Nashville. For the past five years, I've been doing 200-plus gigs annually. It's like living a trucker's life but always having a party at the end of every road trip.
Who pushes you to improve? I lean into the grind every day. I want to get better at guitar playing, songwriting and performing. The world needs music. It's songs that communicate about life, not Facebook.
Where do you get inspiration for your songs? It's hard for me to regurgitate what's in my being. It's like ideas come to me on the wind and I have to catch them. I write about love, heartache and about your bank account being so low. Growing up in Ionia and traveling now with the band and meeting people from different countries – they all add color to my writing.
What can we expect June 9? High-energy, aggressive bluegrass. We don't just stand on stage strumming. My metal band performing days come through. I go out on a limb every time. Bluegrass fans feed off that vulnerability and I feed off them. It's going to be fun jamming at Weko Beach. It's going to be good to be back in Michigan. It's my heart and soul. These are my people and I can't wait to get back by Lake Michigan.
How did you get your stage name? When I played guitar with my dad, my Aunt Mondi called me "Little Billy Strings." She had recently died when I was signing up for open mic in Traverse. Instead of writing William Apostol, I signed in as "Billy Strings" and the name stuck.