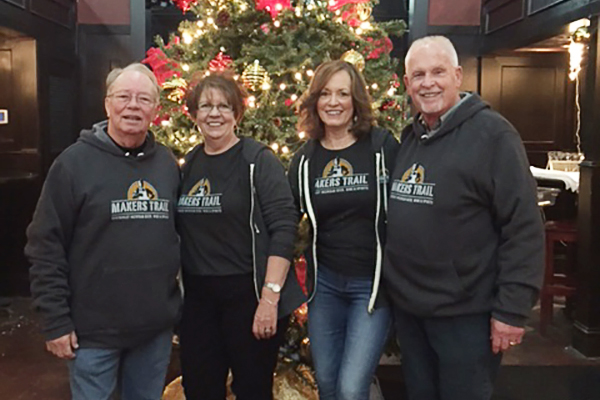 When friends Steve and Vickie Baker and Elaine and Jim Potter saw the passport on the Makers Trail site, they made plans to spend a few days visiting wineries in Southwest Michigan. The couples from Southeast Indiana were no strangers to doing winery tours in Napa Valley and Sonoma, Cal. and Traverse City, Mich., but this tour had an added incentive to earn free stuff and they love a challenge! From Oct. 3-6, they visited 20 different destinations making them our pioneer flight crew members to each earn a Makers Trail t-shirt and hoodie. Here's what they had to say about their tour:
What impressed you about the Makers Trail?
Jim & Elaine: The area is so beautiful. It compares to our tours in Sonoma and Napa Valley. The staff at the winery tasting rooms were sophisticated and knowledgeable about their wines. They are serious about quality. We enjoyed talking to the vintners, the grounds people and the people serving the wines. They were all very warm and personable. Even though Southwest Michigan seemed like a remote destination, we were impressed by the variety of things the area offers – the restaurants, casinos, hotels. It's what you'd expect from a much bigger metropolitan area but without the stress of the hustle and bustle of crowds.
What tips do you have for doing the Makers Trail?
Steve and Vickie: Base yourself from a central location such as a hotel in Benton Harbor or St. Joseph. Most of the wineries are clustered near each other but plan your itinerary over breakfast each day. Get reservations at a couple nice places for dinner. Save room in your vehicle to bring back a couple of cases of wine. Between the two couples, we came back with 30+ bottles, sherry, salad dressing and a lot of fond memories.
Where our trailblazers visited:
White Pine Winery • Tabor Hill Winery & Restaurant • Round Barn • Free Run Cellars • Hickory Creek Winery • Gravity Vineyards and Winery • Red Top Winery • Lazy Ballerina Winery • Baroda Founders Tasting Room • Contessa Wine Cellars • Karma Vista Vineyards & Winery • Vineyard 2121 Winery & Tasting Room • 12 Corners Vineyards • Lemon Creek Winery • Domaine Berrien Cellars • Dablon Vineyards • Lake Michigan Vintners • Willow Harbor Tasting Room • Wolfe Creek Winery • Lehman's Farmhouse • Silver Harbor Brewing Company
Insider's Tip: Makers Trail Passports still available at area hotels
Wow! Our new Makers Trail passports disappeared fast from our distribution places around Southwest Michigan. Didn't get one? No worries. There are still passports available at participating hotels. Now is a great time for a Makers Trail overnight getaway – winter rates, winter festivals and less crowded wineries, breweries and distilleries. Make your reservations today and ask for your passport(s) when you check in.
Earn these Flight Crew Rewards
The more Makers Trail destinations you visit, the more stamps you'll collect, the more cool stuff you will earn. Details here.
Reward Level 1: Makers Trail T-Shirt. Visit 10 different destinations.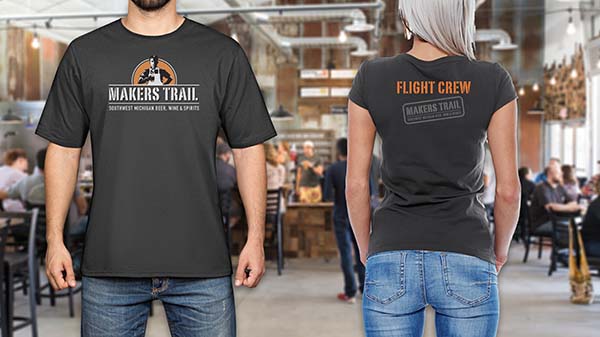 Reward Level 2: Makers Trail Hoodie. Visit 10 additional (20 total) destinations.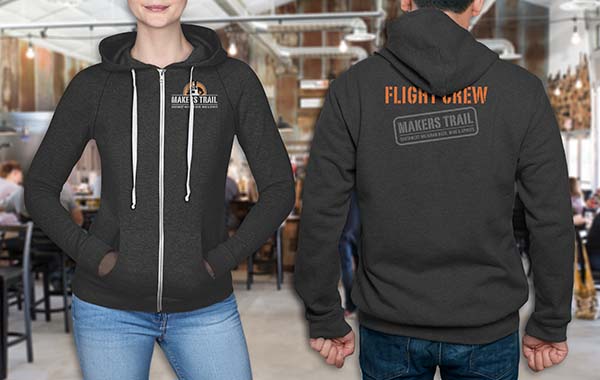 Reward Level 3: Makers Trail Tailgater Package. Visit 10 more (30 total) destinations.