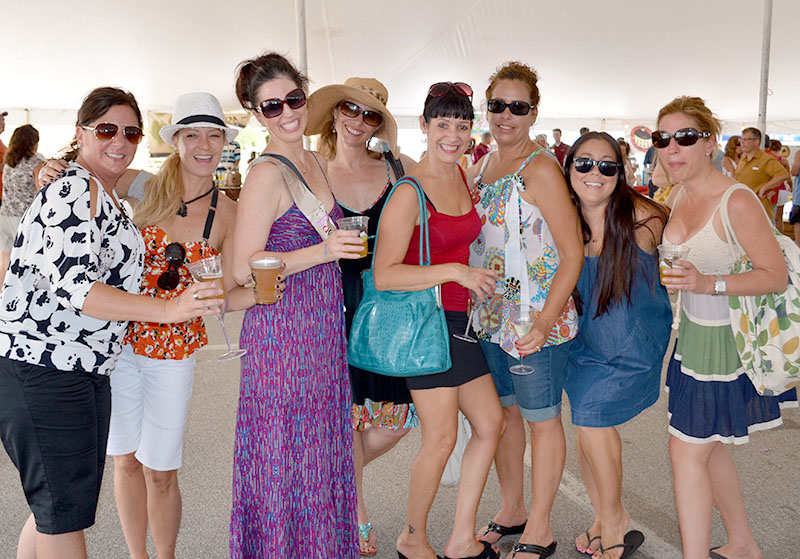 Southwest Michigan kicked off summer on Memorial Day. But May 25 was also National Wine Day and the start of several cork-popping months to toast this amazing freshwater coast. Whether you're a wine newbie or longtime connoisseur, there is no better place to be this summer than Southwest Michigan.
June 20: Lake Michigan Shore Wine Festival — 10th Anniversary Celebration!
Weko Beach, Bridgman | 1-10 p.m. (EDT) | $10 in advance/$20 at gate | Shuttle service available.

This is the summer showcase event for more than a dozen Southwest Michigan wineries and tasting rooms along the Lake Michigan Shore Wine Trail. Our region's talented wine makers truck in cases of their vintages (plus some of their craft beers) to Weko Beach and Campground in Bridgman for nine fun-packed hours of sampling by the glass, live music and great food. This rain-or-shine event is family friendly (children under 12 get in free) with entertainment under the Big Top Tent, an expansive sandy beach, beautiful boardwalk, and front-seat view of the sunset.
Live Band Schedule
1 p.m. – Janet Hines-Norris Band
2:30 p.m. – Jared Knox
4 p.m. – Top Secret
6:15 p.m. – Cadillac Dave & The Chicago Red Hots
8:15 p.m. – Hello Weekend
June 21: 31st Annual Father's Day Festival
Lemon Creek Winery, Berrien Springs | 12-6 p.m. (EDT) | $10

Bring Dad to Michigan's longest running wine festival! Enjoy tastings, grilled food, music by Libido Funk Circus, a classic Corvette car show, hayrides and kid games at one of the area's pioneer wineries, Lemon Creek Winery in Berrien Springs. They were the first Michigan vineyards to plant Cabernet Sauvignon grapes. Lemon Creek also recently made MLive's Best Michigan Wineries list as Schrier's Surprise because of its great vibe and selection of reds, whites and sparklies.
June 27/28-October 31: Jammin' in the Vineyard
Round Barn, Baroda |Sat. 12-6:30 p.m. (EDT) & Sun. 1-4 p.m. (EDT) | Free Concerts

Every Saturday and Sunday now 'til Halloween you can hang out in the vineyard jamming to music, eating food hot off the grill and trying the world-class wines, micro-brews and spirits. This winery recently was named one of MLive's Top Three Best Michigan Wineries. And yes, the barn is round!
July 3: Fireworks Party!
Round Barn Brewery & Public House, Baroda |6-11 p.m. (EDT) | $5 (a portion goes to the Baroda Fireworks Fund)

The wine maker at Round Barn says you'll have a blast at this party held in conjunction with Baroda's famous fireworks display. Locals and vacationers are invited to sip wine or craft beer while listening to What You See Is What You Get and JR Clark and the All Star Blues Mob, watching the stars fill the country sky, followed by the pyrotechnic display.
July 4-5: Reds, Whites & Brews
Round Barn, Baroda |12-7 p.m. (EDT) | Free Admission

Good ol' holiday fun continues for two more days at the Round Barn. There will be more wine, more brews, more grilling, more music, plus a bounce house, slide and cornhole to entertain the family.
July 11: Smooth Jazz at Sunset
Silver Beach Pavilion, St. Joseph |6:30 p.m. (EDT) | Advance: $25/$30, Gate: $30/$35

It's tough to beat this venue for listening to jazz saxophonist Euge Groove — when you're at the Silver Beach Pavilion there is nothing but Lake Michigan to the west! Tabor Hill Winery & Restaurant teams up with 98.3 The Coast to host this evening of listening pleasure, great food and drink.
July 17-19: Paw Paw Days – Uncork the Arts!
Downtown Paw Paw | Advance Lanyard: $5/Advance Matt Giraud Concert Tickets: $25

Join thousands of revelers at this celebration of the arts. Paw Paw is home to St. Julian, Michigan's oldest, largest and most awarded winery. Taste their wines, plus vintages and craft beers from other local wine and brew artisans. This long weekend hosts live music (including a concert by American Idol fifth-place finalist and Kalamazoo local Matt Giraud), fine art, dance, poetry readings, storytelling, theater and great food.
July 18: Vintage Blues Bash
Lemon Creek Winery, Berrien Springs | 12-8 p.m. (EDT)| $10

Blues fans say there's no better combo than sipping wine while listening to The Elwood Splinters Blue Band, Shake N Chill and JR Clark and the All Star Blues Mob. Lemon Creek Winery will be grilling food and offering hayrides at this mid-summer event.
July 25: 11th Annual Art, Wine & Music Festival
Domaine Berrien Cellars, Berrien Springs | 11-7 p.m. (EDT) | Free Admission

This boutique family winery invites 25 local artists to display and sell their work that ranges from jewelry to fused glass to stoneware, watercolor, acrylic and oil paintings, photography, woodcarvings and more. Mouth-watering grilled sandwiches, wine and non-alcoholic beverages will satiate your hunger and thirst. There will be live entertainment all day for blues, rock, country rock, jazz and bluegrass fans as well as prize raffles.
August 15: Party on the Pavers
Downtown Baroda | 3-9 p.m. (EDT) | $5 Donation

More than 1,500 partiers showed up last year for this last-shot at summer ... so the Village of Baroda is bringing the party back. This area is proud of its local vintners and brewers who will spotlight their craft along with music by Alligator Blackbird, Slim Gypsy Baggage and Crawpuppies. There will be fresh-harvested fruits and vegetables at the farm market plus a great selection of food from street vendors.
Of course, this list of winery fun just takes us through summer – there are more harvest festivals planned for fall. If you're making plans into September and October, keep up on winery happenings at the Southwestern Michigan Tourist Council website and facebook.com/swmtc. 'Til then, join us in raising a glass to another fun summer!