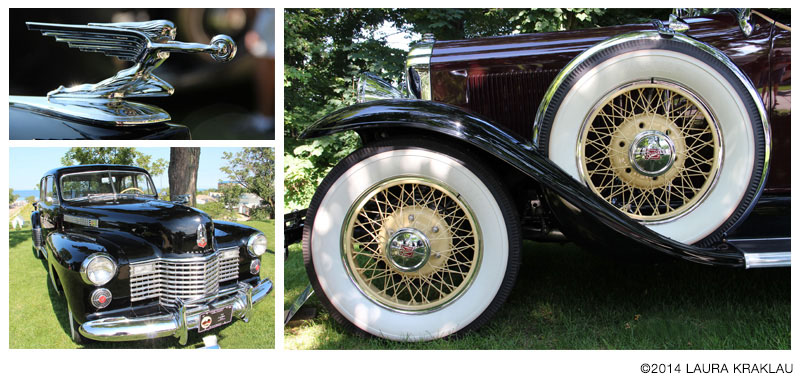 Car shows are a summer staple in Michigan. But this Saturday, August 9, from 10 a.m. to 4 p.m., something very special is happening when the Concours d'Elegance celebrates its 10th anniversary in downtown St. Joseph.
This isn't your usual car show. This highly regarded invitational show will feature 94 of the most beautiful, interesting, and rare automobiles brought together from around Michigan and the Midwest to the bluff overlooking Lake Michigan.
The featured marque of this year's Concours is Dodge on its 100th anniversary. The showcase will include Dodge Brothers and Dodge automobiles from each decade of production, including a 1915 Dodge Brothers Roadster. For a look behind the curtain, two 1997 Dodge concept vehicles will be on display – a Dodge Copperhead Roadster and a Dodge Sidewinder truck. And an interesting side note … the Dodge Brothers were born and raised in southwest Michigan. They received their mechanical training from working in their father's machine shop in Niles before moving to the east side of the state.
Other highlights at this year's event include featured guest retired Corvette Chief Engineer Dave McLellan, who served in that role from 1975 to 1992, and an accompanying display of several Corvettes. Two Special Featured Classes are also included: a collection of Ford Mustangs on their Golden Anniversary, and six stunning Packards from the 1930s.
Of course, beyond the featured categories, there will be a large selection of cars dating from 1906 to the 2000s ranging from a limousine and a racecar, to convertibles and autos trimmed in plenty of brass.
To be selected for this juried event, car owners must submit an application months in advance. The committee then selects a well-rounded field of cars representing the Brass, Classic, Vintage, Special-interest, and Muscle Car eras. To be eligible for consideration, cars must not be modified significantly from how they would have been seen on the showroom floor.
"We look for really nice, well-restored or original cars that have a "wow" factor," Dar Davis, founder and chairman of the Concours d'Elegance said. "The rarer, the better!"
You can get an up-close look the vehicles while they are displayed on the bluff and talk with many of the car owners to learn more about the cars. Three Pass in Review events are scheduled for noon, 1:30 p.m., and 3:30 p.m. During Pass in Review, exhibitors will slowly drive their automobiles past the review stands on Lake Boulevard as auto authority F. Edward Lucas III delivers a detailed narration of each.
Last year, the show raised in excess of $11,000 for the local Hospice at Home organization. This year's net proceeds will again support Hospice at Home. Admission is a steal at just $5 per person, and $10 per family (kids must be of school age).
Dar Davis and his team do an amazing job putting this well-run and unique event together. Each year it is a new experience. If you've been to it before, plan to go again to see something new. If you've never been to it, put it on your weekend agenda as something not to miss.