Tree-Mendus Fruit Farm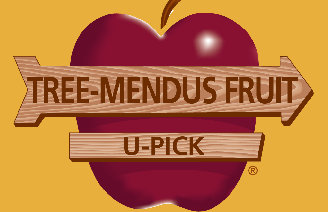 Come enjoy the fun of picking your own fruit in season. With over 400 acres of rolling hills, fruit trees, nature preserve and well marked roads, you'll enjoy the abundant out-of-doors. Our beautiful orchards produce sweet and tart cherries (July), apricots (July), peaches (August), nectarines (August), plums (July-Sept), pears (August), blackberries (August) and 250+ varieties of apples (July-Oct). Most fruits are available for u-pick. We also have our own fruits available already picked. Call 269-782-7101 for our Ripe-N-Ready report.
In addition, at Tree-Mendus Fruit Farm one may lease a "Family Tree" apple tree, ride a pony and take the orchard shuttle wagon (pony and wagon rides weekends, weather permitting). Also available are a country store, tasting counter, heritage apple display, picnic area and playground area, farm animal corral and washrooms. Our convenient pitter facility allows guests to wash, sort and pit their cherries before leaving the farm.
Tree-Mendus Fruit Farm has special regard for the cherry pits. As home of the world-renowned International Cherry Pit Spitting Championship the first Saturday in July, we not only pit'em - we spit'em too!
Tree-Mendus Fruit Farm accommodates company picnics, group (15+) orchard tours and group country dinners by reservation.
Additional Information
Sweet & tart cherries: u-pick, we pick, frozen
Apricots: u-pick by appointment, we pick, frozen
Peaches & nectarines: u-pick, we pick
Peach (15+ varieties): u-pick by appointment, we pick
Asian & European plums: u-pick & by appointment, we pick
Apples (250+ varieties): u-pick, we pick
Fruit sampling & display counter
Ciders, juices & concentrates
Country market
Cherry waffle boat
Jams & jellies
T-shirts
Picnic & playground area
Restrooms
International Cherry Pit Spitting Championship
Rent-a-Family Tree
Large group tours & accommodations by reservation
Cherry pitter & washing facility
Tree-Mendus Fruit Farm Stand
Ripe-N-Ready Report
Handicap accessible
Image Gallery
No Upcoming Events Published By Tree-Mendus Fruit Farm