Show your Makers Trail Passport
and earn FREE Flight Crew gear!
New Details Coming in Fall 2018
Do you enjoy trying wines, beers, spirits and cocktails? Then come explore Southwest Michigan's Makers Trail! You'll discover new favorites as you visit more than 30 craft wineries, breweries and distilleries on our Makers Trail Guide or our free app from the App Store or Google Play. Each destination has a distinct personality and serves specialties to showcase each maker's craftsmanship. Order a flight so you can taste more!
Take the Makers Trail Flight Crew Passport Challenge. Most of our Makers Trail destinations are just a few minutes away from each other in Berrien County. You can easily visit three or four in a day. Make it your goal to try all of them!
Carrying a Makers Trail Flight Crew Passport adds to the fun. The more Makers Trail destinations you visit, the more different stamps you can collect, and the more free Flight Crew gear you can earn. To get your stamps, present your passport to your server while tasting the wines, beers or spirits, trying the delicious food pairings or celebrating with us at the year-round festivals and special events.
Pick up a FREE Makers Trail Flight Crew Passport at these Southwest Michigan locations:
Here's how it works
You must be at least 21 years old to participate.
Bring your Makers Trail Passport to participating breweries, distilleries and wineries. For the current list of more than 30 destinations, visit MakersTrail.org. Please be prepared to show a valid ID at each stop.
When you visit each destination, ask your server to stamp your passport before you leave. Each destination has its own oval stamp printed with its name on it. The server will give you one stamp for your passport. Add it to the next empty square on your Passport Reward pages. Some Makers Trail destinations have more than one location, but only one stamp design. Duplicate stamps will not count toward your reward totals.
Continue to collect stamps to earn up to three rewards (see descriptions below).
Rewards are earned by accruing stamps in increments of 10 on each successive Rewards page.
To claim your Level 1, 2 or 3 reward, complete the form on page 9 and bring or mail your entire passport to either of these locations to be validated:
Southwestern Michigan Tourist Council
2300 Pipestone Rd. Benton Harbor, MI 49022
Business Hours: Mon.-Fri. 8:30AM-5PM. CLOSED SAT. & SUN.
St. Joseph Today Welcome Center
301 State St. St. Joseph, MI 49085
BUSINESS HOURS: CHECK stjoetoday.com/welcome-center FOR SEASONAL HOURS.
You may claim one reward at a time or wait to turn in your passport until after you have earned multiple rewards.
To claim a reward, you must bring or mail your passport to either the Southwestern Michigan Tourist Council office or the St. Joseph Today Welcome Center. You can claim each reward as soon as you've earned it or wait to claim multiple rewards at one time. The Flight Crew T-Shirt and Flight Crew Hoodie can be picked up in person from either claim location, or we can mail them to you. The Tailgater Package, however, must be picked up in person from the Tourist Council.
Your passport will be returned with each reward claimed, in person or by mail, so you can continue to earn the remaining rewards.
Limit one cooler per family.
Enjoy your flights! Please read the "Advice from the Makers" on page 10 of the passport. These tips will ensure the best tasting experiences for all!
Keep your Flight Crew Passport safe! Additional passports are available, but lost stamps can only be replaced by revisiting the Makers Trail destinations.
DEADLINE TO CLAIM YOUR FLIGHT CREW REWARDS IS APRIL 30, 2018
Flight Crew Rewards
Your rewards build up with each stop along the trail.
DEADLINE TO CLAIM YOUR FLIGHT CREW REWARDS IS APRIL 30, 2018
Your Makers Trail Passport stamps accrue toward increasingly valuable rewards. Stamps can be redeemed for Flight Crew gear at three levels:
REWARD LEVEL 1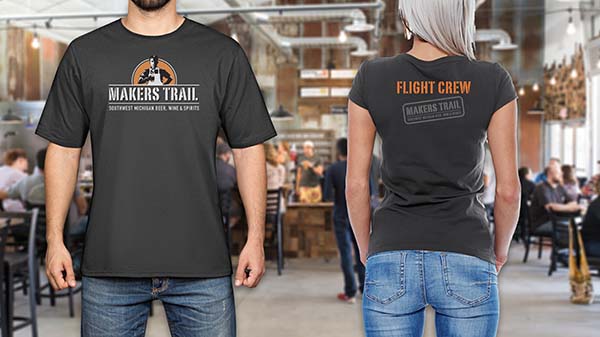 Collect stamps from 10 different Makers Trail destinations and earn a Flight Crew t-shirt. (Men's and women's styles available.)
REWARD LEVEL 2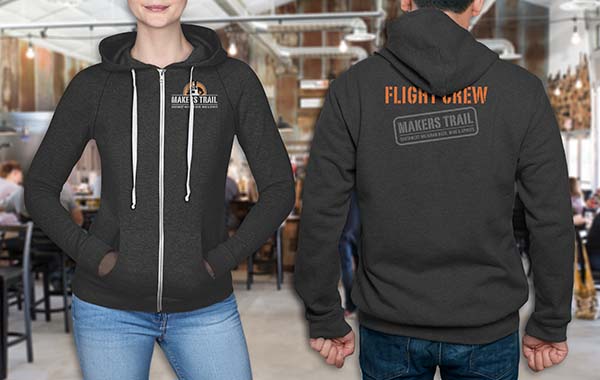 Collect 10 additional stamps from a total of 20 different Makers Trail destinations and earn a Flight Crew hoodie. (Men's pullover and women's zip-up styles available.)
REWARD LEVEL 3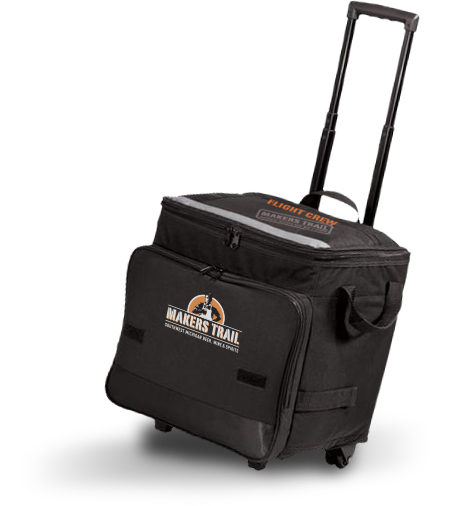 Collect 10 more stamps for a total of 30 different Makers Trail destinations and earn a Flight Crew Tailgater Package that includes:
Makers Trail Flight Crew rolling cooler with assorted Makers Trail beverages
Your choice of 2 Makers Trail whiskey, wine or beer glasses
2 tickets to the annual Makers Trail Festival (a $50 value)
Note: limit one per family


DEADLINE TO CLAIM YOUR FLIGHT CREW REWARDS IS APRIL 30, 2018