Fall Color Tour (3 Days)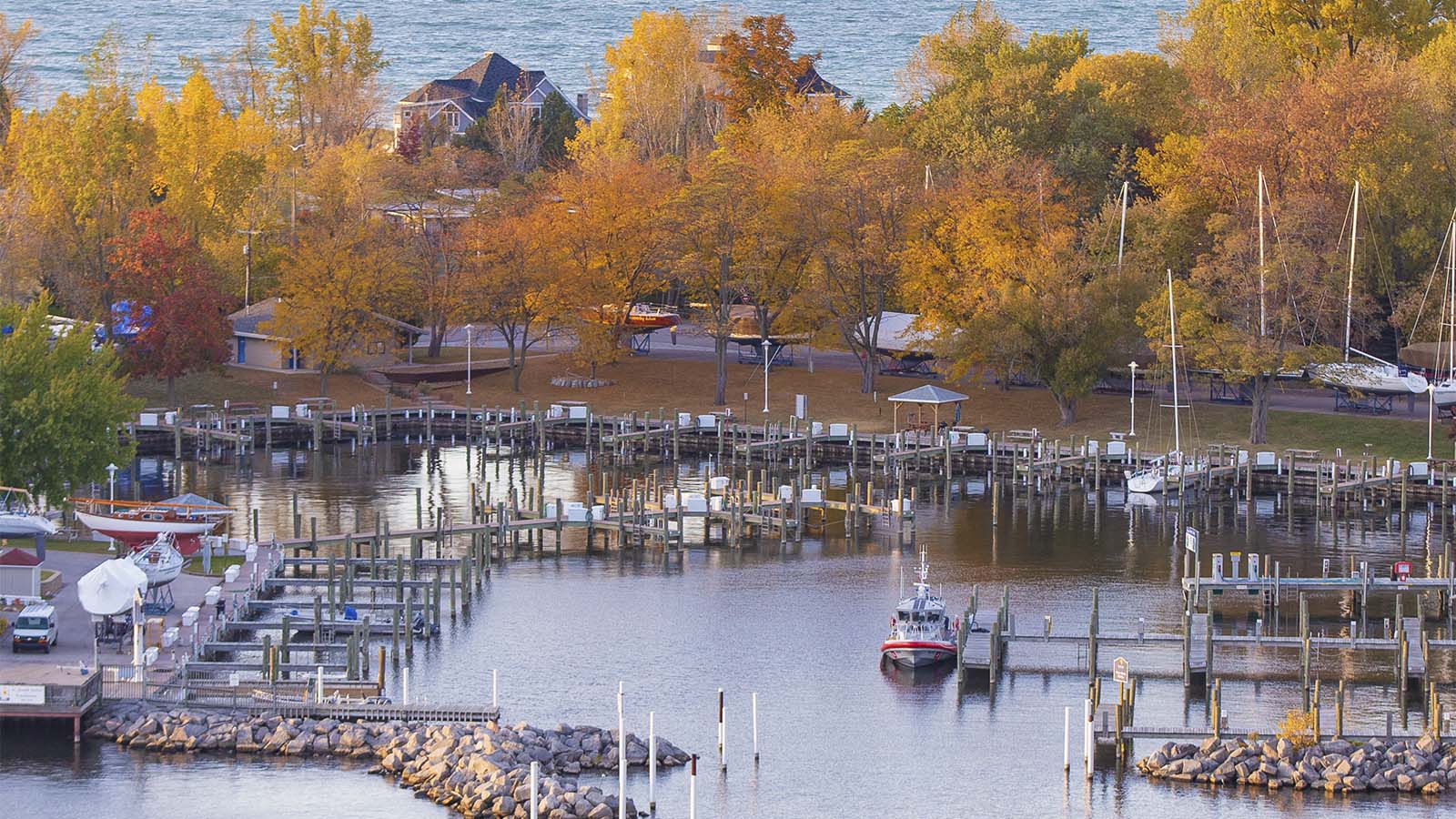 Southwest Michigan, the beautiful transitions from deep green leaves to brilliant yellows, oranges, reds and browns typically begin in mid September and peak the first two weeks of October. Companioned with our gorgeous autumn sunsets along our Lake Michigan shore, you are never far from breathtaking views from dawn to dusk. Take a day, a weekend or week to welcome this colorful season by following these three favorite routes:
West Michigan Pike (Day 1)
This first tour is along the West Michigan Pike. The Pike is the first continuous paved road in West Michigan from the Indiana state line to Mackinaw City. It was built between 1911 and 1922 to attract motorists from Chicago to the resort towns along Lake Michigan's eastern shore ... and it still does! It's a great way to combine fall colors with unforgettable beach moments along the two-lane US Route 12 (Red Arrow Highway) and US Route 31 (Blue Star Highway).
Your Fall Color Tour starts on US Route 12 at the Gateway to Michigan, New Buffalo, just north of the Indiana/Michigan border. Begin your morning with a refreshing walk along this harbor town's pristine Lake Michigan beaches, find "must haves" at its sophisticated shops and galleries or catch your favorite hot brew in one of the downtown restaurants. From New Buffalo, drive north 40 minutes on US Route 31 (Blue Star Highway) to:
As you head north on Blue Star Highway, don't hesitate to duck in to visit any of the resort towns along this dune-lined stretch of Lake Michigan. You'll find places to go antiquing, shopping or beach hiking. However, plan to catch a late lunch in St. Joseph. This city at the mouth of the St. Joseph River teems with weekday and weekend entertainment in the fall. The walkable downtown is just steps away from riverfront parks, tree-lined bluffs and Lake Michigan public beaches. It offers an eclectic selection of shops, restaurants, wineries and places to get a great Michigan craft brew as well as art galleries, children's museums, historical sites, one of the nation's most picturesque lighthouses and a magnificent carousel (open year round). Although, you can easily fill a day here, continue north 25 minutes on Blue Star Highway.
This quaint port town offers a century-old lighthouse, shops, restaurants and large expanses of public beaches. Come kick your feet through the rustling fallen leaves, tour art galleries along the coast, shop and treat yourself to an ice cream cone. Two for-sure things to add to your fall tour:
Watch fall colors from the deck of this electric-powered river launch as it plies the Black River waters. Hour-long tours are available through the middle of October, five launches a day, seven days a week. Tickets can be purchased onsite or online.
This traditional Italian restaurant uses locally grown food and European and North American wines to create memorable meals.
After dinner, catch the sunset from South Haven's many vantage points before taking Blue Star Highway south to Benton Harbor/St. Joseph for a relaxing night's stay in one of our area's many lodging choices. There are more colorful roads to travel after sunrise tomorrow.
Apple Country Tour (Day 2)
After breakfast in Benton Harbor/St. Joseph follow this route for a flavorful, fall day adventure.
Sarett Nature Center, 2300 Benton Center Rd., Benton Harbor (1-1/2 hours)
This gorgeous, 1,000-acre preserve is located along the Paw Paw River valley. Its eight trails are excellent for spying fall migrating birds and autumn wildflowers. However, the best reason to start out here is the treetop trail that takes you up to the canopy for an unforgettable eye-to-eye view of beautiful leaves. Bring your camera. Trails are open dawn to dusk, Tuesday-Sunday; members and children 12 and younger are free, nonmembers $3. Following your hike, head east 10 minutes to:
From September through October, watch cider being pressed. Enjoy a fresh-squeezed cup, hot or cold, and bring home a gallon or two to enjoy. Fresh-baked pies and apple cider donuts are great takeaways, too. On the same road., Jollay Orchards, 1850 Friday Rd., offers apple picking as well as weekend Harvest Festivals, Sept.-Oct., including hayrides, pumpkin and apple picking, fall decorations and Halloween fun. Pick up picnic food while you're in Coloma and head east on I-94 to Exit 41, then south 20 minutes on scenic MI-140 to:
Tree-Mendus Fruit Farm, 9351 East Eureka Rd., Eau Claire (1-1/2 hours)
This is a great place to enjoy your picnic lunch with lots of fresh apples and pears available to augment your meal. This 400-acre farm offers ready-picked and pick-your-own fruits, a country store, pony and hay wagon rides, farm animal corral, tasting counter and heritage apple display. Open Friday-Monday, 10 a.m. to 6 p.m., it's a family friendly place to fill your lungs with refreshing country air and your vehicle with fresh produce. When you're ready, our last stop is 25 minutes southwest. Just follow the winding country roads to:
Take time to sit and breathe in the rich scents of fall at this family-owned and operated artisanal producer of estate grown wines. Come pick your own apples or grapes in Sept.-Oct. Taste award-winning wines year round. A Harvest Festival in mid-September and home wine making events make this a popular fall destination.
After a relaxing afternoon, head north 20 minutes to St. Joseph and enjoy dinner at one of the area's many restaurants before watching the sun set from Lake Bluff Park or nearby beaches and bedding down at a nearby hotel, B&B or cottage.
Into the Woods Tour (Day 3)
Enjoy a hearty breakfast or brunch in Benton Harbor or St. Joseph – you'll burn lots of calories walking on this last day of our fall color tour.
Fred Russ Forest Park, 20379 Marcellus Highway, Decatur (2 hours)
Open sunrise to sunset, this beautiful 13-acre park is one of the most popular fall destinations in Cass County. Located between Dowagiac and Marcellus in a 580-acre Michigan State University research forest, it features a Class A trout stream (popular with anglers) and 4 miles of hiking trails. Take the Big Tree Loop (1.6 miles) to see what remains of the largest tulip tree in Michigan (a violent storm took down 2/3rds of it in 1984). Follow the West Loop (1.6 miles) to enjoy the trout stream and wooded park.
This gem offers 105 acres of cultivated and natural areas along the scenic St. Joseph River valley. Open Tues.-Sun., there is a small admission fee. Fernwood's café is the perfect place for lunch with its homemade soups (most are gluten-free), sandwiches, salads, fresh fruit and desserts. After lunch, take time to explore the art gallery, fern conservatory, multiple outdoor gardens and nature trails brimming with autumn beauty. Special classes, including yoga in the gardens, are available during the week and weekends. Check Fernwood's online September and October calendars for details.
Looking for additional color tours in Southwest Michigan? We have several other favorite routes in Berrien, Cass and Van Buren Counties. Just ask!