Beer-illiant Brewery Tour (2 Days)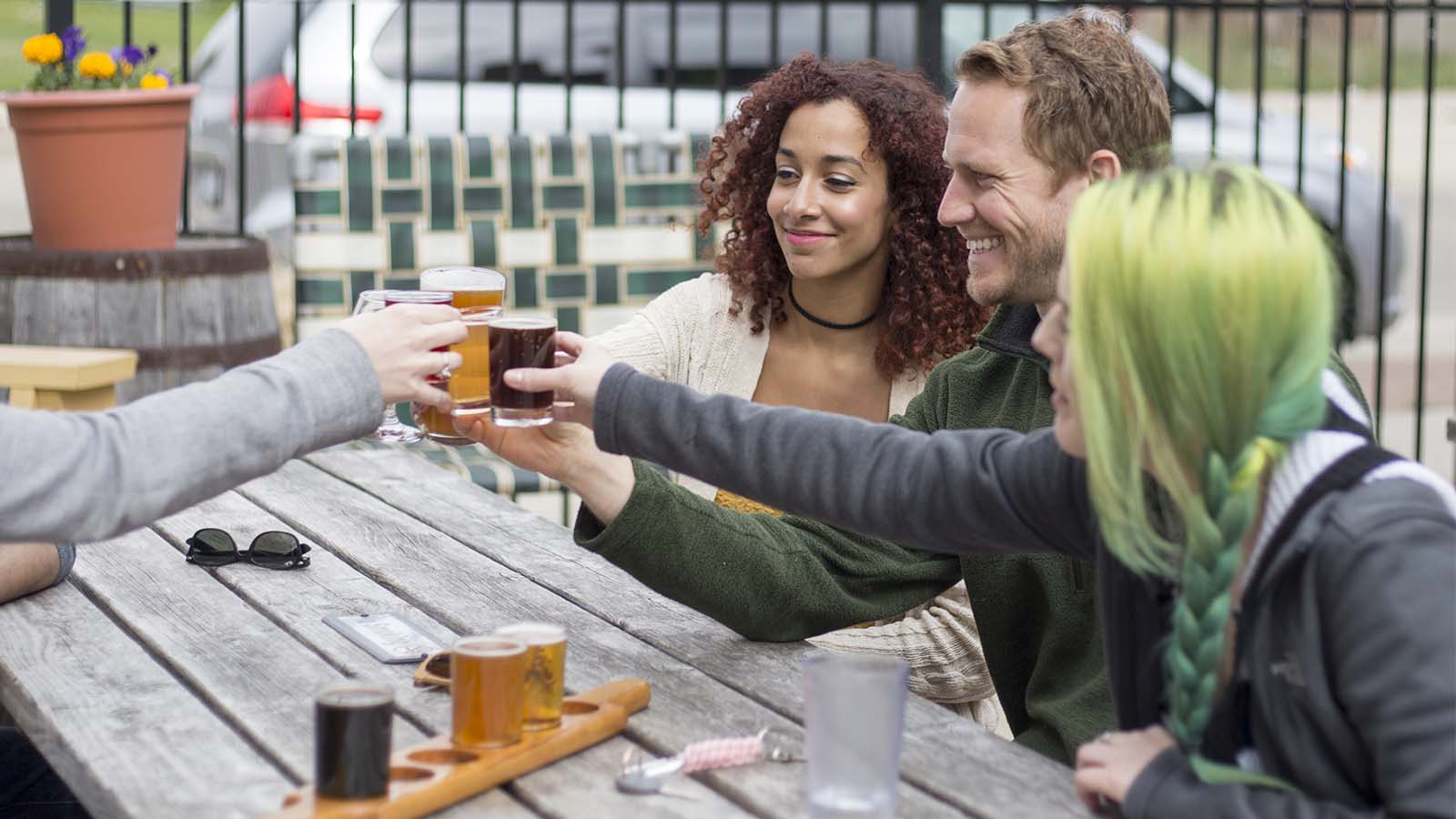 Visiting breweries is a reason to travel, and Michigan harbors more than 150 craft breweries and counting. Nestled among Southwest Michigan's wineries, sand dunes, and hoppin' towns are this Lake Michigan-hugging region's contributions to the Great Beer State. Arm yourself with this itinerary and find your perfect pint.
While you can certainly do this tour a day-at-a-time, it's a lot more fun to pitch camp at one of these locally owned or national chain lodgings in Benton Harbor, St. Joseph or Stevensville. Most offer a complimentary breakfast and a solid launching pad to hit up some nearby breweries over an extended stay.
Want a designated driver? No problem! Check out Southwest Michigan's transportation services to ensure you can have your beer and drink it too before safely turning in for the night.
Day One: Buzzing Around the Outskirts (Bridgman, Sawyer, Baroda)
Tapistry Brewing Company (4236 Lake St., Bridgman)
Kick off the brew hop at 11 a.m. with a sample flight; $12 gets you 5-ounce pours from five of the 20+ beers on tap. With titles like "Mr. Orange", "Happy Colored Marbles", and the oatmeal raisin "Autonomous Unit", the sampler lets you solve the "Enigma" (also one of their beers) of multiple names.
Continue your tour by going west on Lake St. Turn left onto Red Arrow Highway and drive south 3.31 miles.
Warren Dunes State Park (12032 Red Arrow Hwy, Sawyer)
Seize outdoor adventure by taking Exit 16 and turning right on Red Arrow Hwy to arrive at Warren Dunes State Park (open year-round). You will need a Michigan Recreation Passport to play in this 1,952-acre jewel along Lake Michigan with its towering dunes, sandy beaches, cool woods and six miles of hiking trails.
When you've worked up an appetite, get back on Red Arrow Hwy and head right 1.4 miles before taking a left on Sawyer Rd for lunch at ...
Greenbush Brewing Company (5885 Sawyer Rd., Sawyer)
Plan on spending a bit of time at this hangout to appreciate the food, fascinatingly named brews and the company among you.
In the Taproom, taste up to six 6-ounce samples starting at $11.75 or order a pint (at the Taproom or Annex) based on how much its name resonates with how you feel (Magnetic Fields lager, Forlorn stout, Apathy Oatmeal stout), what you seek (PHD malt liquor, A Sheep in Tall Grass Scotch ale), or what most expresses your alter ego (Mr. Hyde stout, Party Wolf IPA). Have the kitchen fix you a four meat BBQ platter, Thai vegie wrap or another delicious meal or snack to go with your pint picks.
Head northeast to visit ...
Round Barn Brewery & Public House (9151 First St., Baroda)
Those looking to sit down with their friends over a handcrafted brew and a locally inspired, made-from-scratch menu, will find the Public House in downtown Baroda perfect for their plan. The brewery has its carefully-crafted brews on tap along with Round Barn wine and spirits! If you passed on food choices at Greenbush, Public House's menu includes the fan-favorite beer cheese, house-smoked wings, and classic pizzas that have become a staple of the Public House.
Travel slightly more than 9 miles north for tonight's dinner destination. Go north on First St. which becomes Stevensville Baroda Rd. Turn a slight right onto Cleveland Ave., then right onto W. Marquette Woods Rd. Turn left onto Scottdale Rd., hen left onto M-139.
Mark III Grille & Bar (4179 M-139, St. Joseph)
Finish the final round with a Tex-Mex burrito, a good ol' fashioned burger or a colorful salad loaded with Michigan sweet cherries. Plenty of gluten-free and vegetarian options leave no one out of this feast! Enjoy the night, discuss your favorites, drink some water and get some rest; round two starts tomorrow.
Day Two: St. Joseph/Benton Harbor Hop
The Buck Burgers & Brews (412 State St., St. Joseph)
The Buck isn't a brewery, but the 74 beer varieties on tap make it a worthy addition to this itinerary. Arrive any time after 11:30 a.m. and get a pint as you choose from a mouthwatering menu of burgers with some phenomenal co-star toppings like the raspberry-jalapeño jam and cream cheese on the Thornburger or the Michigan apple slices on the turkey Harvest Burger. Choices of salads, shareables and sandwiches make their food menu as generous as their beer list.
Lake Bluff Park Path (from Park Street to State Street along Lake Boulevard)
Head here for a post-lunch stroll. The half-mile stretch along the bluff is the scene for exciting events like an annual classic car show, the Krasl Art Fair (one of the top artist gatherings in the country) and these favorites:
Wednesday and Friday concerts (June-September)
Antiques on the Bluff (first Sunday of the month, May-October)
Farmer's Market (Saturdays, May-October)
Light Up the Bluff (December-February)
Trot down the steps to Silver Beach, west on Broad Street towards the Amtrak station below. Veer towards the three-tiered roof at your right.
Silver Beach Carousel (333 Broad St., St. Joseph)
Your chariot awaits beneath 1,000 glimmering lights. If a chariot isn't your thing, there are horses, a tiger, a bear and a clown fish among the menagerie of 48 hand-carved, hand-painted figures and two chariots on this magnificent carousel. Adults definitely spin smiles riding round and round. Open all year. Tokens: $3 each/2 for $5.
Return to your car and take M-63 N/Main Street over the St. Joseph River and hang a slight right toward Whitwam Dr. Turn right towards Graham Avenue and go left to follow Graham to North Shore Drive, which turns into Fifth Street. The brewery will be past Park Street on your right.
The Livery (190 Fifth St., Benton Harbor)
This former horse stable opened as a brewery in 2005, serving beer (80 styles annually) just as adventurous as the trailblazers of the early 1900s. Locals and visitors are satisfied year-round with staple brews like the popular McGilligan's American IPA, but the arrival of seasonal and specialty beers constantly revamp the menu. Who knows what masterpieces they'll have on tap when you get here? Food is served.
To reach the final stop of your day, go south on Fifth St. Turn left onto E. Main St./I-94 Bus. E. Turn left onto N. Fair Ave., right onto Territorial Rd., then left onto Euclid Ave. Turn right onto Red Arrow Hwy. (Red Arrow will periodically change names to W. Saint Joseph St.) then left onto N. Main.
Arclight Brewing Company (544 N Main St., Watervliet)
End your Southwest Michigan beer tour pairing your final beer with food you bring in or order delivered from a local restaurant. Quench your thirst with Arclight beers on tap (they specialize in sours) or one of the house-made sodas including gourmet root beer.