Family Fun Days (2 days)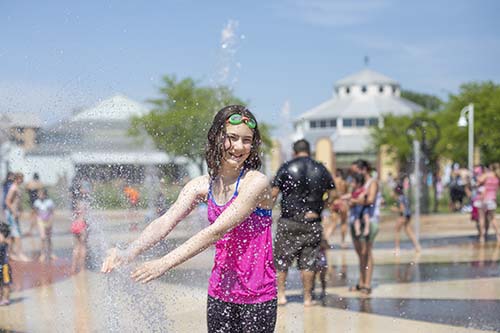 Southwest Michigan is one of the most family-friendly destinations in Michigan. So turn off the television, put away the electronic devices and join us for hours of unforgettable time together!
All-Around Fun (Day 1)
Silver Beach Carousel: 333 Broad Street, St. Joseph
(1-1/2 hours on site)
Start your day with a ride or two on this magnificent, hand-carved carousel. Choose from 48 colorful figures and two chariots (one is wheelchair accessible). You'll whirl beneath a thousand twinkling lights as the band organ plays some of the happiest music on earth. Ride tokens are only $3 (less if you buy in quantities). A refreshment stand offers snacks and The Brass Ring Gift Shop has carousel-themed temptations for all ages. The Carousel is open February through December with extended hours from Memorial Day Weekend to Labor Day Weekend, as well as during the winter holiday and spring breaks.
Kid Favorites:
The Carousel hosts several fun-packed special events. Consider planning your visit on Thursdays, mid-September through late May for Family Fun Nights (rides are $1); Founders Week, mid-June; Magical Ice Festival/Waikiki Weekend, early February or during the LEGO displays (includes a professional Big Build), the month of March.
Hungry? Walk up the bluff stairs or ramp (one block east of the Carousel) and go two blocks east. You'll be eating in less than 10 minutes.
Jimmy John's for Lunch: 320 State Street, St. Joseph
(45 minutes on site)
Enjoy your sandwiches, chips, cookies and drinks in the restaurant or call or place your order online and they'll deliver it to you "freaky fast" at the Carousel. If you choose the latter, you can walk across the street and eat lunch outdoors in Whirlpool Centennial Park or along Lake Bluff Park.
Sidewalk Stretch: Downtown St. Joseph
(1 hour on site)
St. Joseph has a very walkable downtown. After lunch, make your first stop the St. Joseph Today Welcome Center, 301 State St. Pick up a list of nearby stores, winery tasting rooms, ice cream and candy shops, restaurants and kid-friendly attractions. You'll find a store that lets kids play with several of the toys, book store, clothing shops and general merchandise stores that offer everything you'll need for the beach or entertaining the kids at the hotel or cottage.
Kid Favorite:
Stop by Kilwins Ice Cream/Fudge/Chocolate Shoppe, 217 State St., and watch how they make fudge on the cool marble slabs and bake waffle cones. It would be silly not to get a snack while you are there!
Your next stop offers two choices: Curious Kids' Museum is a block west of downtown or Discovery Zone is down the bluff, next to the Silver Beach Carousel. You'll get to either in five to 10 minutes on foot, although parking is available near both.
Hands-On Learning: Curious Kids' Museum, 415 Lake Blvd., and Discovery Zone, 333 Broad Street, St. Joseph
(2 hours on site)
Curious Kids' Museum is aimed at toddlers to early elementary school age and Discovery Zone will entertain up through junior high. Both places stimulate imaginations and a love of learning. Traveling exhibits add to the fun and enrichment. Both are open year-round; check their website for hours and admission fees.
Your next stop is either across the street from Discovery Zone or just below the bluff from Curious Kids' Museum, less than 5 minutes away. Paid parking is usually available at the Elm Street lot below the bluff or there are usually free spaces available in the lots and street parking along the bluff.
Eight water cannons and 28 water jets shoot refreshing H2O across a 150-foot splash pad, weather-permitting May through early-September. Bring a beach ball or Frisbee to toss. Wear clothes that can get wet and keep a towel handy because the youngest to the oldest in your group will want to jump, run and splash for at least an hour.
Kid Favorite:
Saturdays, mid-July until end-of-August the City shows family-friendly movies on a big screen in Centennial Park at dusk. Free admission. Just bring your own chairs or blanket and snacks. Visit stjoetoday.com for this year's titles.
The next three beaches are within five to ten minutes of Whirlpool Centennial Park.
Get take-out food from one of the downtown restaurants or buy picnic fare from a nearby grocery deli, then bring it to one of these Lake Michigan beaches. Parents Magazine named Silver Beach one of the best family beaches in the U.S., but all three get high marks from toddlers to grandparents.
Each of these destinations has soft sand for castle building. Silver Beach and Lions Park have playground equipment and sand volleyball courts. Lions Park offers trees to escape the sun. Evening beach time is usually less crowded, yet the water is still warm from the afternoon sun. All three parks either charge admission or a parking fee.
Speaking of the sun, if your children can last until sunset, it's a ritual here to watch our daystar sink below Lake Michigan's horizon. Be sure to have your camera ready; the sky colors can be breathtaking. Then head off to a nearby lodging for a good night's sleep. You will make more family memories tomorrow.
Kid Favorite:
Going to the beach and playing in the sand is not limited to summer weather. In spring and fall, waves toss treasured stones, shells, driftwood, beach glass and crinoids (fossils) on the shore. Spring and fall are usually the best seasons for kite flying on the beach. Winter offers must-see ice formations. And while you may not opt to eat dinner on the beach, a fresh-air walk followed by hot chocolate or pizza indoors is a great cooler-season activity.
Naturally Fun (Day 2)
Marco Polo Morning: Indoor pool at local lodging
(45 minutes on site)
Most local hotels offer an indoor pool option. Enjoy yours before checkout.
Jollay Good Times: Jollay Orchards, 1850 Friday Rd., Coloma
(1-1/2 hours on site)
Show your kids where their food comes from. June through October, families can pick their favorite fruits right from the tree or gather up quarts and bushels of fresh produce from the on-the-farm market. Your admission fee gives you access to a Western town, animal farm, fishing pond, super maze, playground, Ferris wheel, and many energy-burning activities.
Year Round
Take a Hike: Love Creek Nature Center, 9292 Huckleberry, Berrien Center
(1 hour on site)
This is a great place to introduce your children to the diversity of plants, birds and wildlife in the Great Lakes region. Explore a variety of habitats along six miles of trails. Hike in the spring to see a spectacular array of wildflowers. Mountain bikers will enjoy the 4.5-mile beginner-to-intermediate trail through fields and forest. In the winter, the park grooms three miles for fat-tire snow biking. It is also a popular cross-country ski and snowshoe destination. Don't have equipment? You can rent skis, snowshoes and fat-tired bikes for a nominal fee. See the website for entry, trail and rental fee details.
Kid Favorites:
Bicycling and kayaking are fun family activities, spring through fall. Stage along the bike/walking paths at Harbor Shores in Benton Harbor for scenic rides on your bikes. If you don't have your own kayaks, stand up paddleboards or canoes, you can rent them from Third Coast Surf Shop in downtown St. Joseph. Or rent bikes and kayaks from Scooter Joe's Wheel & Water Rentals in downtown St. Joseph or at The Inn at Harbor Shores.
Dune climbing — and running like crazy down them — takes stamina but your children will want to do it again and again. Amazing dunes are at Warren Dunes State Park, Sawyer and Grand Mere State Park, Stevensville.
It takes about 25 minutes from the orchard, nature center or dunes to reach this next lunch stop; it's only 10 minutes from the bike trails.
Lunch on the River: Clementine's Too, 1235 Broad Street, St. Joseph
Enjoy one of the area's largest menu selections in a spacious dining room overlooking the St. Joseph River. Their hand-dipped onion rings (you'll get a tower of them) and perch are local favorites. It is open all year-round.
Next, the fun park is 20 minutes southwest of the restaurant and the museum and art center are ten minutes south.
Summer Months
Afternoon Playtime
Captain Mike's Fun Park: 10975 Red Arrow Hwy., Bridgman
(2 hours on site)
This fun-for-all-ages destination includes mini-golf, bumper boats, go-karts, trampoline basketball, bumper cars and an arcade full of games. Open spring through early fall; check their website for seasonal hours.
There's nothing boring about history in this museum. Permanent and traveling exhibits tell the stories of our area's fascinating past. (Did you know that before the Wright Brothers flew their airplane, Augustus Moore Herring flew his over Silver Beach?)
Krasl Art Center: 707 Lake Blvd., St. Joseph
(1 hour on-site or if you take a guided outdoor tour)
Explore the art galleries, arrange a guided tour, take a class, or, in the summer, meet at the St. Joseph Today Welcome Center for a Sidewalk Art or Sidewalk Heritage Tour (dates and times are posted on the Krasl site each May). If you're in the area the second weekend in July, The Krasl Art Fair on the Bluff is ranked as one of the best in the U.S. Kids enjoy seeing the variety of art as much as adults do.
More Kid Favorites:
When you're in St. Joseph on Saturdays in April through the end of October, take the family on a free horse-drawn trolley ride through downtown. Check the schedule at St. Joseph Today.
Watch boats (including Great Lakes freighters) in the St. Joseph River and Harbor. One of the best vantage points is Margaret B. Upton Arboretum. If you time it right, you can watch the historic railroad swing bridge or drawbridge in action.
Laser tag enthusiasts will have fun at Slackers, 1800 Pipestone Rd., Benton Harbor, all year-round. Or spring through fall, hold an informal family mini-golf tournament at Hidden Pointe, 1062 Nickerson Ave, Benton Harbor. Go-karts, batting cages, arcade games and jump shot basketball trampolines are some of the other ways to have fun.
If you'd like assistance in finding other activities, visit the Southwestern Michigan Tourist Council Welcome Center at 2300 Pipestone Rd., Benton Harbor (I-94 exit 29) or contact us.