Open Mic Night at The Acorn Featuring Jen Lawson
Event published by The Acorn
April 23, 2023
7:00pm - 9:00pm
107 Generations Drive
Three Oaks
49128
(directions)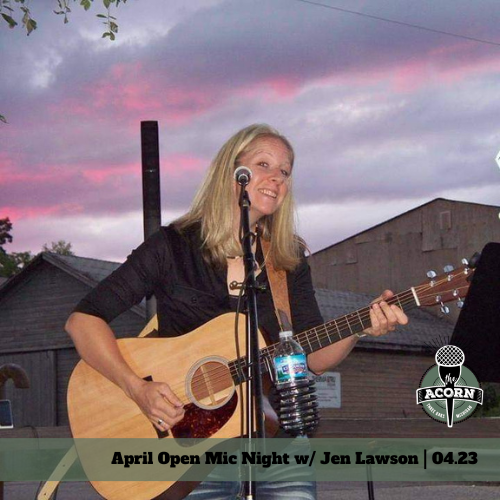 Where else in Harbor Country can you go for an evening filled with amazing talent? Come experience Harbor Country's most exciting array of acts, packed into one night on the fabulous Acorn stage with a state-of-the-art, professional sound system.
No Admission Fee, and Donations Encouraged
Performer Inquiries: Email openmic@acornlive.org
This activity is supported in part by the Michigan Council for Arts and Cultural Affairs.
Featured Artist:
Jen Lawson, originally from the Detroit area, naturally grew up listening to Country Music because it was always playing every day somewhere in the background of her home and her life. She grew up listening to George Strait, George Jones, Merle Haggard, Reba, and her favorites, The Judds, amongst all of the greats from the '80s & '90s Country Era. Jen learned to play guitar from her dad who was an Elvis Impersonator. He and his band opened for the likes of Eddie Rabbit. It is through her dad that she inherited the musical gene and thus her musical journey began.
Jen has been playing guitar since she was 15 and started writing songs about 12 years ago and discovered the connection she could reach with audiences by creating and playing her own content. She also enjoys entertaining audiences by covering some of her favorite artists' popular tunes and putting her own style/spin on them.
Admission: FREE / $25 Reserved