Great White & Slaughter
Event published by Four Winds Casino Resort
11111 Wilson Rd 11111 Wilson Rd
NEW BUFFALO
49117
(directions)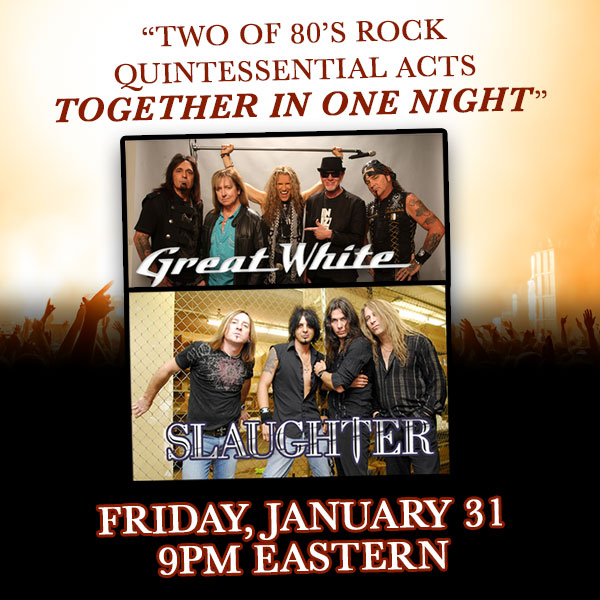 Great White is a Grammy nominated band and hard rock band legend.  Its hit songs include "Once Bitten, Twice Shy," "Rock Me," "Mista Bone," "Save Your Love," "House of Broken Love," and "Lady Red Light."  The band has sold over 10 million albums worldwide, has six Top 100 Billboard hits, nine Top 200 Billboard albums, and two platinum albums.  The band is made up of Mitch Malloy on vocals, Mark Kendall on guitars, Michael Lardie on guitars and keyboards, Audie Desbrow on drums, and Scott Snyder on bass.  More information is available at www.officialgreatwhite.com.
Slaughter is a multi-platinum selling band and American Music Award recipient known for hit songs including "Up All Night" and "Fly To The Angels."  Members of the band include co-founders Mark Slaughter on lead vocals and guitar, and Dana Strum playing bass guitar and providing backup vocals.  Jeff Blando is the lead guitarist and backup vocalist, and Zoltan Chaney plays the drums.  More information is available at www.slaughterusa.com.
Admission: Tickets start at $35 plus applicable fees on Ticketmaster.