Drive-in Live! at The Mendel Center - Bryan Lubeck, Sypian Family Band, & Dan Maxon
Event published by The Mendel Center at Lake Michigan College
2755 E Napier Avenue
Benton Harbor
49022
(directions)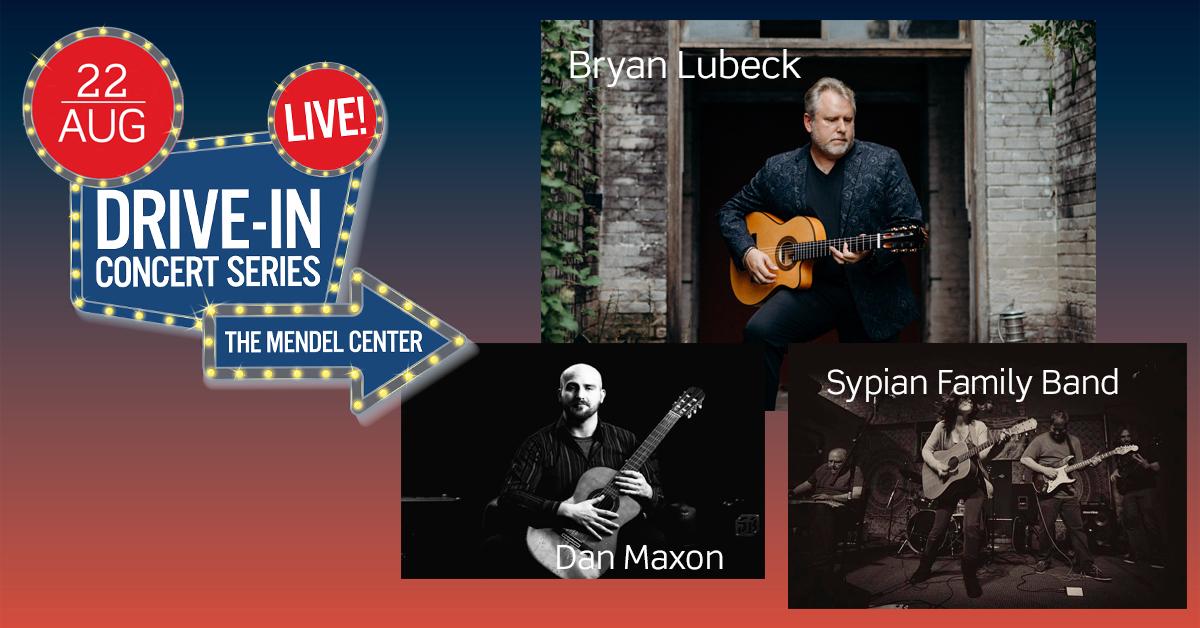 Live music is back at The Mendel Center! This time we're taking the entertainment outdoors onto the spacious grounds of Lake Michigan College where we can all socially distance while having a great time complete with trivia contest, prize give-a-ways, and other fun!

Here's how it works. One ticket gets your carload of friends and family (up to 6 people) onto the lot on the Grand Upton Hall side of The Mendel Center. Park and get ready to enjoy the show from inside your vehicle by listening to the FM radio broadcast, or break out the lawn chairs and safely social distance with your group in your personal tailgate space. The live action on stage will be projected on a big screen for great viewing throughout the lot.

Saturday, August 22 Line-up

Bryan Lubeck
Bryan Lubeck's live shows are his forte with his high-energy, fiery Spanish guitar and smooth urban grooves. His latest album Tuscan Sky has spent more than 14 weeks on the various adult contemporary instrumental charts. Bryan has been named as a Critics' Choice by Billboard Magazine and has recorded with five Grammy Award winners and performed with 12 Grammy Award nominees and winners.

Sypian Family Band
With a bluesy, jazzy, rock-n-roll vibe infused with a chemistry that only comes from family bonds, This Sypian Family Band plays a slate of original tunes that stir the soul, accompanied by rockin' covers to get you movin'. This close-knit group of family and long-time friends has an eclectic sound with influences ranging from British Invasion to '90s alternative and everything in between.

Dan Maxon
Dan Maxon is a local singer/songwriter and guitarist. He was raised under all manner of musical influences, finding a particular fondness for rock, folk, and jazz. He channels these genres through his own intimate, acoustic style.
Sponsored by The Southwestern Michigan Tourist Council
Admission: $50 per car standard parking; $60 per car premium parking
Sponsored by: The Southwestern Michigan Tourist Council
Contact: The Mendel Center Box Office , 269-927-8700 , email