2019 Berrien County Youth Fair
Event published by Berrien County Youth Fair
August 12, 2019 - August 17, 2019
07:00am - 10:00pm
9122 U.S. Hwy. 31 4320 Shawnee Rd.
Berrien Springs
49103
(directions)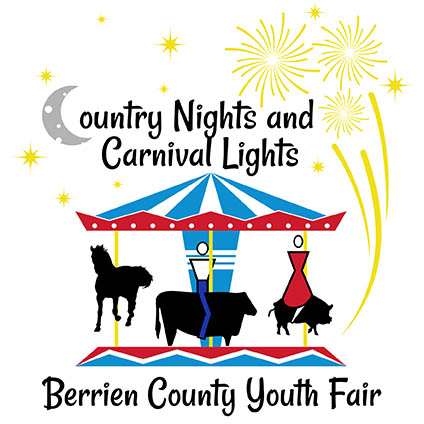 The 74th Annual Berrien County Youth Fair held August 12 - 17, 2019. This year's theme is Country Nights and Carnival Lights.
Grandstand Entertainment includes:
Monday August 12 - NTPA Regional Truck and Tractor Pull welcomed by News Talk 94.9 WSJM, presented by Miles Truck Services, Inc.
Tuesday August 13 - Circus Continental welcomed by 98.3 The Coast
Wednesday August 14 - Eli Young Band with special guest Paul Erdman welcomed by 97.5 Y-Country, presented by Indiana Michigan Power - Cook Nuclear Plant
Thursday August 15 - Truck Demolition Derby welcomed by WSJM Sports, presented by Honor Credit Union
Friday August 16 - Car Demolition Derby welcomed by Rock 107 WIRX
Saturday August 17 - Bullmania welcomed by 97.5 Y-Country, presented by Brookfield Chrysler Dodge Jeep RAM
Tickets are available at www.bcyf.org and do not include gate admission.
Gate admission prices
Child (ages 5-12) day passes - $4.00
Adult day passes - $7.00
Senior (65+) day passes - $5.00
Child season passes - $10.00
Adult season passes - $20.00
Senior season passes - $13.00
Visit us online at www.bcyf.org or on Facebook at @berriencountyyouthfair
Admission: Child (ages 5-12) day passes - $4.00 Adult day passes - $7.00 Senior (65+) day passes - $5.00 Child season passes - $10.00 Adult season passes - $20.00 Senior season passes - $13.00