Top 10 Reasons to Get Off the Couch this Winter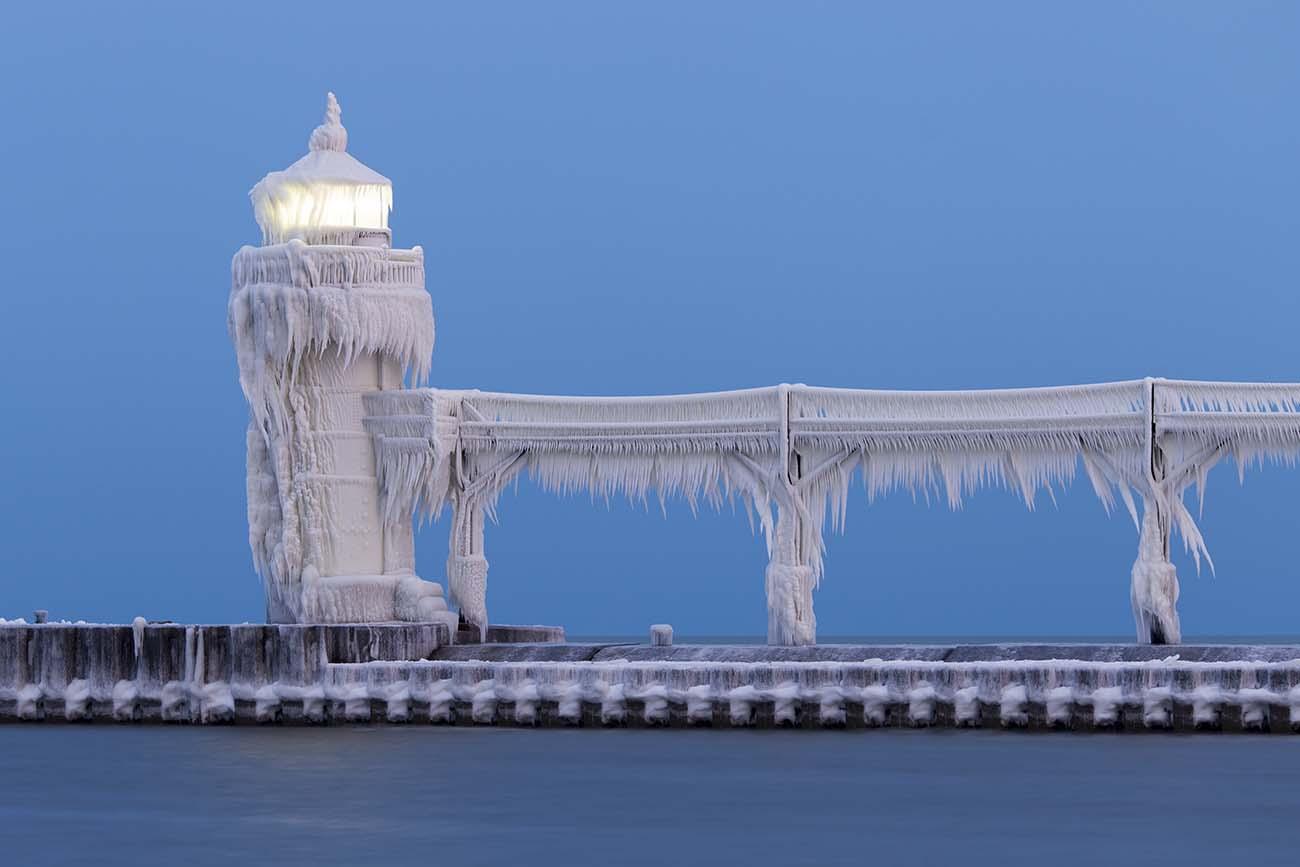 Southwest Michigan luckily offers four great seasons. One is happening now and way too many people miss out on winter's majestic, quiet, yet fun-filled beauty. Here are 10 reasons you should get off your couch this winter.
See the ice-coated lighthouses and catwalk in St. Joseph. Visit Tiscornia Beach to catch the best views. Silver Beach and Lions Park are also good ice formation sighting destinations.
Ride fat tire bikes over snowy trails at Love Creek County Park in Berrien Center. Bring your own fat tire bike or rent one at the Nature Center ($15/hour or $25/2 hours). The 3.5 miles of beginner and intermediate trails showcase winter's woodsy beauty. The park entry fee is $3 ($5 non-resident); the trail fee, $5.
Snowboard or snowshoe at Warren Dunes State Park, Bridgman. This is a mega-workout, but you can't beat the view of seeing Lake Michigan from these lofty mountains of snow-covered sand and the exhilaration of flying down them.
Sip hot chocolate with the kids in downtown St. Joseph. Pocket your phone and listen to your kids over steaming cups of hot chocolate, tea or coffee. It's a great break in their winter routine. A popular stop is Kilwins on State Street.
Break out the skates and ice skate at John and Dede Howard Ice Arena in St. Joseph. This is the perfect family or date destination. Check here for open skate times and rental fees.
Learn to downhill ski or snowboard at Swiss Valley in Jones. The ASEA-certified instructors make learning fun for ages 4 to adult. There are 11 runs to improve your skills on and a chalet to warm up in. Be sure to try SV's famous Rice Krispies treats available in Cafe 225.
Walk the Lighted Bluff in St. Joseph. This is a sure-fire way to brighten your mood. The twinkling lights stay lit through mid-February. Come at dusk and catch a gorgeous winter sunset as you look out at Lake Michigan.
Cross-country ski or snowshoe at Fernwood Botanical Garden and Nature Preserve or Madeline Bertrand County Park in Niles. Bring your own snowshoes or skis to Fernwood. This is one of the best times for winter birdwatching along the trails. In addition to day skiing or snowshoeing at Madeline Bertrand County Park, you can follow lighted trails on Fridays and Saturdays 'til 9:30 pm. Bring your own or rent equipment at the park.
Repeatedly on locals' lists is to be sure to bundle up and see the Magical Ice Fest, Jan. 31-Feb. 2 in downtown St. Joseph. Watch chainsaw ice carving, see the blazing fire in the tower of ice, enter a 5K wintry race (there's chocolate along the way), toss frozen fish and so much more! You'll find the complete fun-packed schedule and a list of hotel packages here.
Hang 10 below the bluff during Waikiki Weekend, Jan. 31-Feb. 2. They're cranking up the heat and Hawaiian music for four fun-filled days in paradise at the Silver Beach Center, 333 Broad Street, home of the Silver Beach Carousel and Shadowland Ballroom.