Double your fall color tour fun: Nature + Makers Trail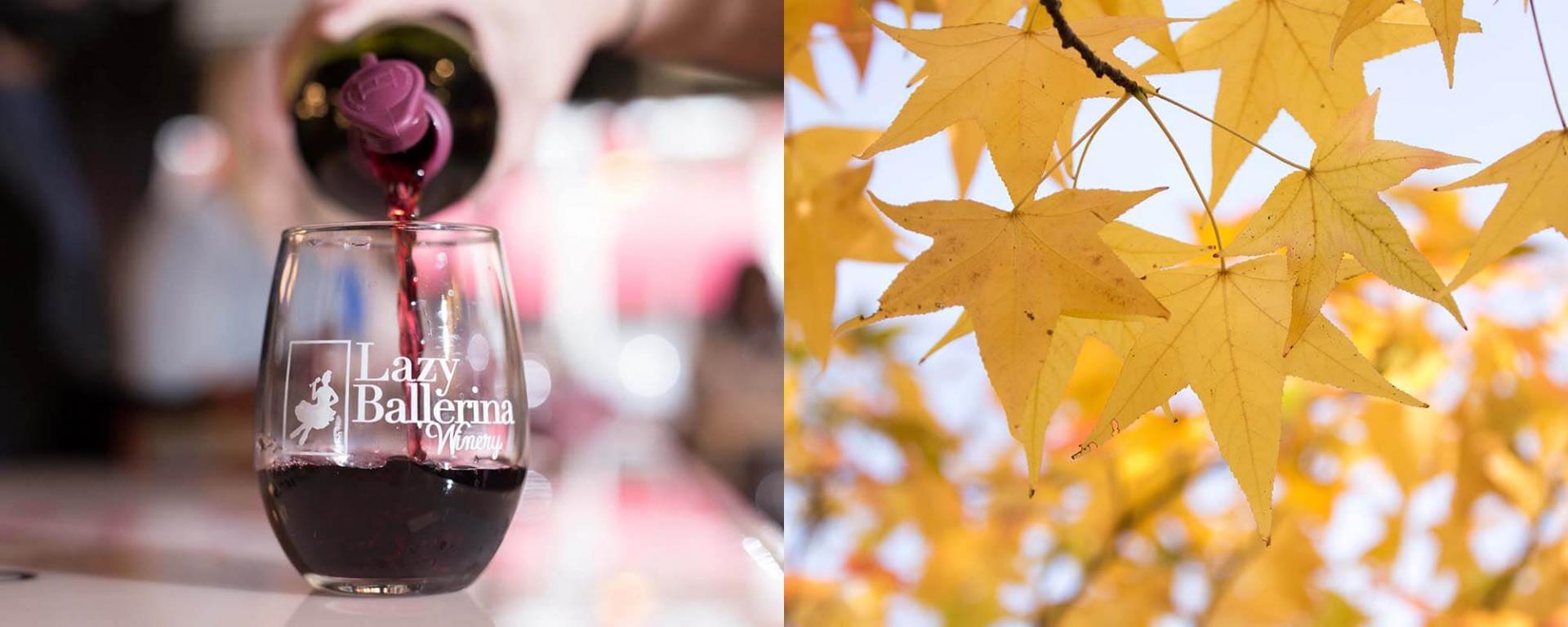 Mt. Tabor Trail/Round Barn & Tabor Hill | Love Creek County Park/Lemon Creek Winery | Niles Trails/Iron Shoe & Niles Brewing Company | Fernwood/River St. Joe | McCoy's Creek/Lehman's Farmhouse | Galien River County Park/Ghost Isle | Warren Dunes State Park/Bridgman Wineries & Breweries | Howard & Dede Recreational Trail/Downtown St. Joseph Wineries/Breweries | Harbor Shores Trails/North Pier Brewing Company | Paw Paw River County Park/ArcLight Brewing Company & Moonrise Winery
Many places in Michigan focus their fall color experiences on the dramatic changes in leaf colors. But in Southwest Michigan, you can also see and taste another autumn color show on our Makers Trail — glasses filled with amber, russet, garnet, deep purple, straw yellow and rosé wines, beers, ciders and cocktails. Stay for one or more of our Lake Michigan fiery red, orange, yellow and lavender sunsets and you will see why this is an extraordinary fall color destination.
To help you have twice the fun on your autumn travels, we've paired several of our more colorful nature trails with nearby Makers Trail destinations. Remember to bring your Flight Crew Passport into each Makers Trail stop so you can earn three levels of rewards, a bonus prize and, possibly, a grand prize, too!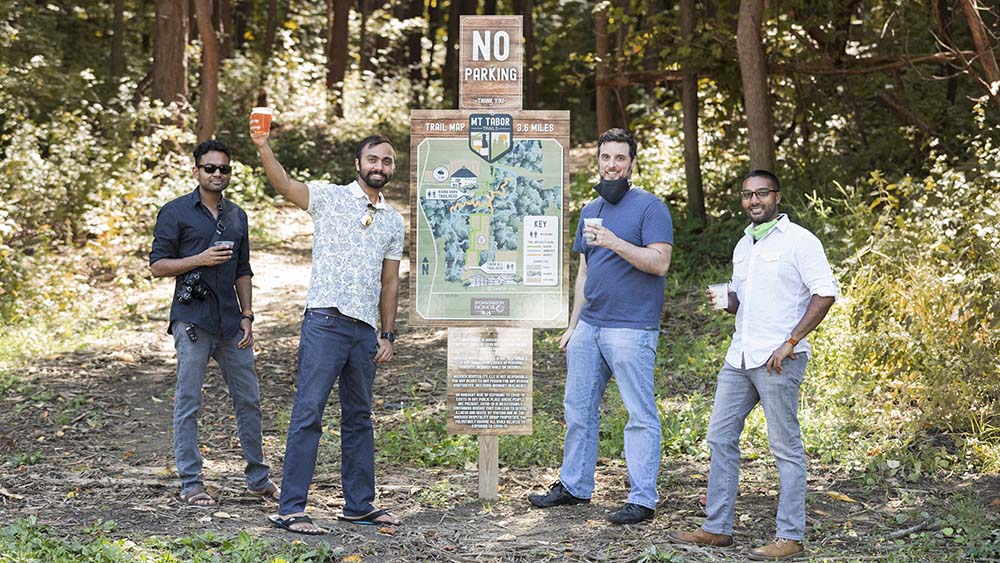 Mt. Tabor Trails + Round Barn Estate and Tabor Hill Winery & Restaurant
Mt. Tabor Trails in Buchanan is a whole new tasting adventure provided by Moersch Hospitality Group. The 3.5 miles of trails wind through woods and vineyards between Round Barn Estate and Tabor Hill Winery & Restaurant.
Before you set out on either the easy, intermediate or tougher trail — taste the wines, beers or cocktails at one of these two sites. Then, purchase a glass of your favorite beverage to sip as you hike to the other winery destination. Bring along your children and leashed pets. You'll toast fall's beauty all along the way!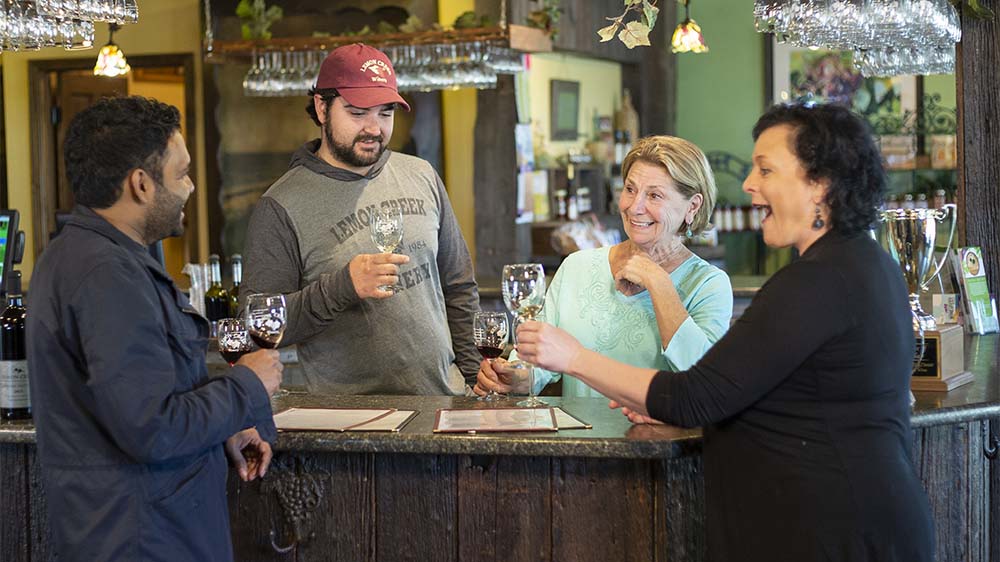 Love Creek County Park + Lemon Creek Winery & Fruit Farm
Love Creek County Park in Berrien Springs offers six miles of hiking trails through a variety of habitats including a colorful, mature beech-maple forest that is gorgeous in autumn. You can take your outdoor time to a high-calorie burn by renting one of the park's mountain bikes to explore the 3.5-miles of beginner/intermediate biking trails.
Then take a 15-minute scenic drive to Lemon Creek Winery & Fruit Farm. This is one of our area's pioneer fruit growers and winemakers dating back 160 years! Choose from dozens of vintages ranging from dry reds to bubbly champagnes. Make sure to browse through the farm market for just-harvested produce to add to your fall meals or go into the orchards or vineyards to pick apples and grapes. Now that's eating fresh!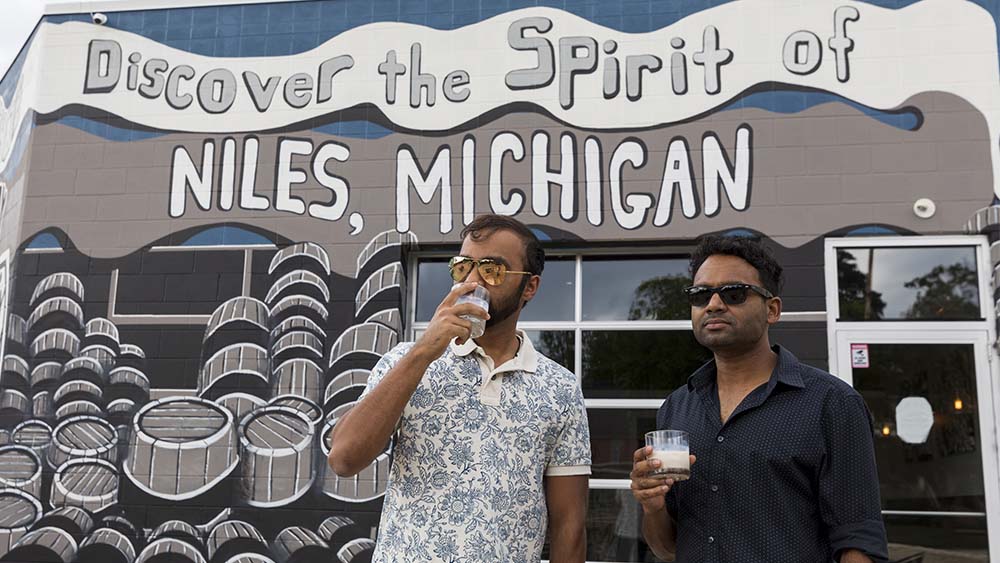 Madeline Bertrand County Park, Riverfront Park or Indiana-Michigan River Valley Trail + Iron Shoe Distillery and Niles Brewing Company
Niles offers both an urban and countryside trail system to hike or bike, much of it showcasing the St. Joseph River. Choose from the Madeline Bertrand County Park on the outskirts of the city, the downtown Riverfront Park and the Indiana-Michigan River Valley Trail that will eventually connect Niles with Mishawaka, IN. There are many miles of scenery to enjoy before the final legs of the trail are completed.
While you are in downtown Niles, sip and dine-in at the Iron Shoe Distillery or Niles Brewing Company. Iron Shoe distills every spirit onsite and serves up delicious Angus beef burgers plus tasty vegan and vegetarian entrees. Niles Brewing Company encourages you to bring in food from local restaurants to enjoy with their unique craft beers, creative cocktails and full-service bar. No one in your group will be disappointed.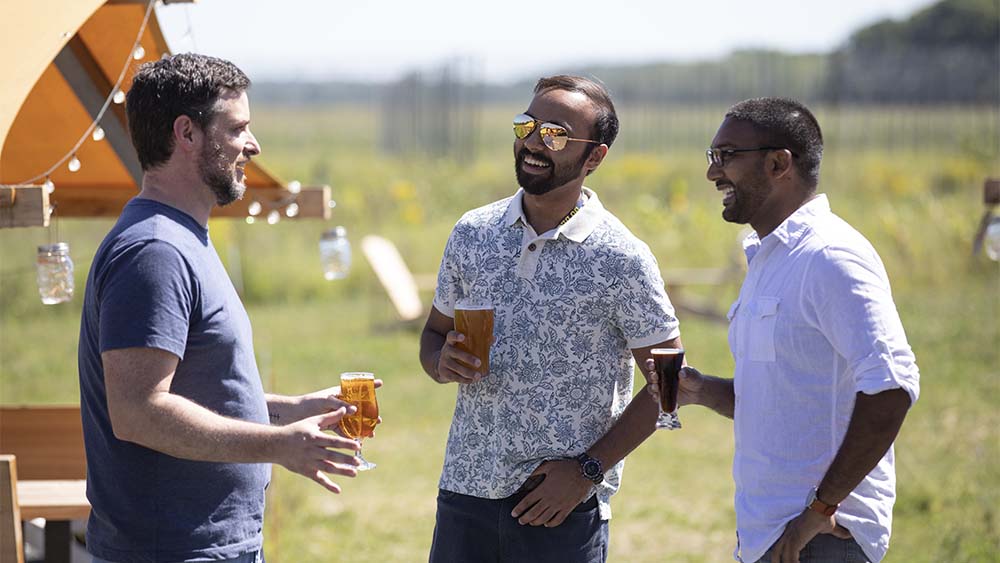 Fernwood Botanical Garden + River St. Joe Brewery
Fernwood is a crown-jewel nature destination in Berrien County. It is situated on the St. Joseph River in Niles near Buchanan. You can easily fill two hours walking and hiking the miles of trails, visiting a reconstructed prairie, an arboretum and a host of gardens that include an herb garden, Japanese garden, perennial border, rain garden, railway garden, nature adventure garden, hardy fern collection and other special collections. Stop in the gallery and gift shop before heading across the road to River St. Joe.
River St. Joe is one of the newest breweries on the Makers Trail. Here you can enjoy beer and delicious food on the farm where they are made and much of it is raised. They brew Farmhouse ales; generously hopped beers made with hops grown on the farm; sour, wild and mixed culture beers; refreshingly crisp, clean and low ABV quenchers; tasty no-proof beverages, botanical elixirs and more. A seasonal menu will showcase just how delicious locally sourced ingredients are. Outdoors, they have temporarily converted their winter River Rocks rink to a fall bocce court, so challenge your family, friends or the people sitting next to you. For your children, they are adding a nature path with a play area that features several large rocks to climb.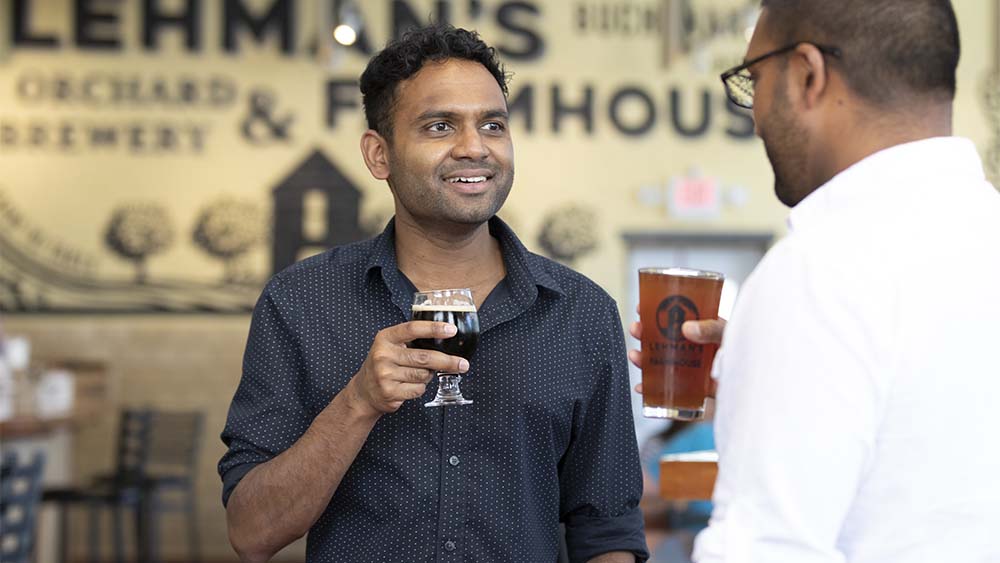 McCoy's Creek Trail + Lehman's Brewery & Farmhouse
This trail can be accessed at 121 S. Oak St. or 209 Schirmer Parkway, Buchanan. It has lots of fall color as it winds its way through downtown, Spafford Woods and E.B. Clark Woods. The paved trail is also bike, wheelchair, stroller and pet friendly. The Duck Pond is a popular resting and picnic point on the trail.
Lehman's Orchard Brewery & Farmhouse is about a minute's drive from the trail's east end. Stop in for their craft beers, wines, ciders, whiskey, gin, brandies and cocktails. The Taproom serves a variety of appetizers, sandwiches, pizzas, salads and desserts. The homemade apple dumplings and pie feature fruit that is grown in their orchard in Niles. Yum!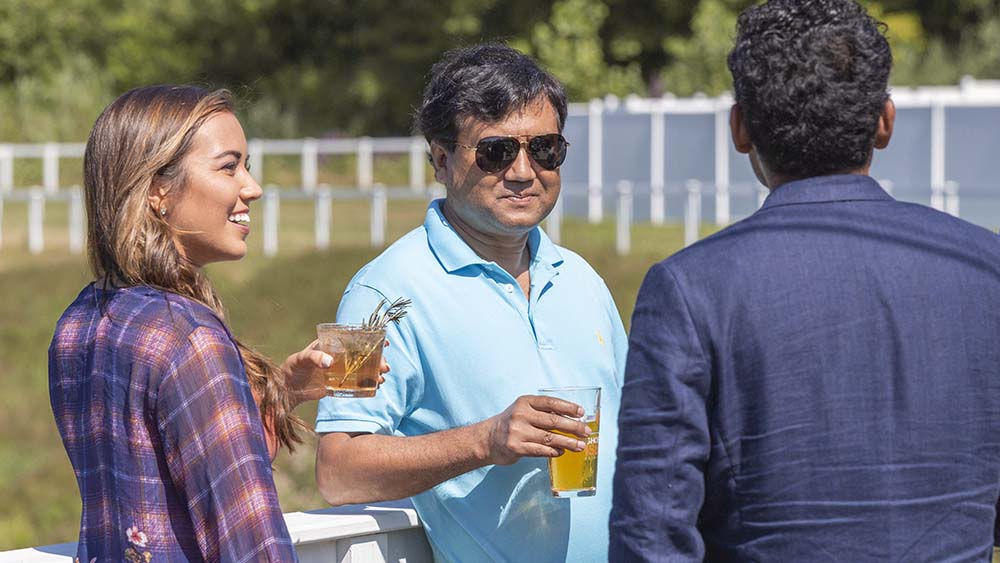 Galien River County Park + Ghost Isle Brewery
The Galien River County Park near New Buffalo traverses wetlands along the river. Take the 300-foot Canopy Walkway for a treetop view of autumn's beauty. The paved walkway leads to a 60-foot high Marsh Overlook Tower and a 600-foot-long Marsh Boardwalk that brings you to a platform for river viewing and fishing. This trail is great for seeing wildlife — the best times are early morning and late afternoon.
Ghost Isle Brewery in New Buffalo is one of the Makers Trail's newer stops. It has spacious indoor and outdoor seating with spectacular views of the wetlands. The family-friendly restaurant serves up tasty pub food and their bar serves Ghost Isle's craft brews plus wines, spirits, ciders, seltzers and specialty drinks. Be sure to ask how Ghost Island, which sits to the left and west of the brewery, got its name.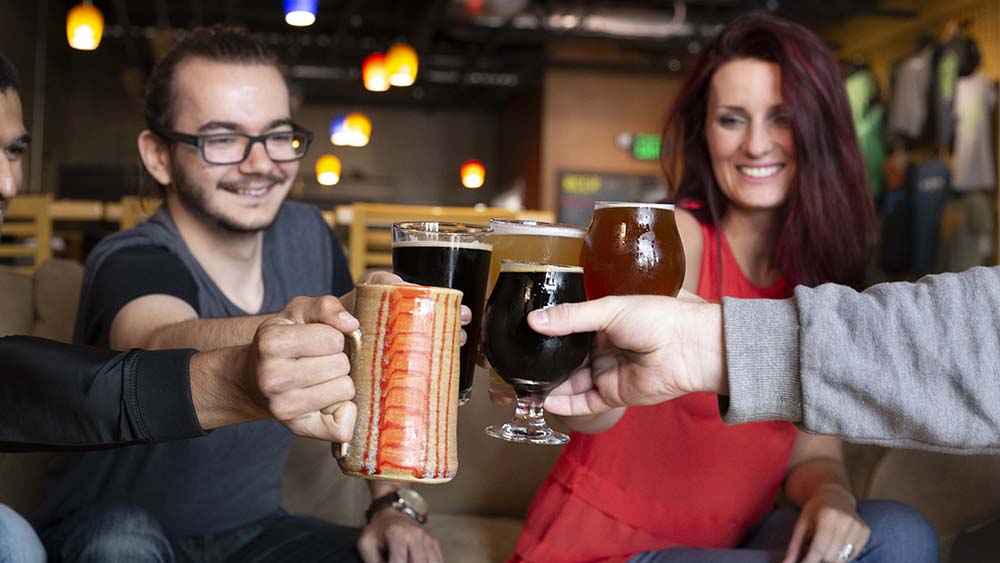 Warren Dunes State Park + Bridgman Breweries & Winery
Warren Dunes State Park near Sawyer is the perfect entryway into the state to show Michigan's amazing landscape and beauty. Open year-round, fall offers added beauty to the rugged dune formations rising to 260 feet above Lake Michigan. The park has three miles of shoreline, six miles of hiking trails through hardwood forests and dunes, plus a dog-designated beach.
Within 10 minutes of the park, you can be enjoying craft beers and wines at nearby Bridgman locations. Haymarket Taproom offers up delicious brews and wood-fired pizzas. Transient is a great place to try artisan ales. Tapistry Brewing serves up sandwiches, salads and tacos alongside their hand-crafted beers, hard seltzers and spirits. Lazy Ballerina Winery is a women-owned winery/tasting room that features a variety of wines, spiced rum and special art classes that add to the fun of trying wines and catching up with family and friends.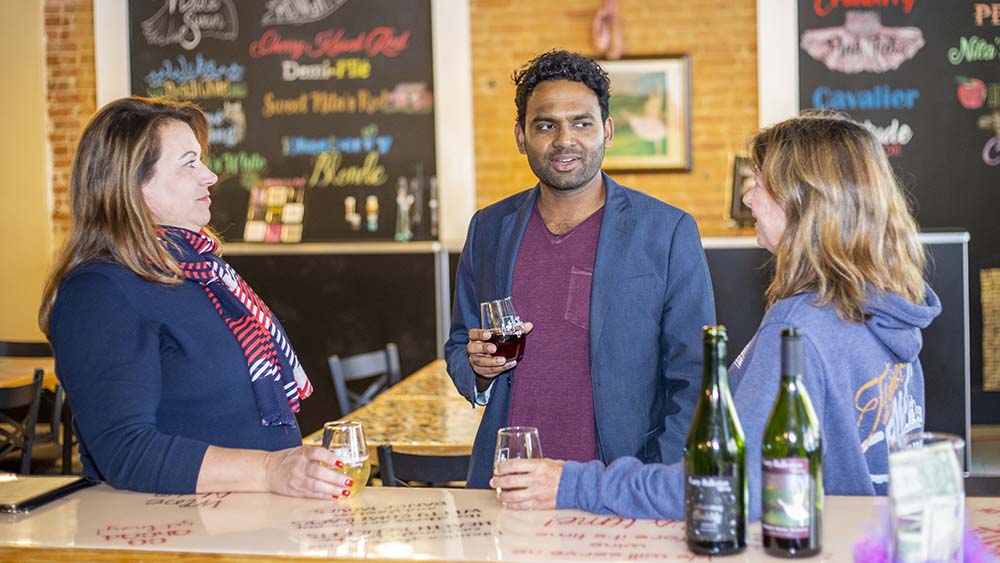 John & Dede Howard Family Recreational Trail + Downtown St. Joseph Wineries & Brewery
The John & Dede Howard Family Recreational Trail is one of the best ways to see St. Joseph. A good place to start is at the end of Lions Park Drive, below the bluff. Here you will walk under a canopy of trees to Park Street, then along Lake Michigan and the St. Joseph River. Be sure to cut up State Street from the river to walk through the picturesque downtown and tree-lined, Victorian-era neighborhoods. Dogs are welcome on leashes.
This lake resort town has several places to quench your thirst, and it also has a social district where you can enjoy your drinks outside. All of these stops are just a few steps away from each other. Baroda Founders Tasting Room serves classic varieties from fruit-flavored wines to decadent dessert wines infused with chocolate. Lazy Ballerina Winery offers an array of batch wines inspired by family recipes in a relaxing, don't-take-yourself-seriously setting. White Pine Winery specializes in aromatic whites like Riesling and Pinot Gris and fruit-driven reds like Syrah and Merlot.
For craft beer and tasty flatbreads, handhelds and vegetarian options — head to Silver Harbor Brewing Company located behind the U.S. Post Office. Order a flight to discover your favorite brew to fill a glass or growler, and accompany your appetizer or meal order.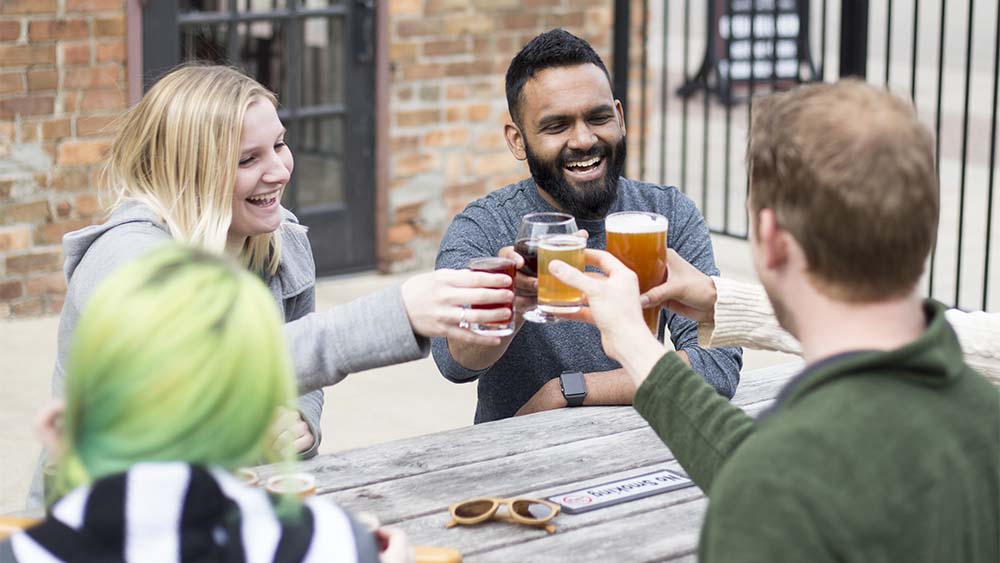 Harbor Shores Nature & Fitness Trail + North Pier Brewing Company or The Livery
Check out the fall colors along the nearly 12 miles that make up the Harbor Shores Nature & Fitness Trail in Benton Harbor. These hiking/biking trails take you through the Harbor Shores Golf Course, along the Paw Paw River, across wetlands and up the dunes for a breathtaking view of Lake Michigan. These fall views were designed for championship golfers and you.
Two nearby Benton Harbor breweries make your autumn hike well worth it! North Pier Brewing Company can be accessed from the trail. Enjoy hoppy IPAs and Belgian-style ales in their taproom or outdoor beer garden. The Livery is located in the heart of the Benton Harbor Arts District. Locals and travelers alike return again and again for their 18 taps of hand-forged beers, hard ciders, homemade pretzel bits and specialty pizzas. You will, too.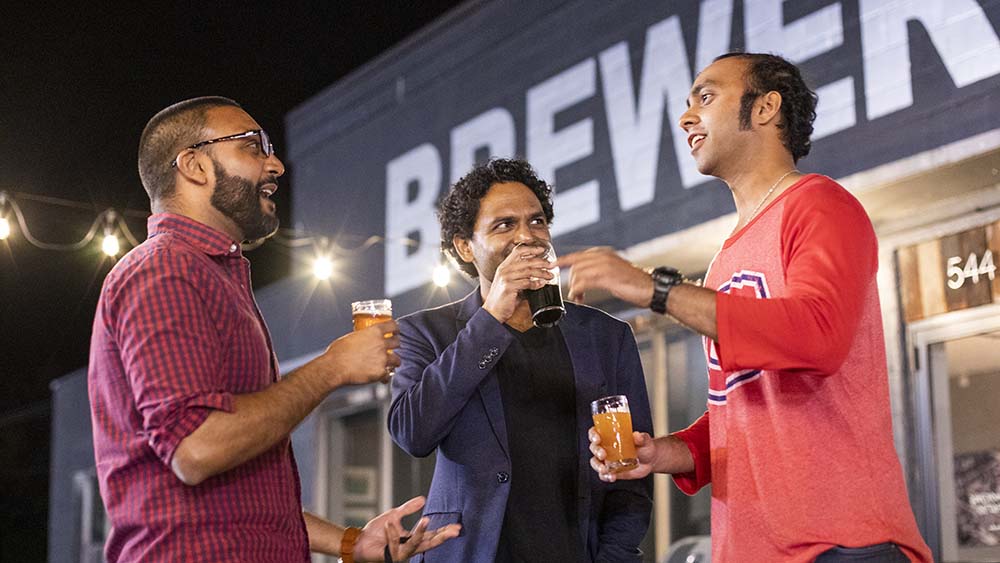 Paw Paw River County Park + ArcLight Brewing Company or Moonrise Winery
One of Berrien County's newest parks is the Paw Paw River County Park in Watervliet. This park shines as a place for people of all abilities to access the paved trail that takes you to the fishing spot and kayak launch on the river. The trees are especially pretty this time of year.
From this downtown county park, you are just minutes from ArcLight Brewing Company and Moonrise Winery. ArcLight is your destination for lagers, stouts, sour ales, hard iced coffees, fruit shakes and craft sodas. Check their website for when the food trucks will be on location.
Moonrise is one of the area's newest wineries. Owners Tom and Karen Zabadal invite you to taste their thirteen wines made with love, patience and passion.
With so many trails to hike and Makers Trail stops to enjoy, plan to stay over at least one night. There is always more fall beauty and locally crafted beverage to take in tomorrow!