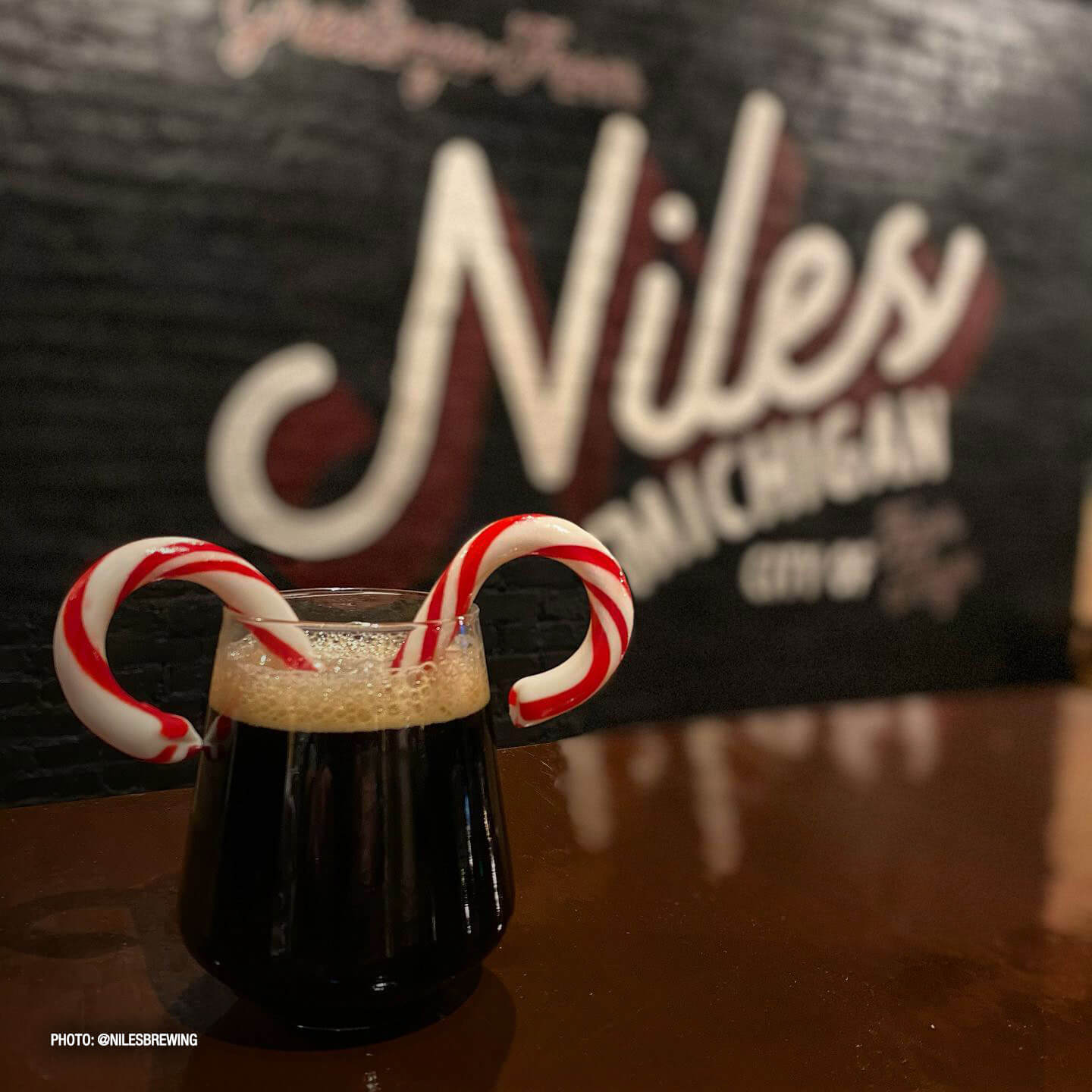 In December 2020, Niles native Brandon Townsley took his homebrewing expertise and opened a brewery with his wife, Alyssa, during a pandemic. On Dec. 12, Niles Brewing Company celebrates their first anniversary after a year of navigating business ownership, partnership, creating community and setting new goals.
We spoke to the owner and head brewer about the last 12 months, and all that is to come at their brewery located at 206 E. Main St., Niles. Here's what he had to say:
What inspired you to open a brewery in Niles?
I mainly wanted to help my city by opening up a brewery to bring more people to town. I've also been a homebrewer since 2009, and after receiving recognition in some homebrew competitions, it led me to pursue this professionally. I was born and raised in Niles, so this city was an easy choice to open my brewery.
How has your vision for your brewery evolved over the last 12 months?
When we opened up in 2020, indoor dining was restricted due to COVID-19 protocols so we had to make a huge adjustment to a to-go business model. We continued that until February, when we were able to be at 25% occupancy and then it went to 50%, and eventually the restrictions were lifted around June.
We've always wanted to have collaborations with other local businesses, and it just became that much more important during this first year when it comes to partnering with a restaurant and doing a designated food menu. Everyone is helping everyone in the downtown area, which has been hugely beneficial for both us and the businesses we collaborate with.
Are you participating in the Niles Outdoor Downtown Experience (NODE)?
Yes, we participate if there is an event. Prior to cold weather, we partnered with a local studio, Wrapped in Light, to do a Yoga and Mimosa event every third Saturday of the month.
What sets your brewery apart from others in Southwest Michigan?
We are able to brew our own beers and have a full liquor license. I am always interested in making unique, creative beers that are modeled after desserts or other drinks, and it really sets us apart from everyone else. We have a similar mindset with our cocktails, and we try to incorporate Niles things into some of our creations so it reflects the city. We're a welcoming place, and we go by the slogan of offering something for everyone.
Are you doing anything special for NBC's anniversary?
We did a 12 days of stouts type of event for our anniversary, releasing six stouts and porters the first weekend in December and then six more the second weekend in December, leading to our official anniversary on Sunday, Dec. 12. We will have some live music that day, as well as have photos and some video captured. I will be on the Music To My Beers radio show on 103.9 The Bear promoting our anniversary Sunday morning and the Beer and Nonsense podcast.
Do you have any plans for 2022 that you can share with readers?
The current plan is to try and get our kitchen going. We will also start incorporating lagers and launch a new sour beer series.
You mention that you are community-minded, collaborating with other businesses, etc. What makes you proudest of your community involvement in the first year?
The thing I'm most proud of in my community is how everyone rallies together. It's just been great to have a lot of like-minded business owners and entrepreneurs to work with.
What were some of your proudest moments in the last year?
Having a drink with someone in my place, making new friendships with people I didn't know a year ago and doing something that brings people to my city.
What might surprise readers about Niles Brewing Company?
That we offer food without having a kitchen, and that we offer more than just our beer. Wine, cider and cocktails are available, too!
Brandon hopes that everyone that hasn't visited yet gives the brewery a try, and that those who came in their first months visit again.
"The first year is always feeling and working the kinks out, so if they gave us a shot when we first open I hope they give us another shot because everything is better and will continue to improve as we move forward," he said.
You can follow along with the brewery's journey on their Facebook page, and swing by today!