Nov. 2-7, 2022
This is our fallen leaves time of autumn, but you can still catch some clutching to the branches. You will see lots of rusty brown mixed with the last of our yellow and red foliage popping against Southwest Michigan's bright blue skies. It is a good time of year to hike our treetop walkways at Galien River County Park and Sarett Nature Center — you can see so much more. Or shuffle through the leaves that blanket our trails and breathe in the crisp air filled with earthy scents. Fernwood Botanical Garden and Nature Preserve, Fred Russ Forest Park and Van Buren State Trail Park are local and visitor favorites.
Burn calories, not leaves this fall
One of the best ways to see the waning fall color is on our off-road bike trails. If you are looking for a fun but challenging ride with beautiful scenery, add one or more of these trails to your fall stay. Southwest Michigan's best mountain bike trails.
Book your fall color tour stay
---
Oct. 26-Nov 1, 2022
Fall color isn't over in Southwest Michigan, and the temperatures this week are going to be a fallish 50s to low 60s. Besides taking in the crimson and gold trees and tawny brown corn and soybean fields, follow the lakeshore to South Haven and venture out on Van Buren County's roads. The blueberry fields are gorgeous — acres of ruby-red bushes as far as you can see!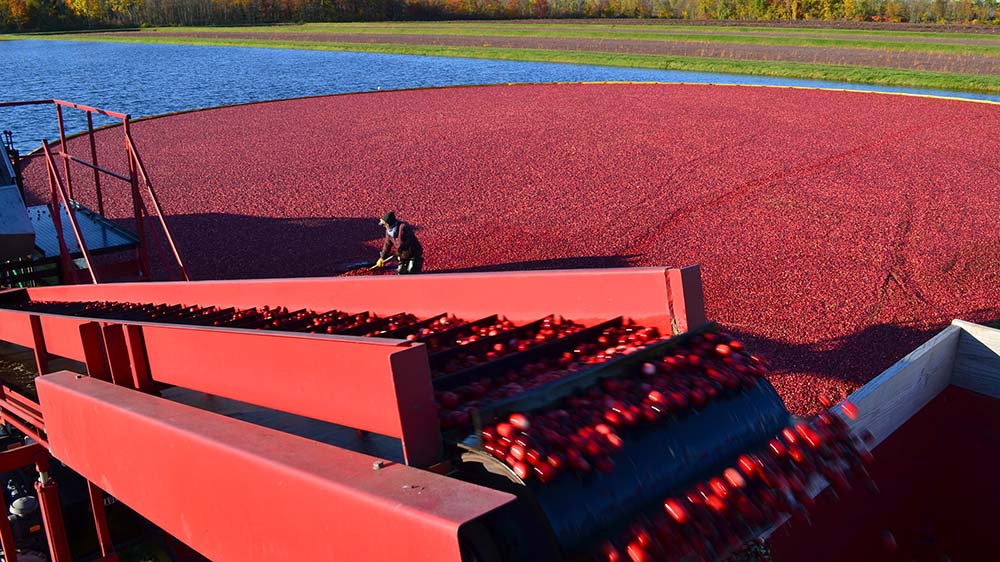 Bring home a tart treat from a local bog.
Stop by: DeGrandchamp Farms | 76241 14th Ave., South Haven | Friday, Saturday & Sunday | October: 9 a.m. to 5 p.m.; November: 10 a.m. to 4 p.m.
They have fresh cranberries, just harvested from the farms' cranberry bog. Choose from 1.5, 4 and 8 lbs. packages in October and November; frozen blueberries, September through June and frozen cranberries, December through September.
Dare you to check out these spooky places this week.
Real or imagined, there are several places where ghostly activities occur in Southwest Michigan — sightings of Swedish sisters prowling in a historic kitchen, a girl at the top of the stairs, a phantom skater, plus more spine tinglers. Happy hauntings.
Book your fall color tour stay
---
Oct. 20-25, 2022
Now's the time to come to Southwest Michigan and see the technicolor leaf and sunset shows. More and more trees are popping into color and others are painting our trails with their fluttering down foliage.
To make your leaf-peeping easier, follow our five fall color tour routes or the roads and places to stop along the way that locals suggest in our three-day fall color itinerary. Although, don't stay only on the major streets and highways - just about any road, trail or paddling lake or river in Berrien, Cass and Van Buren Counties will brighten your day this week and next.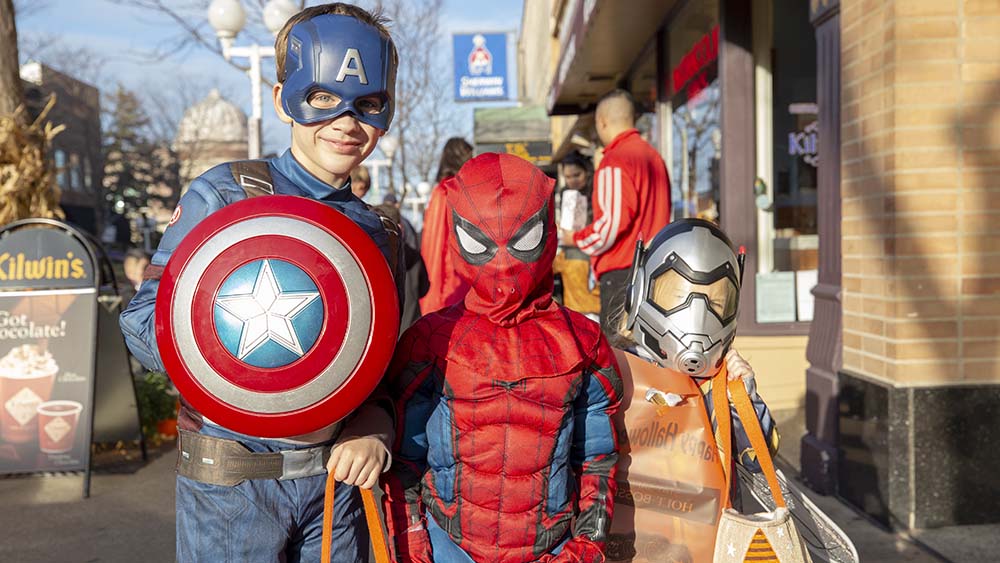 BOOO! Halloween is coming scarily-fast!
Have you made your Hallow's Eve Weekend plans and booked your stay for a spooktacular time in Southwest Michigan? Hurry before the goblins snatch up all the fun! Here are some haunting happenings you will want to be at:
Things to do Halloween Weekend in Southwest Michigan
October 28
Kids' Halloween Spooktacular | 4-6 p.m. | Michigan Maritime Museum | South Haven | Trick-or-Treating & Carnival Games | FREE | Learn more candy-sweet details
October 28-30
Niles Scream Park | Fri/Sat: 7-11 p.m.; Sun: 7-10 p.m. | Niles Scream Park | Niles | One of the top haunted experiences in America! | Community Fundraiser: $11-$50
October 29
Fireside Tales: Ghostly Voices | 7:30-9 p.m. | The History Center at Courthouse Square | Berrien Springs | $5/$2 per person | Registration Required | Read more if you dare
Halloween Bash at the Acorn with PureSoul | 8-11 p.m. | The Acorn | Three Oaks | Music, Light Bites, Cash Bar & Costume Contest | $40 advance/$45 at the door | Read about the ghoul times
Halloween Party with Modern Day Drifters | 7-11 p.m. | ​​Inn at Harbor Shores | St. Joseph | Live Music, Costume Contest & Cash Bar | $20 ticket or $309 hotel package (includes two tickets) | Learn all the eerie details
October 29 & 30
Eden Springs Halloween Miniature Train Rides | 5-9 p.m. | Eden Springs Park | Benton Harbor | Fun for the whole family | $4 - cash only | More spooky details
Scarousel | Noon to 5 p.m. | Silver Beach Carousel | St. Joseph | Have your kids wear a full costume for a free ride | Token: $4
October 31
2022 Halloween Trick or Treat | Downtown St. Joseph & Benton Harbor Arts District | FREE | Treat yourself to more info
Drag-U-La's Ball | 7-10 p.m. | The Acorn | Three Oaks | 21 years and over; costumes encouraged; hilarious entertainment | $30 GA/$55 Reserved | Read more kooky detail
Book your peak fall color stay
---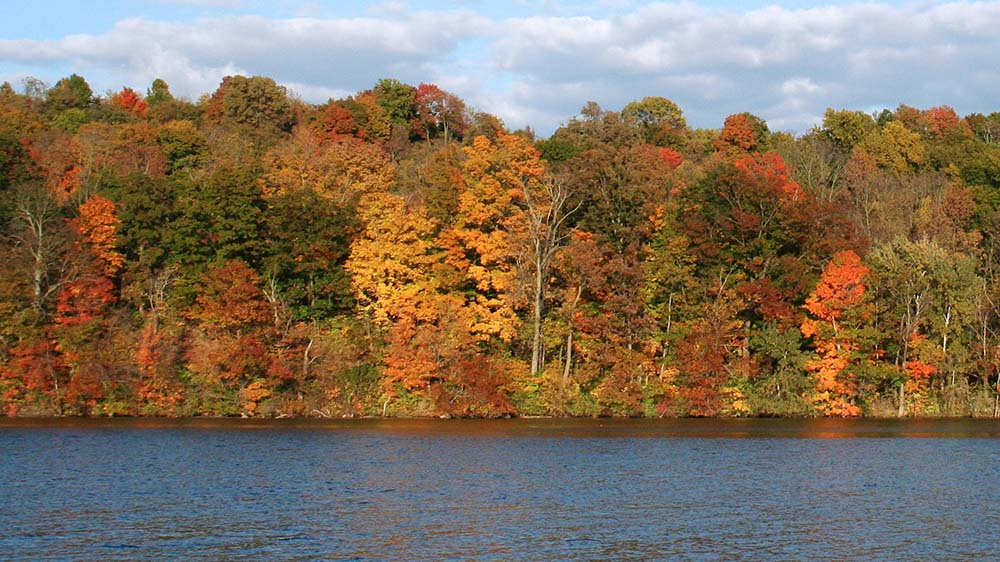 Oct. 12-19, 2022
Wow! Those colder nights over the last few days have done their magic! Our hardwood trees are brightly blazing with orange, yellow and red leaves all across Berrien, Cass and Van Buren Counties. The color display is tracking to peak this week and it will be sweater/sweatshirt temperatures most days. Can't make it this coming week? No worries, you can still see beautiful fall colors for a couple more weeks.
Reserve your peak fall color tour hotel stay today
Have you reserved a room for your fall getaway? Now's the time! We have many warm, friendly places waiting to make you feel at home.
Book your peak fall color stay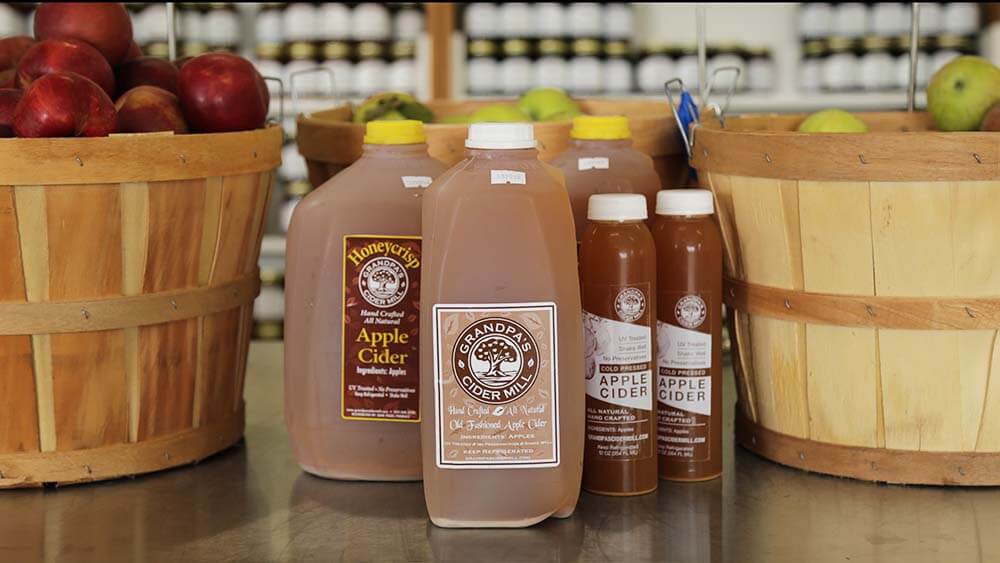 In-cider tip — get your Southwest Michigan cider and donut fix now!
Whether you like a cup of fresh-pressed cold or steamy hot cider or a glass of refreshing hard cider, you'll find it in Southwest Michigan! Our cider makers use locally grown apples, blending a variety of flavors to create some of the best-tasting cider you will ever sip. Pair the cider with fresh-made apple cider, cinnamon sugar, pumpkin, frosted and plain donuts and you will know what fall tastes like! Mmmmmm!
In Coloma, Jollay Orchards offers several flavored ciders and donuts and Bob's Barn and Farm Market gives you the option of enjoying a slice of homemade pie or a turnover. If you are near Benton Harbor, stop by Piggott's Farm Market & Bakery. They've been perfecting their delicious donuts for eight years. And in St. Joseph, you will find half and full gallons of some of the best cider blends at Nye's Apple Barn.
For more in-cider tips on where to get fresh or hard cider, check out these two stories:
Where to get your cider fix and Peat's Cider Social (plan to go bowling while you are there!)
And remember to show your Makers Trail Passport (or pick one up) when you visit these four cideries, Chill Hill, Gravity, Lehman's Farmhouse and Peat's Cider Social. The more stamps you collect, the more delicious hard ciders you will discover and the more cool prizes you can get!
---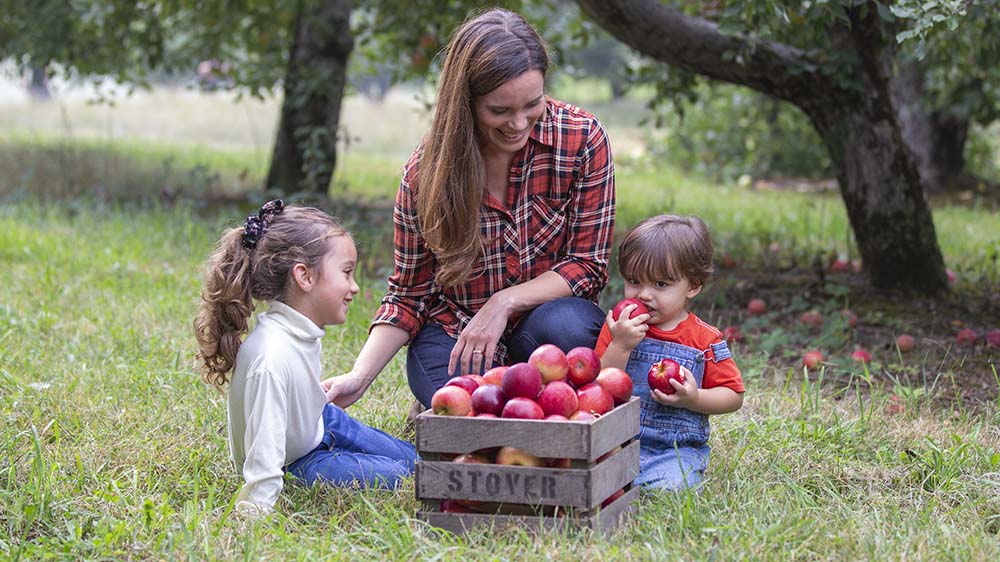 Oct. 5-12, 2022
The leaves are slowly starting their transition into the beautiful hues of crimson red, rusted orange and brown! With the upcoming drop in temperatures, especially at night, you can expect to see more progress in the coloration of trees in Southwest Michigan. Patience is key — and rewarding when it comes to our fall color! We are settling into the cooler weather and comfier layers. Soon, the fall color will settle in, too. But while you are waiting, you can still find plenty of family fun in Southwest Michigan.
Bring the kids for fall memories!
There are bushels of outdoor and indoor activities to do with your toddlers to teens. So, pull on your sweaters and sweatshirts and let's make memories together! Dozens of farming families would love to have you bring your kids to their farms this fall. Pick apples right off the branches or pumpkins in the fields. Fill bags with your favorite soup-making vegetables and herbs, juicy fall fruits and autumn decorations (including those hard-to-find bales of straw) when you stop by their farm stands, or visit their booths at community harvest markets. Don't go home without devouring the freshest, best-ever donuts and sipping fresh-pressed hot or cold cider. Several farms offer hayrides, corn mazes, weekend festival fun and farm animals — including watching them milk the cows. That's just the start of the fall fun festivities, too! Read more about all there is to do in our kids' activities blog
---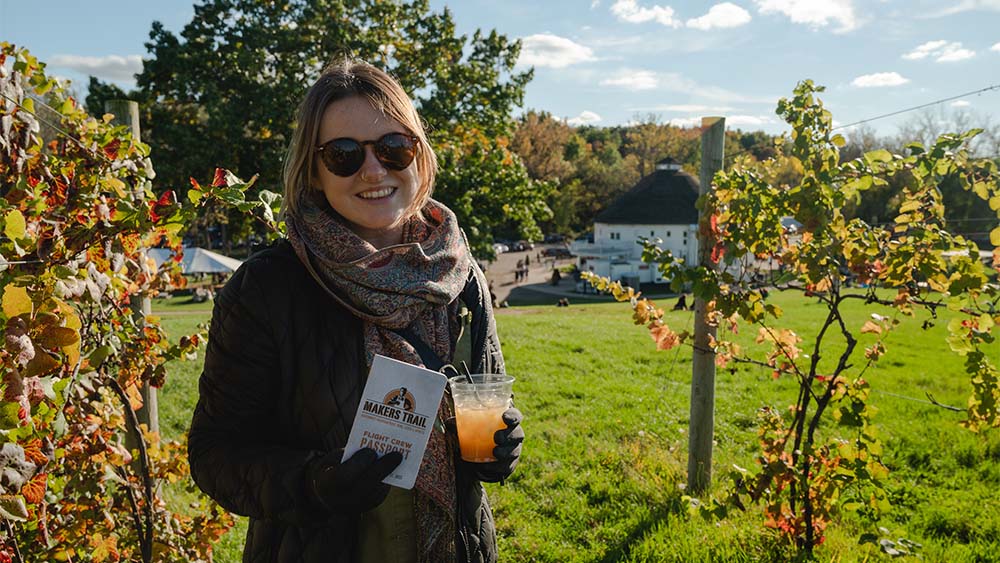 Sept. 28-Oct. 4, 2022
The foliage in Southwest Michigan continues to s-l-o-w-l-y change, although this week's shorter days and cooler temperatures should signal the hardwoods to stop making chlorophyll. The green vistas will fade and more reds, oranges, and yellows should pop this weekend. But if you want to see lots of fall colors you can also taste — this is the week to visit Southwest Michigan's Makers Trail.
Double your fall color tour fun: Nature Trails + Makers Trail
Stop along our Makers Trail for glasses filled with amber, russet, garnet, deep purple, straw yellow and rosé wines, beers, ciders and cocktails. To make your autumn travels twice the fun, we've paired several of our more colorful nature trails with nearby Makers Trail destinations. Remember to bring your Flight Crew Passport to each Makers Trail stop so you can start earning three levels of rewards, a bonus prize and, possibly, a grand prize, too! Here are ways to double your fall color tour fun — it's unique to Southwest Michigan!
---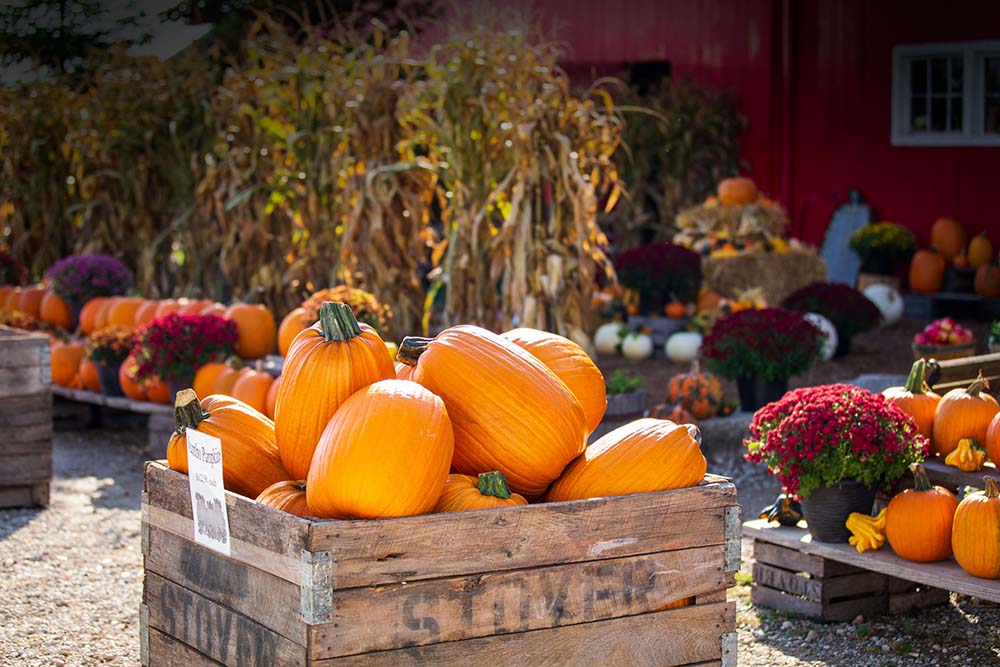 Sept. 21-26, 2022
It's still early to go leaf-peeping in Southwest Michigan. There is a smattering of red and amber leaves popping in the hardwood trees along our fall color tour trails. But we do not lack fall color! Unlike other areas in Michigan, we have LOTS of amazing autumn beauty that you can fill your soup pots, plates and bowls or decorate with in your home or on your porches.
Enjoy peak fall harvest colors and flavors at our local farms and markets in and around St. Joseph, Michigan.
It's harvest time! Gather up shiny red, gold and Granny Smith green apples, plump orange and white pumpkins, purple or white cauliflower, sweet corn, cabbages, tomatoes, beets, beans, kale, squashes, onions, Indian corn and gourds, and a rainbow array of mums. Here is what's available now and where to find your favorites.