In the summer months, our shoreline and parks are bustling but in the winter they are often bastions of majestic solemnity. Glide along the serene Lake Michigan shore. Swoosh beneath trees flocked with soft snow and across smooth frozen lakes. Or coast down gentle dunes. Cross country skiing in Southwest Michigan's varied terrain offers visitors a perfect balance of aerobic exercise and peaceful relaxation. And if you are an advanced skier who wakes early to enjoy the sunrise and make your own trail, you may only have to share the frosty-white landscape with the wildlife.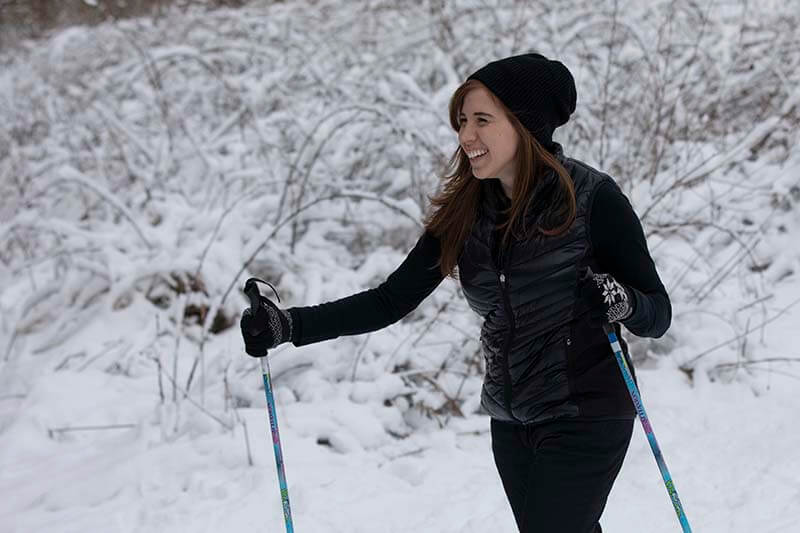 Some of our favorite ungroomed trail destinations are:
For first timers, it is best to get started on well-groomed trails. The densely packed snow will keep you from sinking into softer snow and make it easier for the skis to slide. Also, it is best to choose a location with gentle slopes for learning descending and climbing techniques. Other than the occasional fall into the cushioning snow cross country skiing is a very safe winter sport.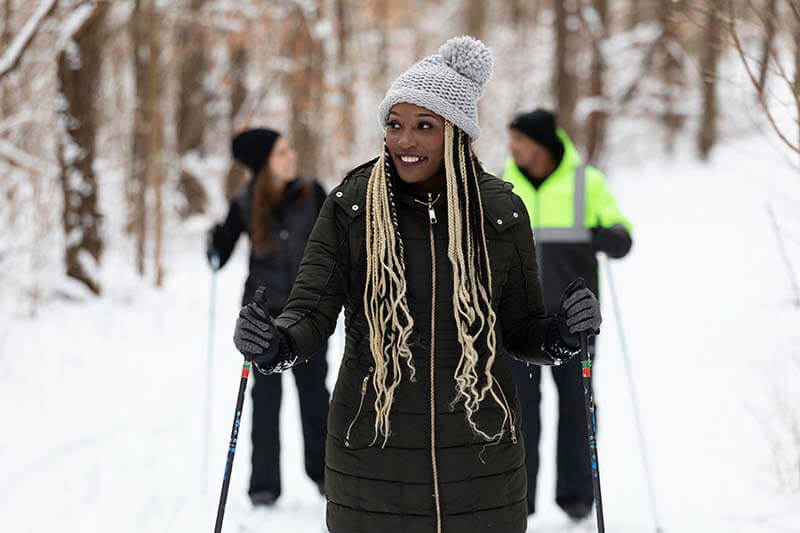 It is important to select boots, skis, and poles that fit properly and meet your skill level and it may be best to rent equipment before purchasing. One of the best places for learning is Love Creek Nature Center in Berrien Center which has rentals and well-groomed trails. Other perfect locations for beginners include:
Fred Russ Forest County Park
Several miles of groomed trails for beginner to intermediate skiers. Trail Map (PDF), p. 15
Madeline Bertrand County Park
Three miles of groomed trails through forests and along the St. Joseph River. Trail Map (PDF), p. 9
Dr. T. K. Lawless County Park
More than 10 miles of groomed cross-country ski trails. Trail Map (PDF), p. 16
While out, keep in mind that many parks have designated trails for different activities or multi-use trails. We recommend that if the park's staff is available, inquire about rules and trail etiquette as well as which trails will best suit your ability.
Before you step into your bindings …
It is critical to dress for the forecasted weather. You should choose breathable clothing that will maximize your mobility and it is a good idea to dress in layers to make it easier to adjust as the conditions change. Because of the bright reflection of the sun off of the snow, it is also wise to wear sunglasses. When skiing at more remote locations it is advisable to bring a pack with items like snacks, water, cell phone, area and/or trail maps, flashlight, compass, fire starter kit, pocket knife, ski wax, sunscreen and an emergency blanket.
Remember to stop now and then to photograph the beauty of Southwest Michigan in the winter. Please use #swmichigan when you post your photos.